As the US representative of the Taiwanese Model, Akatsuki Tsukasa, as we know this is her work: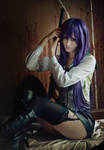 fav.me/d50tsyu
However, without written consent or permission, a seller on ebay is using her photo to attract buyers to purchase wigs:
www.ebay.com/itm/Highschool-De…
I have already exchanged e-mail with Akatsuki, she has told me that she was not aware of this ebay seller, until I have discovered this Commercial use without permission and she would like the seller to remove that photo. This seller not only steals from her, this seller is using other cosplayers' work as attraction to profit off them, without compensating cosplayers a penny. Thieves~~!