AS WITH ALL THE ART IN MY GALLERY I DID NOT DRAW THIS - THIS WAS DRAWN BY

!






FRIENDS. May I present another absolutely gorgeous commission from the lovely

?

This time it's Red XIII carrying an unconscious Lu on his back, as he leaps through fire to get them both to safety. GUYS. This is so amazing. ;; The only direction I gave was to have him carrying her like how Kovu carries Kiara in TLKII- but Deanqa did her artistic magic, and went all out on this. Red's pose is SO dynamic and amazing! It really looks like that one paw is getting ready to pop out through the screen at you as he leaps! And his expression is so vivid and intense. o.o If looks could kill that fire would be super dead.

Plus- you can see Lu's closed eye through his open mouth- how cool is that? xp
Lu truly looks unconscious. From the way her body is slacked, to her facial expression, the pose is perfectly drawn. I also really love how their tails are entwined- such a cute touch.

Red to the rescue!

Please be sure to support the artist as well as check out the original here: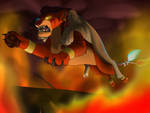 Image details
Image size
1920x1459px 207.03 KB