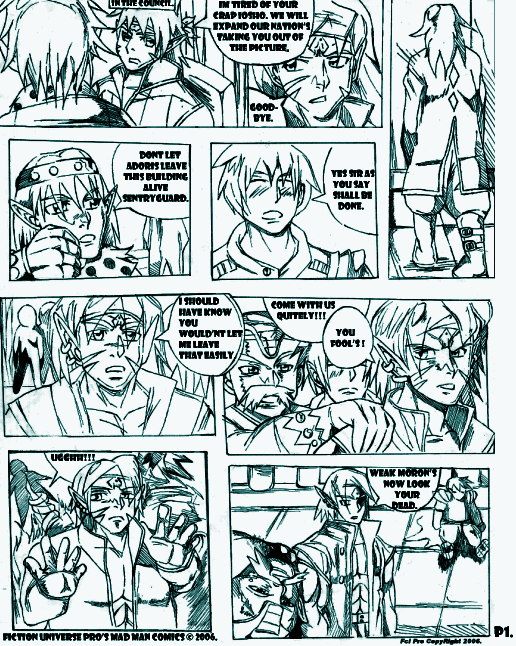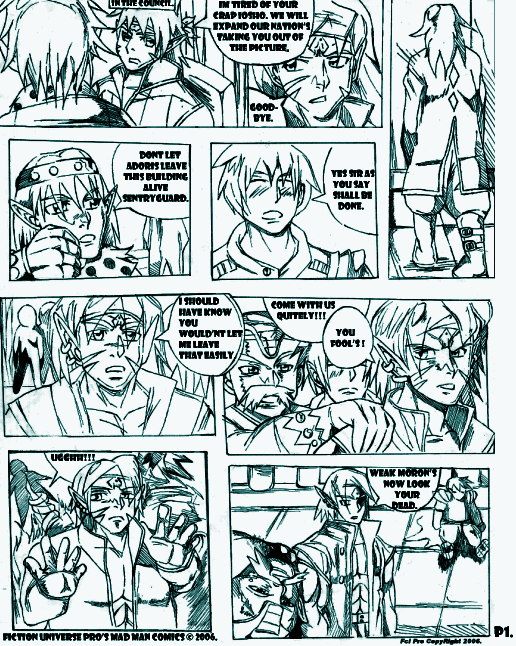 Watch
I've wanted to put this up here on Da a long time ago but keep forgeting.This is the first official page for the webcomic of my main project.In case you don't fully understand whats going on here.Its a council meeting gone wrong between the Urkian prince Adoris(unknown warrior alien breed) & the Catican king Iosho-(the catican are a warrior race of catlike hybrids.Iosho is also Kikashi's father).Anywhos to learn more if you don't know much about this visit
[link]
[link]
I love this comic of mine & hope you do also.

Impressive work, pal! I especially like the dialogues used.

Your original series is one of the most original works I've ever seen.I believe there are many other factors behind it which I don't even know of, other than the storyline, and the interesting character designs.

Your web comic was is worth a read. Hope you'll continue the story sometime!
Reply

Thankyou very much your a very good commenter.Oh I actually have the pages in the works.Just gonna have my bro ink em before their scanned.Thank you your a super pal dude.I'm continuing the story so much so I'm making a work in progress 2d rpg game for it.May post some pics up soon for that as well.I glad I got another reader outta yah.When I post my pages I'll look forward for comments from you

Reply

No problemo, it is an honor and a pleasure to do so XD I'll be waiting for'em!

You mentioned '2d RPG game'. Sounds interesting! what game engine/software are you using?
Reply

Your hatching and inking skills are so good ;3; My only problem with this page is it seems slightly cluttered(meaning too many panels/bubbles/etc) other than that it looks cool B]. I hope you upload more

Reply

Glad you like em.When I made this pic I was trying to fitc all the action on one page.Which is what I had done on a few of my earlier comics.I have four more pages I've finished for this I'm gonna upload soon.I hope I'll get more readers like you

Reply

The lines are very promising

very attractive indeed

Reply

Hello & thank you Macollado & the lines are a promise to you that when on full scale this comics gonna be awesome


Reply

kewl-- 8D
the lines are way too eye catching!

Reply

Thanks dont hear from you much these days though.I darkened the lines a bit to make it more eyepopping

Reply

Wow!!!talk about"manga-riffic!"way to go twin

Reply

Lol mangarific.Well I definitely can tell who like manga.I'm right there with yah bro.This comic was the first time I truly felt like accomplished anything.It was all a dream to me.Knowing somebody really likes it sure enough gives me a boost in the right direction for this.Thanks for faving really appreciate man.
Reply

its all good twin....i really like people who go that mile to be different...like you,my friend..thats why i will always admire you and you work

Reply

Well I must say me & twin beat out heads to get our original ideas sometimes.And soon enough were on a roll with our art.It seems to flow like water sometimes then others the artist's block hit.And it does require a bit of teamwork.I'm really stoked you admire our stuff so much.Thanks for keeping it real man

Reply