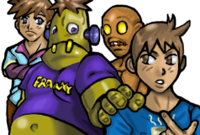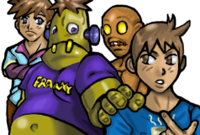 Watch
Was looking through my old pic's and found this lil number.Was surprised to see it again really.Its a comic me and my bro are working on called Franky & Me.Im the character Roy on the hard right Im white on this.The big guy holding my shoulder as you may have guessed is Franky.The guy looking at Franky behind me is Heck.He's an incarnation of my dead father come back from the dead turned monster (My fathers really not dead so don't ask).Last but not least the guy on the far left is my bro Rio.I'm a Twin in real life and also on this comic.I may scan a few pages from the comic here on DA and show you guys later.Franky is my protector and well my fathers my bro's protector as well which is cool (Tha's right we each get 1).Catch you guys later peace.
Edit:You can also spot Franky on the My World Game Select
[link]

It looks really good. They look like a fun bunch of fellows.
Reply

Thanks I should have put up the bigger image for it.They really fun guys.Of course I'd say that though.Cause the main characters are white versions of me & my bro.And Franky on this is like an imaginary protector of mine on this

Reply

Reply

lol so do u remember the plot of the story?
Reply

Its about a bored kid (Roy) his twin bro(Rio).Their dead father (Heck) returned from the dead who is now they're protector. As if his life isnt weird enough while jogging 1 day in the woods he spots somthing mangled in the dark.As he walks closer he notices a monstorous figure.The big guy is none other than Franky and he's hurt really bad.Roy offers to help him put himself back together.But what he doesn't know is that he is being watched.This is when the real danger starts.In order to beat the baddies they'll have to work together or die trying.
Fiction Universe Copyright © 2006-2007
Thats all ill tell yah for now.

Reply

Yip every bit of it.Still making it yah know.
Reply

Reply

Reply

Reply