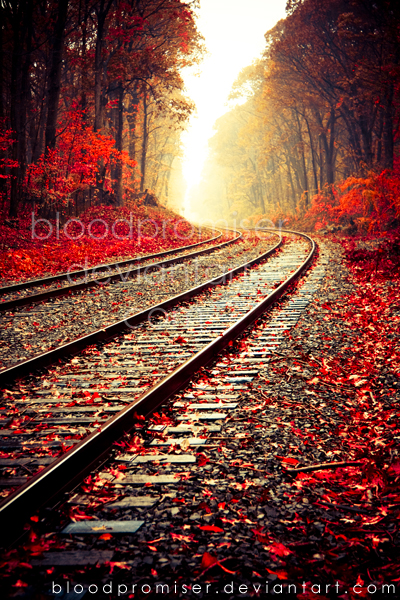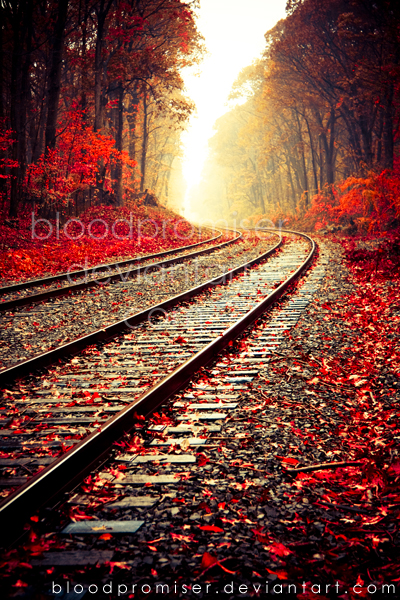 Watch
Another railroad, I know. Sorry.

All my photos are available as prints in numerous sizes. If you're interested in purchasing one or finding out more information about them, just note me or email me at nachtmerriie@gmail.com
Edit:
I'm getting a lot of questions about this photo, so here are some answers.
No, this isn't Photoshopped. I was very lucky to be there on a great autumn day when it was foggy, but there was still enough light to produce that effect.
It was taken in Forest Park, NYC.

And, thank you for all the favs and comments!

© 2010 Twiggy Teeluck
I'm actually very impressed with this photo. Plus its only my opinion. The very 3 dimensional factors in this photo and how it stretches from out of focus to in focus and back out is really well done. The lighting effects that accompany the focus is awesome and how it goes from rich color to a blinding white and being able to capture that shows and incredible eye for angle lighting and natural factors that a photographer needs. Plus where ever you found all red leaves that look like there setting everything on fire is beyond me especially when its combined with the tracks that look new but don't look like they have been used in a little is a great use of nature and industry. You really did a phenomenal job.
The Artist thought this was FAIR
61 out of 69 deviants thought this was fair.
I have to start out by saying this is such an incredible shot. In this case you were at the right place and at the right time. The glow of the red leaves is magnificent, and how it all fades to the lighter orange is just so lovely. This has a very strong impact because of its brightness and its clearness of the shot. You also have it at a good angle. For originality I gave you a 4 because there are many rail road/ train track photo's, if there weren't I would have given it a 5/5 stars. Such a fantastic job, I wish I could describe it better and also give you a better critique but I'm not very good at giving them. Utterly fantastic job.
The Artist thought this was FAIR
122 out of 128 deviants thought this was fair.