Deviation Actions
Daily Deviation
September 15, 2008
Squiggles Ultimate Pack by ~
Twiggy8520
is a great looking font which comes in three different weights. They each have a different style which makes this font pack useful for lots of different projects.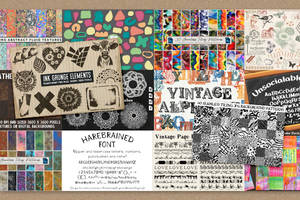 HG Designs Subscriber Area
Lots of high resolution goodies for graphic design including textures, photoshop brushes, seamless patterns and more.
---
Suggested Premium Downloads

Description
Well the testing is all over and i'd like to thank everyone who downloaded and tested it. Also the fact it got a DA was a awesome achievement! So once again thanks to everyone!
Love you lots like jelly tots xx
+++++++++++++++++++++++++
IMPORTANT INFORMATION
this typeface is now only available to download at
[link]
Image size
900x1049px 329.96 KB