1K Favourites
52 Comments
5K Views
Say hello again to this boi. Here's how the painting looks like without the gif compression. I hoped to reach the playback limit before applying the 3D effect, but it hit me before that. That's the reason the painting is half its usual size, sowwy.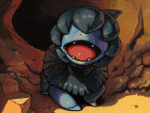 <-[ugly gif compression, but hey, it does the job done.]
I always feel odd when posting 3D paintings outside Colors! Gallery, as I know you won't see the extra effort (and again - depth hehe), without some gear or crude & convoluting eyecrossing.
Like - this medium never took off and it doesn't fits in our flat online world. You either have full renders, flat 2D art, or animations - you rarely see anything between. The 3D paintings
#nikogo
, especially after the 3D screens fad has ended. So this time I wanted to post *both* versions of the painting to show you the full possibilites your Nintendo 3DS can do for you.
Anyway. I painted this one for a challenge on Colors! Gallery titled
#redraw
. Check out the 2012 artwork
www.colorslive.com/details/676…
! Pretty rough, eh?
As usual, I used my trusty 3DS and the lovely Colors! 3D app~<3
PS. I'm still rather dead here so feel free to visit my
TWITTER
if you miss my art (and other stuff).
IMAGE DETAILS
Image size
680x512px 385.09 KB