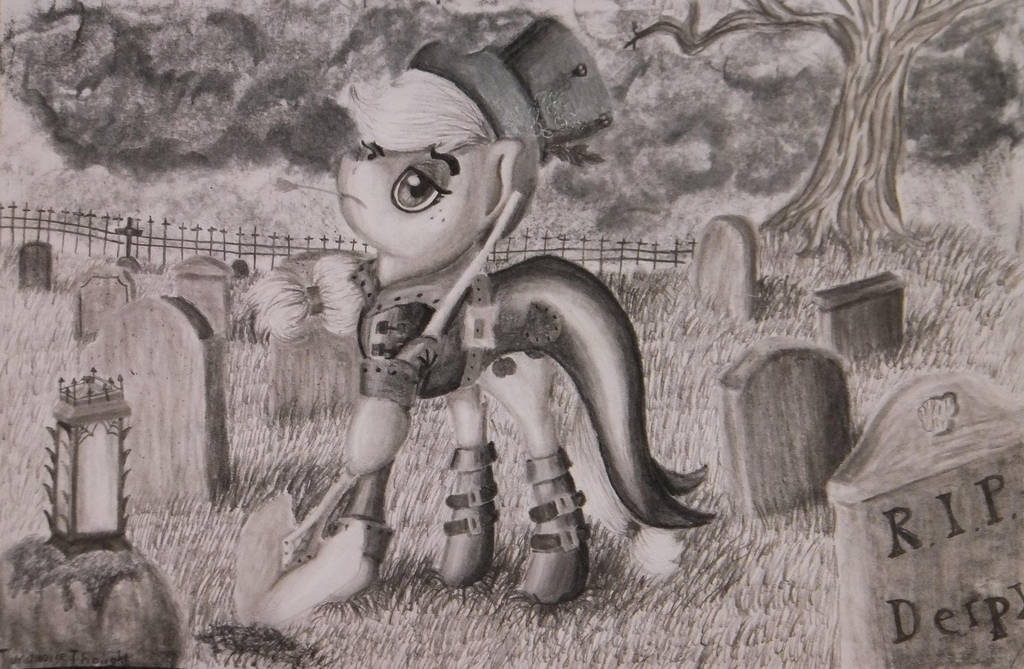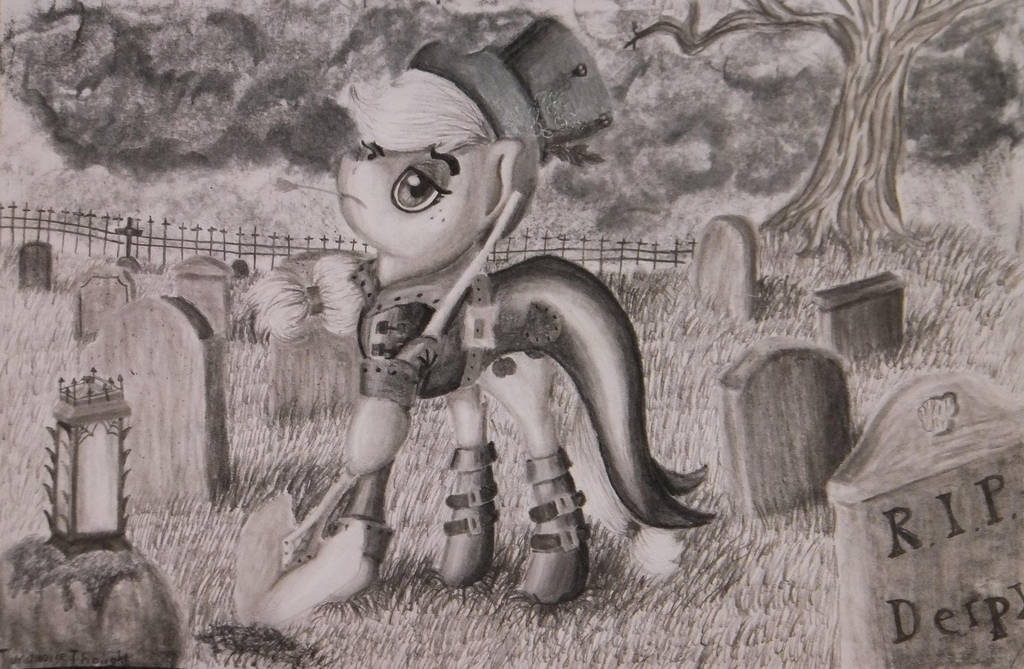 Watch
Aka. Applegraver. She works as a grave digger in Deathville cemetery. She likes her job because dead ponies are such a good listeners and they don't talk about unnecessary things like weather or latest cosips. Sometimes while digging a grave to somebony she imagines her own funeral just for her own fun. It would be a great party and whole Apple family would be there... Applejack doens't really bother to get to know new faces in town. She will meet all of then in their funeral anyway and there she'll hear all the tastiest stories from relatives. Applejack had burried many graves in her career and she can tell you how each one of them died.

Applejack's story:
Applejack has burried many ponies and heared many stories how they died. Usally it wasn't anything special. Ageing and disease were the biggest helpers of Grim reaper. Somethimes fate created a faitfull acident. But there was one case that had been sticking in her head.

It happend last week. It was Tuesday, if she recalled right. Certain Mss. Shy was found dead from abandoned castle in the middle of everfree forrest. Well, as one could presume they investicated the case but found nothing. Cossips about murder spread everywhere until the town doctor confirmed that there was bite wound in her neck. He supposed that something with two sharp theet had bit Mss. Shy.it also seemed like her blood would have been sucked from her. Rumours about a vampire living in the town was the main subject of conversations for a week. But Applejack didn't waste her time to listen those rumours. She just burried pegasu's corpse and put the stone to it's place. But next day Applejack noticed that the grave was wide open. An open hole and an empty coffing was all she wound. There was no Mss. Shy anywhere to be found.
I finally have a name for this series. I will call it "Stories from Deathville" (witch is a darker/gothic version of the town we know and love.) I have plans for few more ponies and each one of them has a story to tell that are mainly connected.
This one is made with charcoal and this has been in works for a while due many details and lack of time. I wanted to try out making backgrounds on traditional because I don't do that that often. Should do that more. I tried out many things in this one including making grass, tree, clouds and stone with charcoal. I haven't done such things before so I had to watch a lot of pictures to see what texture is used to create these items. (excluding clouds.) This piece has more details than what I normally have in my drawings. But I'm proud how this turned out.
Other stories from Deathville:
Duchess De Raryville
Derby, the ghosting mailmare
Disclamer:
This is fan art and is not associated with the original creators.
Desing of Applegraver and her story by me
My little pony; Friendship is magic belongs to Hasbro.