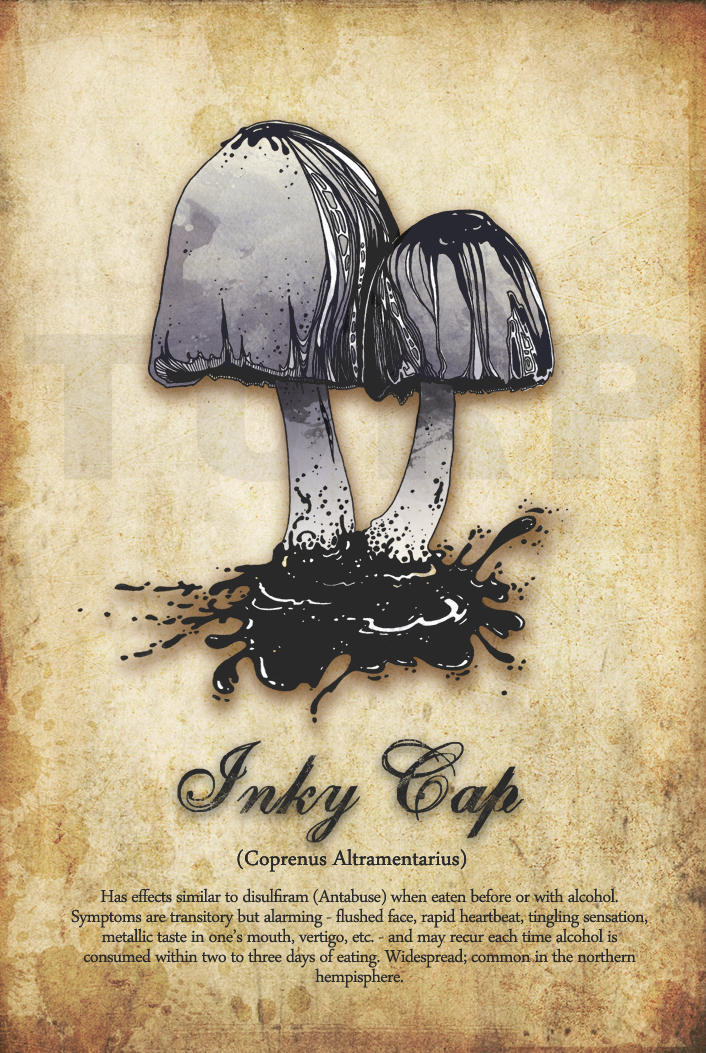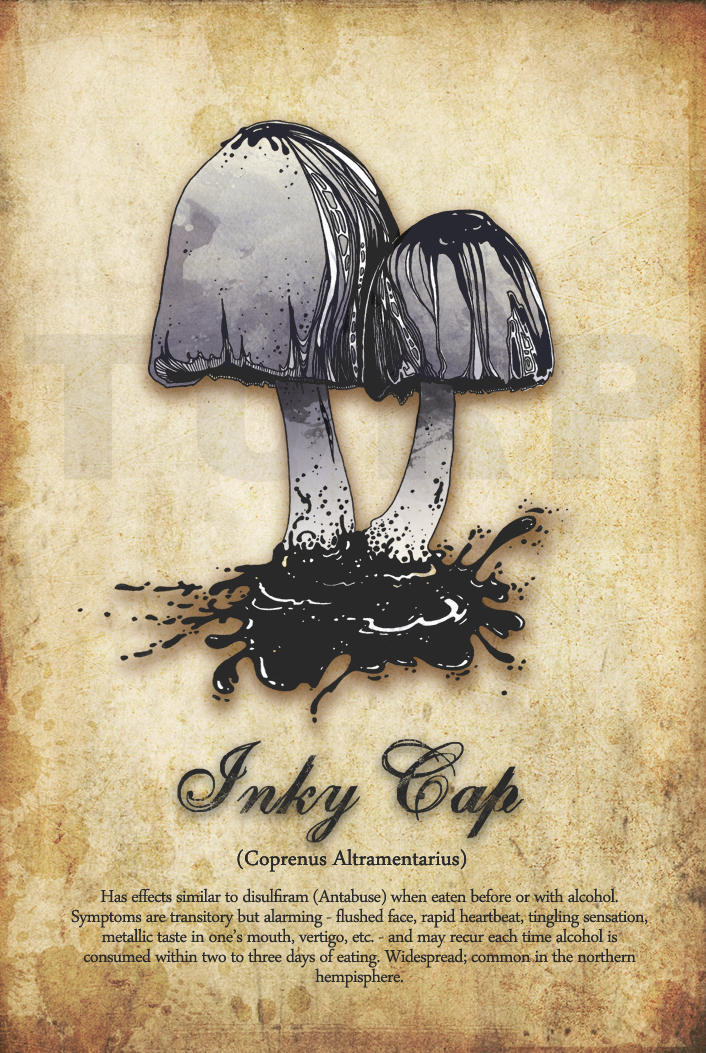 This is such a great idea... look forward to the rest

Reply

awesome

and i'm definitely open for requests
Reply

dude.. these are great!!!
Reply

This one is really cool. I like the format and layout you've got going for all these. This looks like a really fun project!
Reply

I really love this series.
This one especially, the linear patterning (mainly on the right hand one) looks amazing, I'd kind of like to see what it would look like disassociated from an actual mushroom, just as an abstract style of working, like a pattern.
I didn't word that very well, but that's the closest I can get to explaining what I mean

Anyway, keep 'em coming!
Reply

yeah hopefully i keep each one entertaining enough :b i have like a million to go. i get what you mean! i used to do a lot of work like this but i guess i'm not meant to be an abstract artist, it comes a lot easier when i'm filling in a shape (like a mushroom cap) and im trying to mimic a texture
two new sketches of mushies will be up on my blog today

i'm tryin to do it pretty steadily
Reply

Really nice! I love grey color!
If you can, don't forget my favorite earth flavored wonders... sus!! Psilocybe mexicana!!

Reply

lol i'm doin all the psilocybe of course

i just finished the less potent three on my posted, i think that guys next on my list
Reply

Katy this is wonderful!

Reply

I logged on a while ago and saw that you were going to have your next mushroom up soon. This got me excited and I went about my business for a few hours. A few minutes ago I logged in to no messages on DA and left my computer. I had a sense of being alone in my house, even with my family here, before I logged in. Now that feeling was growing exponentially. A deep sinking sense of depression was setting in. I texted a friend and had a short conversation but it did not help my sense of aloneness. I logged in again out of complete boredom and saw that you had posted your next mushroom. Every ounce of loneliness vanished, a smile erupted on my face and I think I let out a little squeal of glee. (Thinking about it I am not sure if it was just in my head or if I actually produced the sound out loud. I hope for the former.)

Anyway, now time to get down to business.

First thing I noticed was the mushroom itself (which is the point isnt it, so good job on that!) Second I noticed how you colored it using water colors. (Did you actually use water colors on paper or did you color it digitally?) I am on the fence about how I feel about the water color look. I love the feel of it, I think it is brilliant. But at the same time I feel that the water color flattens out an image that wants a bit more depth. Almost like the line art wants to pop but the coloring pulls it back in. But the next moment I am loving the look of the water color!!! It just looks sooo cool, especially on a mushroom!

The design of the mushroom is beautiful. I love the pun with the liquid, ink like roots and ink dripping of the top. It was drawn so well too, and the reflections are perfect.

Another thing. If you are going to combine all of these into a collection, especially into a book some choices are going to need to be made. First is with the background. Are you going to have the exact same paper background on every page? It could look interesting. Having different but similar backgrounds could look really good as well. If you choose to go with the same one, I personally would make sure it stays the exact same. If you lay the two images over top of each other, the backgrounds don't match up. (Open both in two different tabs and then view them both on small view. Then switch back and forth and pay attention to the bottom right hand corner.)

Also, do you want to have positioning of the page based on each individual page or kept common through every page. What I mean, is when you flip the page is the name of the mushroom on the exact same part of the page for every page, or is it moved up and down depending on the weight of the mushroom in the composition?
Reply

Man that's like one of my greatest joys from making art is getting to hear how it actually effects someone's day

that's awesome like seriously, I feel like you're my editor too lol.
Now business: In the original picture that I referenced from, the mushroom looked like it was drawn like it had an ink was on it so I knew that was exactly what I wanted to do. I tried like two variations of shading and I really didn't like it, it took too much away from the awesome texture. I will keep trying! but for now, its gonna stay flat. I might just put something really subtle around the bottom. and no, the watercolour was a texture i got from google i think i put a link in the description (they're pretty sick). I want each mushroom to have it's own feel

but yeah, at the same time I do want them to pop.
I'm thinking of doing a different background for each section; poisonous, edible, medicinal, etc. and breaking it up like that. I will fix it on the first one

I finally made the base template psd lol so that's the one I'll be using for the rest of the poisonous ones.
I'm gonna move the mushroom up and down depending on text and how it fits my eye. I was debating spending the time lining it all up, but I'd rather make each individual image as I would intend rather than trying to make them all fit a certain line. What's your opinion, in a book form do you think it would be a serious distraction?
Reply

I think you have to find the healthy balance between both the hard template and the balance for each individual page. What I mean is that each page should look good on its own, you shouldnt be so rigid on your template that you weaken the integrity of the piece by not allowing yourself to balance out the page. But at the same time you have to figure in the symmetry of the whole book. The book would have a great feel too it if every time you flipped the page the text were at the exact same place on the page and the image was at about the same spot. If every time you flipped the page the text moved up or down a 1/4 inch then it will just feel as if the author didn't plan it out and was sloppy.

If at all possible I would suggest keeping the text (especially the title) in the EXACT same spot on the page. That is the main part of the page that is expected to be in the same spot. The illustrations are all different and can move around a little bit without anyone ever actually noticing they are moving around. Now big shifts would just look wrong, but that wouldn't ever happen if the text is staying stationary.

And yeah, I have always been one for giving ridiculous critique and reviews. I figure if somebody put tons of time into something, they deserve more than a "That looks awesome <3 <3 <3." Especially if they ask for more. I always used to ask for hard critique on my art so I could improve it, but nobody would. They were either too lazy or too scared they would insult me. And what's the golden rule "Do unto others..."
Reply

that sounds good, i'll make a box on the template so i keep the text in the same place always and i'll go back again and fix up the first two. i would complain if i flipped through a book and yeah each one was an inch difference or something.

i do enjoy critique! its hard for me though, like i only feel comfortable with certain artforms and with certain skill levels because i just sometimes don't like a picture, not for any reason it's just not my style and i don't know how to make that sound helpful
Reply

Reply

mmmmmm

Reply