This is what void salmon from Stardew Valley look like irl and you can't convince me otherwise.


This is another commission for

!
Discord this time! Had fun coming up with a composition for this one. Discord's chaos landscapes are super fun and interesting, but also surprisingly consistent? I would have though he would spice things up more, make them different every time he takes over. Makes it easier for the mlp staff to reuse assets though. How considerate of him.

I've recently done another commission of Tirek for the same customer: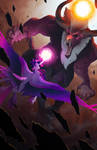 Did a full WIP walkthrough for this one!

Disclaimer: Under no circumstances do you have permission to repost or use this image or my other work for any reason, unless specifically stated otherwise. Do not repost my art to other websites, use my art as banners, reaction images, page backgrounds, examples, or any other personal or commercial use. If you have a question, or would like to ask permission to use a piece, please contact me about it.
Image details
Image size
5100x2746px 13.9 MB