Part three of this series!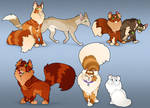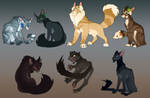 I guess I gotta do the Cloudtail/Brightheart line next.

From left to right, in the top row we have Squirrelflight, Brambleclaw/star, Alderheart, Juniperkit, and Dandelionkit. In the bottom row are Larksong, Sparkpelt, Flickerkit, Finchpaw, and Flamepaw.
Disclaimer: Under no circumstances do you have permission to repost or use this image or my other work for any reason, unless specifically stated otherwise. Do not repost my art to other websites, use my art as banners, reaction images, page backgrounds, examples, or any other personal or commercial use. If you have a question, or would like to ask permission to use a piece, please contact me about it.
Image details
Image size
5100x3300px 10.11 MB