Part two of this!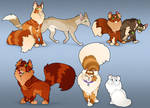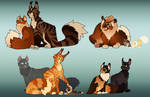 Continuing on from the last post, here's the next branch of Firestar's lineage. Leafpool and her children. I wanted to include Crowfeather in this, and figured I might as well include Nightcould and Breezepelt too, even though they aren't related to Firestar.
From left to right, top to bottom: Jayfeahter, Hollyleaf, Lionblaze, Leafpool, Nightcloud, Breezepelt, and Crowfeather
Of the three siblings, Lion blaze resembles Firestar most strongly. And maybe, totally by coincidence, he also resembles Brambleclaw a bit.

I haven't designed Bramble yet. Hollyleaf is a dead ringer for Crowfeather, but with the family eye color. Her build is more similar to her mother's or sandstorms though. Jayfeather has Leafpool's, and Firestar's, stripe pattern, but his biuld, eye color, and spiky fur are 100% Crow's fault. (well, maybe not so much the eye color, but still.) Breezepelt is all spikes, all the time. Pincushion cat.
I really like the fandom idea of medicine cats wearing some sort of decorations, like leaves or feathers. Hollyleaf gets them too, because even though she never finished, she was partially trained as a medicine cat. (She apparently stuck around long enough for at least one lesson on poisons though)
Another fandom idea I kinda like if that Crowfeather, Breezepelt, and Nightcloud have a sort of primary color eyes thing going on. I've seen a few MAPs that show them with Blue, Yellow, and Red eyes respectively, and I love it. It did kinda make Nightcloud look more... menacing then intended though. oops.
Did this as stress relief after working on commissions today. I think I'm gonna keep doing these as a way to relax.

I'm gonna see if I can do the Squirrel/Bramble side next.
Disclaimer: Under no circumstances do you have permission to repost or use this image or my other work for any reason, unless specifically stated otherwise. Do not repost my art to other websites, use my art as banners, reaction images, page backgrounds, examples, or any other personal or commercial use. If you have a question, or would like to ask permission to use a piece, please contact me about it.
Image details
Image size
5100x3332px 7.58 MB