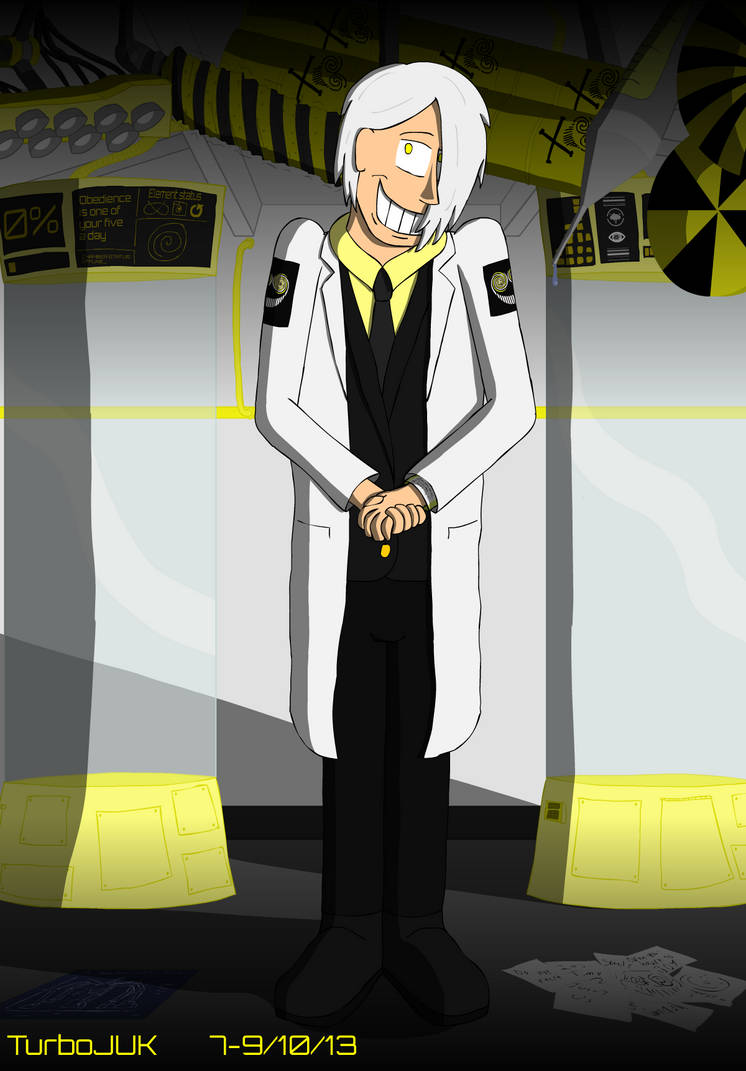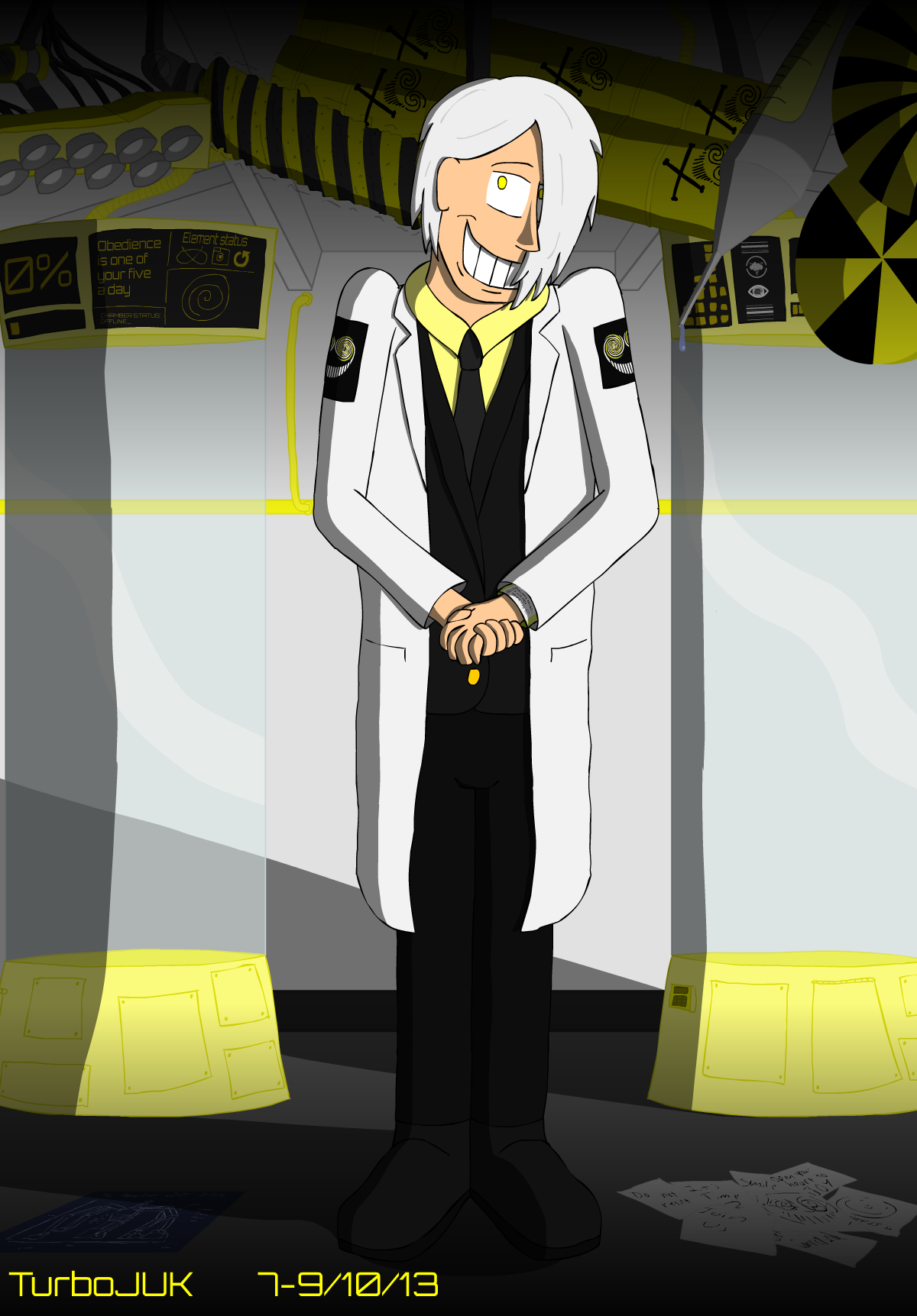 Watch
"He never used to be like this...

Miles Kelman was once a bright young man, having received a doctorate and entering the field of medicine as his father and grandfather once had. He was employed in Springton Hospital on Alton Island for a number of years, where his cheerful demeanour went down a treat with patients.

In 2007, he was tasked with caring for one of the hospital's long term patients, a man called Neil who had been left in a coma following an explosion at his workplace, X-Sector. Neil's condition began to deteriorate and there was every possibility he could die. Miles began conducting an extensive treatment of his own design that not only saved his life, but ultimately helped him to awaken from his coma several years afterwards. Neil was moved to a hospital on the mainland later in the year, but Miles left instructions for his new carers to follow. When news reached him in 2011 that Neil had recovered, X-Sector became interested in his methods and offered him a job. Miles was assisted in this by his uncle Julian, who was one of the executive directors at the facility. Miles now became known as Agent Smiler, thanks to his demeanour, and he spent his days both treating patients and doing important medical research.

Field operatives from Phalanx Squadron brought in a specimen to be studied in early 2012 - the remains of Nemesite that had attacked their team. For the dissection, Miles was one of three doctors on standby in the laboratory in case any of the team had a reaction to the unknown elements that made up this creature. The doctors weren't needed however, as those dissecting the Nemesite remained perfectly healthy throughout. However, what they saw after the first incision horrified them, Miles especially. He immediately left the laboratory, trying hard not to be physically ill. What he had seen shook him, horrified him, caused long forgotten memories to resurface...

Back when Miles had been a child, his father had occasionally taken him to his place of work, a care facility his grandfather had founded called 'The Sanctuary'. One day, Miles got lost within the winding halls of the establishment, eventually ending up in a room filled with people. He was about to discover the true nature of The Sanctuary, that of a sinister testing facility that used a series of 'treatments' to guarantee complete social compliance - the people in this room were the latest advocates about to undergo the treatments his father simply called 'marmalisation'.

Miles was exposed to the very worst of what the Sanctuary had to offer. The only thing saving him was his father noticing him among the advocates during the final stage. The process was emergency stopped, and Miles was teeth's skin away from his mind being lost forever. For Miles though, the experiences had reduced him to a wreck and his father had him sent away to rehabilitate him, to suppress the memories and ultimately lead a normal life. The horrors of the Nemesite caused these memories to resurface. They consumed him. He fell into a mania. But unlike most, instead of being debilitated by his memories, they did something else to him.

The nightmares he had encountered during marmalisation no longer seemed frightening to him. Instead, he now found them fascinating. Over the coming months, he became more and more reclusive. He confined himself to his laboratory to try and revive the marmalisation process. When Phalanx eventually began to capture the Corrupted followers of Nemesis, they were ultimately transferred to X-Sector for further study and treatment in an attempt to bring them back to normal. Manipulating his connection to his uncle to obtain any equipment he needed, he began experimenting on the returning corrupted. Each new 'advocate' serving as nothing more than a lab mouse for him to experiment his theories on. All the while, a permanent grin plastered onto his face. To him, He was now 'The Sanctuary' incarnate. The revolutionary process had been revived through him.

The management of X-Sector eventually latched onto his practices, and caught him red handed during an experiment. His equipment was seized, and he was put before an official board to decide his fate. Miles didn't care for the allegations. In fact, he grinned through the entire enquiry. Luckily for him, his uncle's connection to X-Sector saved him from being evicted form the island entirely to be put before an international court. His title was stripped and he was confined to a high security cell for his crimes.
That would've been the end of it, if one of his advocates hadn't made a full recovery...

The marmalisation process had worked. The advocate's mind had been weakened to the extent that his experiments had ultimately caused the corruption to recede to nothing, so that she was now exactly as she had been before Nemesis had found her. Because Miles was the only one who could operate the machinery and properly complete the process, the directors reluctantly allowed him to continue his research under strict supervision. The difference was that now, he was no longer called an Agent; people around X-Sector simply called him 'The Smiler'."
Holy crap, I've been waiting for this day for so long...
So yes, last week I was at Alton Towers and I finally got to ride The Smiler. It's every bit as amazing as I expected and is definitely one of the best rides in the park. What's more, marmalisation works, since I always got off the ride grinning and am still grinning a week later. I don't care if people say it's rough, I absolutely love it.
Miles' name is based on the various tie-in aspects of the ride, namely Miles Cedars from the
Smile Always
videos, and Dr Kelman of The Sanctuary (who also appeared in the videos). His design feels reminiscent of Freaky Fred from
Courage the Cowardly Dog
, especially with that pose. Technically, he debuted before this. Go back and look at Oblivion's picture, or Enterprise and Submission's.
The background elements are, besides the actual glass chambers, all inspired by the ride and its theming. The Marmaliser elements, the ride station, the staffordshire knot and washing machine...
I belong to The Smiler.
Alton Island © Matt Lindsay 2008 - 2013
Again, thanks to
Cobra-Roll
for his usual help.