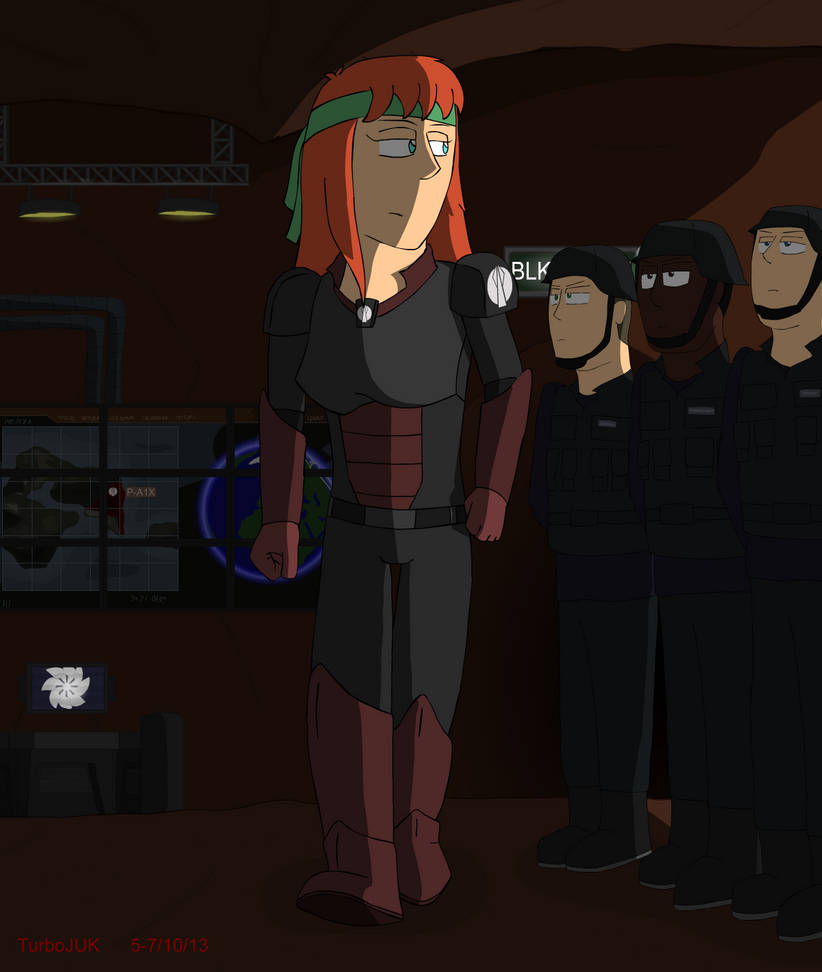 Watch
"As development on the Secret Weapon began to tick over, the initial research that had been made on Forbidden Valley and Nemesis was soon becoming obsolete with each passing year. In January 2012, a decision was made to deploy an elite team into Forbidden Valley itself to gain much needed reconnaissance. Fortunately, X-Sector had just the team for the job: Phalanx Squadron.

Originally trained by the extremely strict Agent Submission, Phalanx had largely worked on minor missions and a growing number of highly intensive training exercises - this was their first chance to put their training to good use. The team was now lead by the highly disciplined Sergeant Cassidy McTane, one of those who had not been broken by Submission's training. She understood the serious nature of the mission, which could jeapordise the safety of the entire populace if it were to fail. With the Forbidden Valley encased in a mysterious barrier for the last ten years, the new plan was to establish base camp on the fringes of the Gloomy Wood, tunnel underneath the barrier and hopefully infiltrate Nemesis' cavern lair. Upon the acceptance of this mission, she was made an honourary agent, and was now known as Agent SubTerra.

Phalanx's primary objective during phase one of the mission was to protect the excavation team. After one month they had dug five tunnels, the longest extending just over a mile past the barrier. None dared to tunnel up to the surface, given what had happened to the last people who trespassed in the valley. Then in May 2012, Phalanx were caught off-guard when the ceiling of Tunnel 3 collapsed and a horrific creature fell among the rubble. It lashed out at the squadron, seriously wounding four of them before being killed by their gunfire. It was then identified as a Nemesite, one of Nemesis' vile creations. Cassidy realised that they had established a connection with Nemesis' lair and, not knowing how long it would take Nemesis to discover what they were doing, she ordered a complete lockdown of the base until they could properly secure it against any possible attacks.

The remains of the Nemesite were transported back to X-Sector for further study and dissection. Cassidy and her team returned and were placed in quarantine until they could establish whether simple contact with the creature would have any effect. Most of them were released within days, although the injured were kept in until they were fully healed. Thanks to a helpful tip-off from Agent Oblivion as to the true nature of the barrier, Cassidy was able to set up barriers for each of the tunnels that would protect them from Nemesis. Once Phalanx were all back in Forbidden Valley, they began mapping out the caverns of Nemesis' lair. Then in December 2012 they captured several of the people Nemesis had enslaved and corrupted. They too were sent back to X-Sector to be studied, and to see if their minds could be corrected and restored..."
I'm quite glad this one is done. I've been sitting on it over just over a year now, but I couldn't work on it properly because
~
Cobra-Roll
hadn't ridden Sub-Terra, so we couldn't work on ideas properly.
I had originally conceive SubTerra as a man, but during development Cobra-Roll threw in the idea of making them a woman. This was definitely for the better. SubTerra's main design influence was Sergeant Calhoun from Wreck-it Ralph, who incidentally had similar gender origins. Her name is very closely connected to the ride; Cassidy was a character in the Nemesis promotional comic (which is where Phalanx originated, along with the name Nemesites), and a Sergeant McTane is named in the ride's queue line video.
As for the background, I really hated doing it. It always felt too empty, but I think I finally got there in the end. The images on the monitor cluster are based off of a freeze frame for the queue line video, but with one major change: Alton Island is the focus of it. Yes, I did create an overhead design for the island, and I have mapped out every region. Also, people familiar with my animations might recognise where I lifted that globe from...
Alton Island © Matt Lindsay 2008-2013
Credit as always to
~
Cobra-Roll
for his assistance.

Thank god that ride is gone. I like roller coaster Nemesis far better than tower drop sub terra
Reply

Nemesis will always be superior to SubTerra, but that's not to say SubTerra is completely awful. I quite enjoy it as an experience, much like Hex - however it's not nearly as rerideable as Hex and doesn't have the awesome soundtrack.

Who's to say it's gone forever..?
Reply

According tae SBNO in March 2016
Reply

SBNO, yes. Not permanently removed though, unlike Flume and Ripsaw. None of the other closures this year are confirmed to be permanent.
Reply

Aye, btw, I miss ripsaw and flume. And I miss air because it's re-themed into Galatica
Reply

Ripsaw was one of my favourite rides to watch. Not massively keen on riding it, but it was fun.
I was never a fan of log flumes so Flume isn't a big loss for me.
It's a shame we can't ride Galactica without the headsets. Oh well, maybe some day we can get the classic experience.
Reply

I don't like Nemesis Sub Terra the ride. D:
Reply