So, I checked the survey that I done months ago and the price section left me confused.
Am I... charging my clients too high? I mean yeah sure, I have read the 5 Volume of Journal about how to open commissions and stuff but apparently I still can't find the silver lining, the journal told me to use /hour for the pricing but that would be ridiculous.

As you would've know, I increased the prices to it's current state because a person told me to because I would destroy the market If i charge my drawings too low, but the thing is... I'm worried that people don't want to commission me again If the price is too high.

And, anyway, here's the results of the survey that I created months ago, the pricing sections.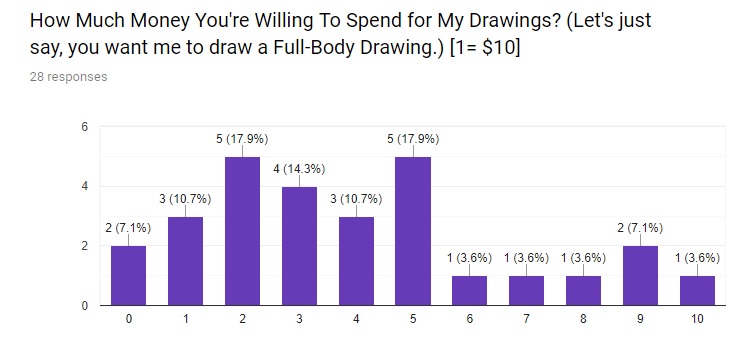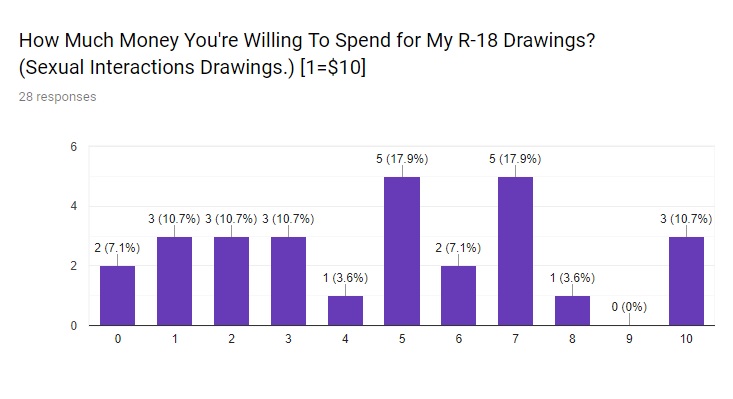 I'm actually flattered and surprised because some people willing to pay those high prices for my art, but I'm not surprised there are people who willing to pay below my current prices too because I know that I'm garbage anyway...

... Just kidding hahahhaa! (But who dislikes cheap and free art anyway hahahahaha, of course everyone wants cheap or free art whenever they can!



)
So yeah, actually, $50-$70 for a drawing is a high number for me, it could feed me for almost a month! (Eating 3 times a day only cost me around $3-4)
But yeah, the "Am I setting my prices right?" still haunts me even until now, If i set the prices too low, I will crash the art market but If i set the prices too high, nobody will come I guess.

I don't really know at this point hahahhaa but I'm very grateful that my current batch is full, It's just i need to work on it faster!