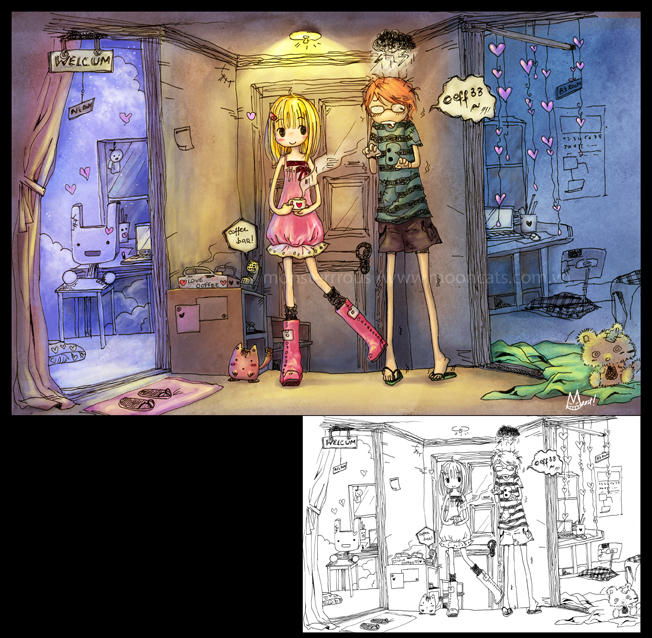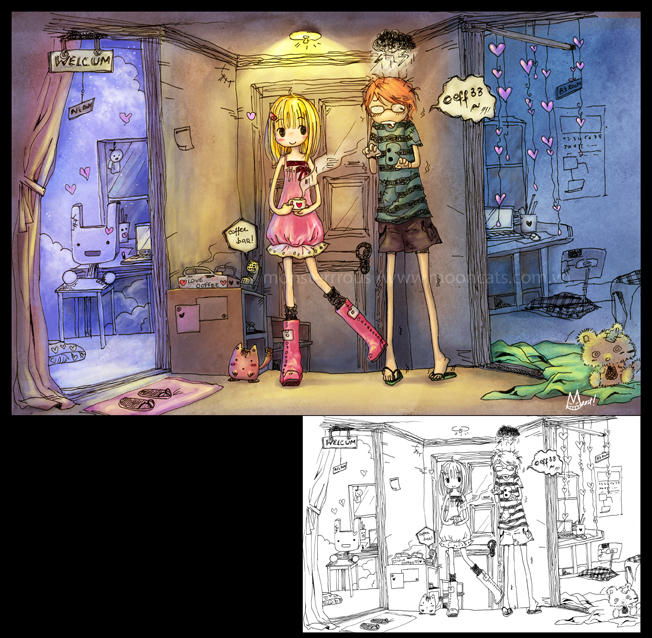 Watch
Lineart by

Colouring by: Monsterrrous
This is an lovely artwork for Mooncats greeting card


To smallinu: your style is very special, it give us innocent, pure and peaceful atmosphere and emotions, and that's why somehow your pictures make me so envy... So I think you needn't to "find" anywhere but keep up this very excellent style

. Believe in yourself.

The next time you may want to consider using "welcome" instead of "welcum" if you really know what "cum" means

Nice work though

Reply


i drew it when i was an innocent and childish girl ~~~

anyway, it's our teenagers' language
Reply

I love the innocence and joy of this picture. How the girl's just like "Coffee? <3 " and the boy's all like "ZOMG COFF33 PLZ!!1" It's just so cute and funny.

Reply

It's really beautiful and the colors are good
Big up for your stuff

Reply

great color job! It really came to life!
Reply

lâu lắm rồi mới dc nhìn lại nó ;A; cũng mấy năm rồi ha >_<" (nói nghe ghê wa') hồi đó nhỏ xíu ngây thơ quá trời luôn

ánh sáng tốt quá, màu cũng hay quá :">
cảm ơn anh ;A; cảm ơn anh nhiều lắm XD love you, big bro! <3 I'll try my best ;A;
Reply

Nicely done by both of you. : D
Reply

Reply

Aww...this is so adorable. Love the colors you chose for the pic.
Reply