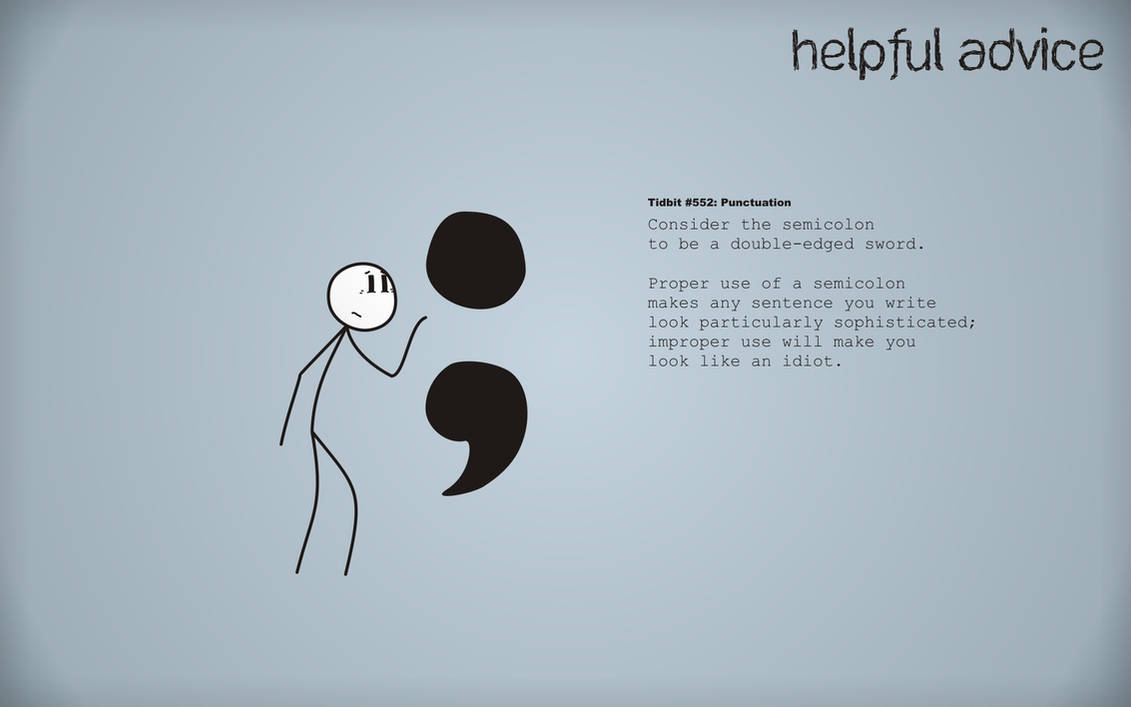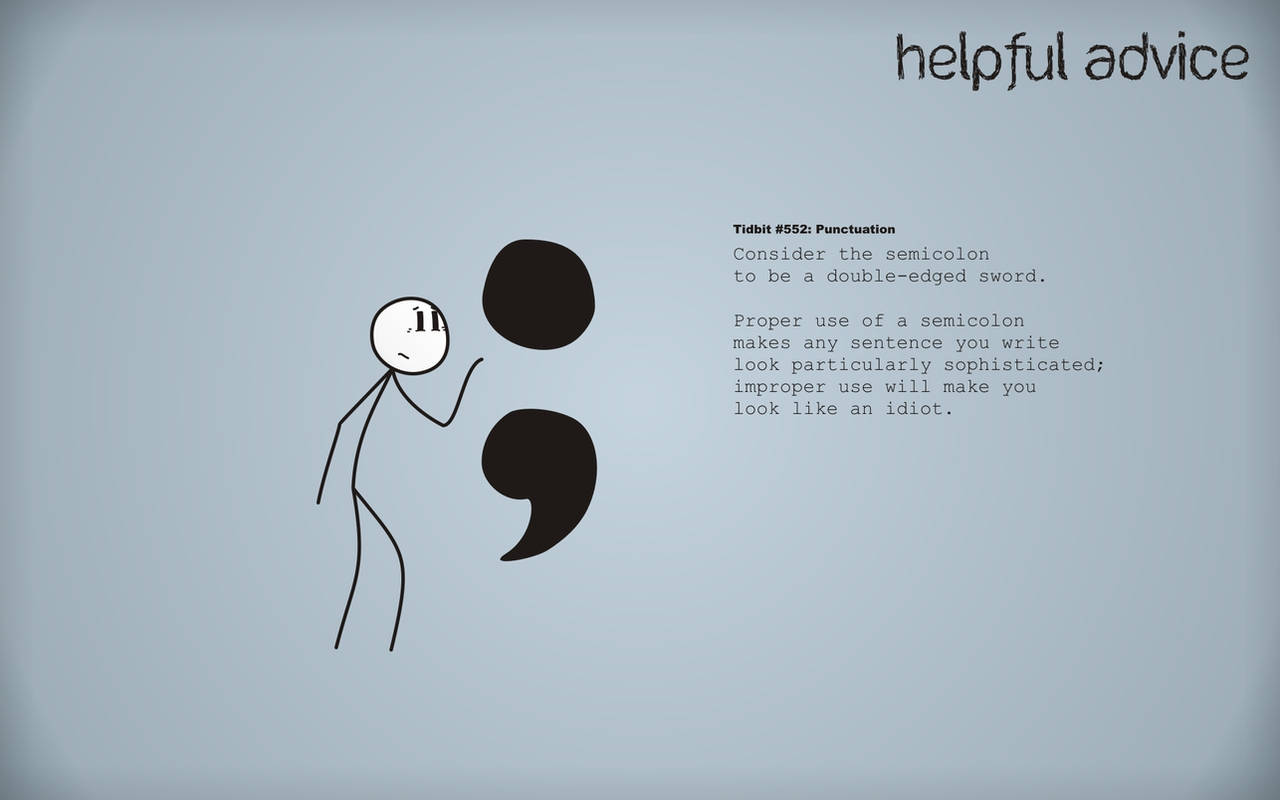 Watch
Be sure to hit the download link to get the full res version (1920x1200) if you're interested!
My second
helpful advice
wallpaper.
Edit: This is actually somewhat of a reissue, in order to retain a consistency in the art styles between then and now. Once I get around to it, I'll be dropping the old walls into my scraps section for reference purposes.
_________
Looking for more
helpful advice
? Follow this
[link]
!

Gwahaha, this made me grin quite widely. Especially because I often use a semi-colon.
Reply

Nice.

It's surprising me how many comments I'm getting about people using semi-colons. I've really got to look up the rules again - I don't tend to use them for fear of this very thing.
Reply

In my case I use them when you have something to say that needs a :, but an added wait for drama and such. Or if you're going to follow up with multiple points.
Reply

Nice. I feel like there's some official rule of using a semi-colon instead of a comma followed by a conjunction. Not sure how true that is.
Maybe someday I'll find the ambition to actually look it up.

Reply

Truer words have not been spoken.

Improper punctuation drives me crazy. I appreciate the nod to the semicolon; (

) it's not given enough attention!
Reply

I usually shy away from using it, myself. To be honest, it scares me to death. I need to get, like, a semi-colon book or something. Or just one of my old grammar texts. Then I could be a semi-colon master!
Reply

Waaaay ahead of you, friend. I've mastered the semicolon (semi-colon?) and made it my friend.

We're pretty close.
If you want a book on the super-secret techniques that will give you confidence when approaching the enigmatic semicolon, I suggest
The Blair Handbook, 7th edition.
It holds all the secrets to English grammar.

Reply

Sounds cool. It's just been so long since high school grammar... We did 2600 or whatever number it was called. Crazy stuff.

And I'm sure you're right on the spelling. I just typed it in that way without thinking too hard about it.
Reply

That little stick guy is super cute. He looks slightly hesitant as he's poking the semicolon.

Oh noes. I think I'm going to spend a bit of time looking at whatever other ones of this series you have :3 Very awesome.
Reply

Reply

cute

i'm loving this series. how many more do you think you'll have?
Reply

Thank you for the nice comment.

I haven't a clue how many more I'll end up making. I suppose just until it's not as fun anymore.

I've actually got one more in the green room, but I'm not sure if it would be better for me to space them out or not - if only just for myself, so that I don't feel personally pressured to make another. Heh.. Besides, it needs a little tweaking anyway.
I'm really glad you've liked the ones so far, though!

I'm keeping my fingers crossed that more fun ones are on the way!
Reply