Ah, yes;
my very knowledgeable and wonderful secretary
Sarit Ak-Há Ronn
is still trapped in
Anathema
(but in very good company, at the moment,
thanks to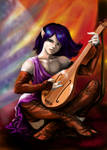 's intercessions).
Meanwhile, at my house,
I'm getting pictures on Sarit's computer,
that I want to show you, except they're in a format
incompatible with any w3.org standards.
Sarit can translate those with a couple of gestures
—that I should have learned by now, but haven't—

so, either I trace them by hand, or,
I succumb to the temptation
[they're holographic, by golly!]
of trying to model the character in 3D;
the character being, in this case,
a friend and former roommate of Sarty's
named
Kerata Saillie
:
That was my first sketch, posted in a hurry
so that DollBlue and her contacts could recognize her,
but her curls are more
floccose
than
pilose
—more
fleece
than
mane
—
so I'm trying to get a handle on that.