________________________
Aug 28th 2013
_______
+
My Youtube
+
My NewGrounds
Life
Change
Step forward
Accept my place
Face my role
Do not take from
Me the ground
I stand on
For it shall
No doubt mean
That I face
Death
I'd like to take a moment to note a few individuals
that have had a profound affect on my life and
development as a person. In two months I have reached
well beyond the limitations I had unknowingly
placed upon myself. If ever I could say that I have friends,
these few transcend that simple word. They grace me
with their presence and I am awe struck. If any deserved
to devour my still beating heart, it would be these who I
admire and grow to adore.

Someone who manages to keep a smile on my face for the better part of
every single day. I admire him as a writer because of the amazing tales he
weaves with ease, and I am stunned by his artistic exploration that still
humbles me by the ease in which he produces such lovely work..
Never have I met such a chivalrous and selfless person as he.
My day wouldn't be the same without exchanging at least a few words with him
which always seem to put the breath back in my lungs. He is truly a hero
with the fiercest of hugs and deserves far more than he currently receives.
My personal favorites:

Fairytale PrinceSometimes I wonder,
if you really love me?
The awkward, moody guy,
the jealous one,
who loves his morning coffee,
sometimes, a lot more than you.
I promised I'd kidnap you,
so we'd always stay together,
though, I own nothing but my day's pay.
I still promised you a cozy hut,
hidden in a mountain,
a worn out fireplace, and a warm bed,
candles to light our nights
and wine that'd last for decades.
I promised you a snowy morning,
and a kiss under the mistletoe,
Yet I lied, and called you my princess,
though I am no prince at all.

Escaping Father I"Whoever brings her to my feet will be my new right hand!"
Her heart sunk at the words, her gaze shifting between the man who spoke and the knights who were also looking at him in a state of pure shock.
"You heard me, what are you waiting for?" he said again, pointing his finger at her. They weren't that far apart, her horse only a few feet ahead of his as they moved through the forest, enjoying a normal hunting trip, or so she had thought.
"Father, you can't be serious," she muttered, nudging her horse to move further away from him. "I don't understand father, am I not your only heir?"
He didn't answer, merely stared at her, his fingers trailing the diamond hilt of his sword, a dark smirk crossing his lips.
"Run!" she yelled at the horse, dashing through the forest, trying to escape the knights who gave chase. The sun slowly disappeared as she entered the darker parts of foliage. The low branches scraped at her face and clung to her cloak as she plunged deeper

The Pale MouseI.
Red shades,
fading bullets,
fire in the distance.
You're in a city and
I am in another
a foreign feeling
washed through my heart.
II.
Twelve hours in silence,
No power, no phones.
A daily ritual to live through;
I'd stay on the balcony
counting minutes till one,
dreaming
of your voice, your laughter, and
the thousand roses i smell in your hair.
III.
Soldiers marching,
you're so scared
windows are sealed,
the doors are locked.
another bullet rings
another wave of blood.
IV.
Curling in the darkness,
under the bed
dying for a drink yet,
you refuse to get up.
I promised i'd be there,
waiting on the other side
of a telephone line.
V.
I told you the tale
of a small pale mouse,
cleaning her house.
she found a shiny
gold coin and
danced to joy.
VI.
You laughed,
there was no more fear.
Did you get a drink?
you protested,
asking what happened
to the mouse.
VII.
It's simple,
you are my pretty pale m
___________________________________

Heartgrinder
I hadn't been to NewGrounds in a decade or so but SolidMars told
me to head there to see if I could solve my music blight. I scoffed.
Once I got there I went straight for Electronic- Industrial and clicked
TheHeartgrinder
because the name drew my attention above all others.
What happened afterward I can only describe as the most unifying
experience of my life. Not only did I find his music completely
entertaining but I also discovered that he was one of the few talented
people who took the time to reply, in depth, back to me. I think we both
wow'd one another. I am extremely inspired by him, and more. Not to
mention how completely envious I am of his ability to doodle with a
sharpie. There are no words sometimes so I simply drool, grin, and nod.
Some tracks that are my personal favs:
Forgive Not
The Great Charlatan
Grave Digger
Failure and its Apprentice
___________________________________

This extremely well worded man stumbled upon me and refused
to leave me to my own devices and vices. Commenting on my
literature so frequently he caught my attention. At first I was totally
thrown off, I mean, no one has ever spent so much time ripping
apart my words to find their meaning. Not even I do that. However,  
the dark pit I had slipped into became abruptly brilliant with the light
of his insight and he tugged me a safe distance away from the horizon
of my own self destruction. What he does reaches far beyond the realm
of human capability. He is truly, self deemed and I completely acknowlege,
a protector of that which deserves being cherished and saved. I admire
him beyond words.
Personal favorites:
___________________________________

This wonderfully twisted mind is akin to my own, at least that's
how I feel. Her words tend to be so very straight forward, short,
yet she crams a precise point into them more often than not.
I am inspired by her darkness and her ability to weave webs
with her words. What I'd describe as blunt force trauma to my
mind after reading her poetry, and it's one of the best experiences
I've ever had. I don't tend to read poetry or literature in general by
other deviants but this is one writer I am deeply pleased to
indulge in.
Personal Favorites:

My Demon My Demon My Demon My KinYou I will take care
Your skin I shall repair
Make you beautiful again
For my wonderful demon
Snip snip cut your hair
You have the beauty so rare
Your fingernails I shall trim
Fill the blood cup to the rim
And pour it on your chest
There ain't no rest
For the likes of me
My demon my demon
My demon my kin
I love my demon so
Take me below
Here's your present
It was only meant
For you and no other
You're my brother
My demon my demon
My demon my kin

Warmth Within My SoulTake care of this bloody debris
Made by only me
Hang their bodies on trees
Let them blow in the breeze
Warning to all
That everyone will fall
Under my lust
For having blood is a must
For your sake
You must make
Haste to the safe side of the boarder
This land is colder
Colder than my soul
For it carries warmth
Warmth of fresh blood seeping through
___________________________________

With an imagination possibly more active than my own I find
myself smiling ear to ear while visiting her gallery. Sure, most
people probably won't see what I see when I'm there but for me
her gallery is a whimsical place full of story and narrative based
upon a fixed range of characters. Not only is she brilliant, she
can make me smile just seconds after messaging me. Her
literary works have really surprised me and I feel honored
to be gifted with her wit and charm so often.
Personal Favorites: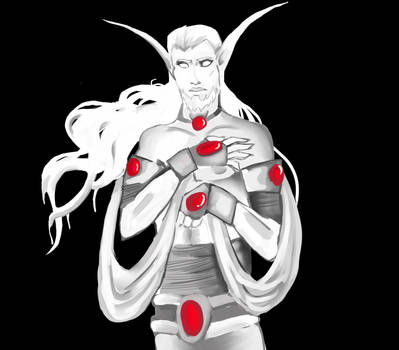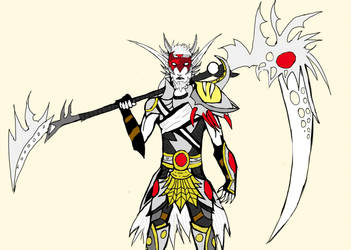 TranslationRed Threads (Translation of "rote Fäden")
For this one night
Be on the watch
Be on your guard
because your demon no longer rests.
For this one night
I woke up
I do not sneak up on you
scurry around your bed
so that no one could save you
I wait for you.
I know you'll come over
Wash over me like waves over the shore
In this one night
Your gaze spins red threads
you see me
And I see you
You grab the yarn
So well done
You build a net
Let out your greed.
In this one night
I am not defensive.
it was my duty!
I'll play along
and you'll bind me.
In this one night
your red thread will cut me in half
Dipp my heart in twilight
Pull it tight around my neck,
you will not regret it!
In t-this o-one night
pain
silences my heart
Finally silence in my head!
I'm ready for that endless torment
thorn drilling
relentness
into my flesh
I'm so hot!
I can feel the blood.
It's fine like this.
Should I cry, should I scream?
No, because you'll leave your redeeming sign on me.
___________________________________
A few more deviants that inspire me to express myself
and share myself in ways I didn't think I wanted to. I enjoy their
work and talent to extremes.
=

=

=

=

=
=

=

=

=

=
Thanks for continually inspiring me to crawl from my cave once in a while.
Don't be hurt if your icon isn't here, it doesn't mean that I watch you (or you
watch me) for no reason. There are far too many people I watch to list
them all. Anyone could open the list of arists I watch and most of them
would be inspiring in one way or another.
These artists, however, are the sore thumbs in my mind and heart.
These artists paint with words and images new planes upon my
existence. These are people I think of when I think about dA and
how long I've been here.-Angela
If you have any questions, need any tips, or have any requests feel free to ask.
I'd like to consider myself one of the few artists who attempts to comment
back to any and all messages I get.
Follow me on Twitter?
twitter.com/ttbloodlusttt
See below Scroll boxes for
 'Commissions' and 'Resources'

COMMISSIONS!

I am open to commissions. Note me if you think I can assist you.


_BRUSH DOWNLOADS_
Other

Resources
I do not require any specific
credits for gradients other than an
icon link to me. I just want other
people to know where the gradients
came from. If you want to note me
with use of these gradients, I would
LOVE to see your work and +FAV it!Gradient
Fractal Gradients 1
PSD
Wing PSD
Feel free to add me to friends,
I always love to chat and meet
new people, answer questions and give
tips!
Tutorials- these are a bit
outdated but feel free to take a look!
Image Size and Clarity
Color to Black and White
Ptained Hair
Wing Depth
Lip Lustre
MakeUp
Places/contact
</u>
Myspace
Xanga
Facebook
Twitter
Favorite Stock Resources




Stock Exchange