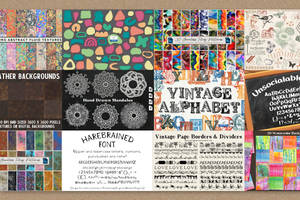 HG Designs Subscriber Area
Lots of high resolution goodies for graphic design including textures, photoshop brushes, seamless patterns and more.
---

Description
Come on, guys! just $49 left to unlock my first "milestone goal" gift!
Becoming my patron you'll may get .
In this video I'll show you how to draw blonde hair, how to choose color palette, how to draw hair strands and many more (for tier $12).
tier $12 will get
- $5 reward pack
- full size JPEG (3000x4000px, 300 dpi)
- psd file
- time lapse video with voice over description
- 5 photoshop brushes (

OR 16 brushes if we hit the first goal

)
Support me on
Patreon
My Videos and tutorials are here =>
Cubebrush
Prints are here =>
Redbubble
Follow me on
Facebook
Follow me on
Instagram
Follow me on
Twitch
Or just buy me a
coffee
Image size
1234x1200px 910.78 KB