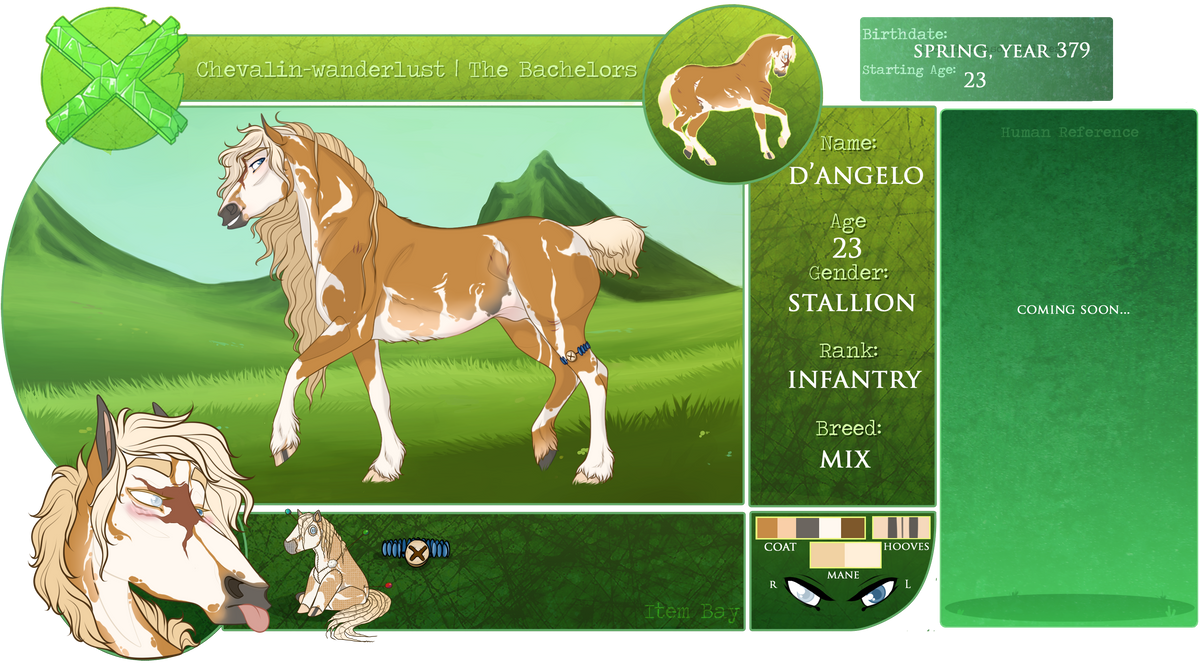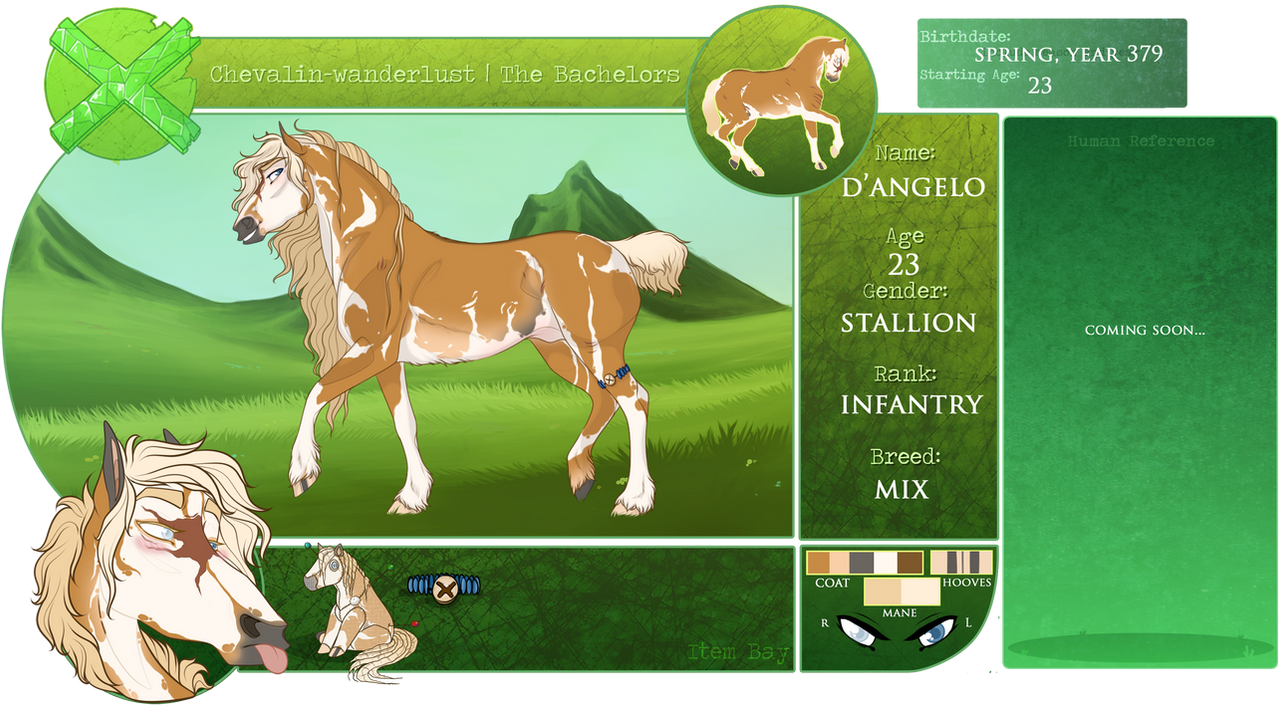 Watch



[ Tier Tracker] [RP Tracker] [Heart Chart]

*Human Information is in [brackets].

---
Basic Info.
| Name: D'Angelo (DAN-JEL-LOW)
| Nicknames: He likes to go by Angelo, since it seems to be easier to remember than D'Angelo.
| Age: 23 years.
| Breed: Mustang / Clydesdale / Fjord / Shire / Andalusian.
| Gender: Stallion.
| Orientation: Bisexual. He won't openly admit this.

| Height: 18.2 hh [6'1"]
| Voice Actor: Jared Padalecki

| Herd: The Bachelors
| Current Location: The Eastern Island
| Rank: Infantry

| Appearance: D'Angelo has a stocky build which is similar to that of a Friesian in appearance. His body is equally proportioned and balanced with strong hind-quarters and shoulders. He is a little clumsy on uneven terrain. He has heavier feathering on his back legs compared to his front, and as he grows older his unruly curls will tame into more gentler Andalusian waves and he will sport hair tufts beneath his chin and the bridge of his nose. He gets fluffier.


---
Family Relations.
| Sire: Kohen (Bachelor Elite; Clydesdale / Shire x Andalusian)
| Dam: Nayala (Bachelor Lady; Mustang x Fjord)
| Siblings: Elian (Twin brother)

| Mate: None. Not currently looking for a serious relationship. But really, all it takes is the right someone to capture his heart.

| Offspring: He's sired a good few!


---
Personality.


Charming. Flirtatious. Fun-loving. Gentle.
Daring. Hot-Tempered. Fragile.
Protective. Physical.
| Charming: [Pleasant and attractive.]
This definitely comes off of him from the first time you meet him. Angelo's a sweet talker and can easily sweep off anyone with his honeyed-words. He likes to flash that white smile of his and enchant with his glass blue eyes. He often seems to have a bit of a spring in his step too, as if everything in the world was perfect and without reason to burden one's self with worries.

| Flirtatious: [Expressing a playful sexual attraction.]
This swings right along his charm. Angelo will flirt with anyone that catches his eye. It's tough to escape his radar. He refers to himself as a 'lover of beautiful things', and he definitely seems to go out of his way to show that he really does mean those words. He openly and freely flirts with any mare, but be warned, although he always means what he says, those honeyed-words are nothing but compliments. Don't fall too hard for him ladies, he's dangerous. With stallions on the other hand, Angelo's a bit more cautious and doesn't freely flirt around with them. He knows it's nearly suicide to do so.

| Fun-Loving: [Light-hearted and lively.]
"I'm the fun brother," as he often says. Angelo has an annoying desire to purposely ignore realistic occurrences and would rather spend his days living in a fantasy as if realistic problems didn't exist. He's dedicated to his herd and his position, there's no doubt about that, but he's still a young colt at heart and loves to have a good time. Too much stress breaks him down, he's not good at coping with it. He has almost two different personalities; a more serious one when he's "on the job" and then this "fun-loving and careless" one when he isn't.


| Gentle:
[Mild in temperament or behavior; kind or tender.]

This is something that no one but those who are very close to him have ever experienced and come to known. Angelo has a kind and gentle heart, and he hides this due to his herd's beliefs and because of his parent's expectations of him. But he could never harm anyone who was helpless nor could he turn away. This is, unfortunately, an extreme weakness for him.

| Daring: [Adventurous or audaciously bold.]
When he's made up his mind about something, Angelo will rarely let anything persuade him from that path, and that goes along with this daring trait. Angelo enjoys a good challenge and has a habit of getting himself into a lot of trouble for stupidly jumping head first into any challenges and bets. He's not exactly a diplomatic individual. His brother Elian often has to get him out of the bad situations he gets himself into. He doesn't hold back. Angelo's the type to try new experiences and doesn't shy away from the unknown.

| Hot Tempered: [Easily angered, hot tempered.]
Don't get him mad. This frightening temper is inherited from their father, Kohen, and both Angelo and his brother Elian share it. If he's pushed to the limit he can become extremely violent, and unfortunately ends up regretting what he has done in the aftermath. This is why Angelo tries to keep himself happy in order to prevent this side of him from unleashing itself. When he was sixteen he witnessed what a temper like this one could do when his infuriated father killed his best friend. Due to the fear that he could possibly be capable of committing such a thing is what keeps, and actually nearly forces, him to always force a smile.

| Fragile (emotionally): [Not strong or sturdy; delicate and vulnerable.]
Another one of his hidden traits. Angelo gives off a strong "play-boy" personality, flirting with every pretty thing he sees and treating most mares like toys rather than actual individuals, disposing them as they had once disposed him. A young love had shattered his heart and now he deeply suffers through the scars it had left him. His heart is strongly guarded and one night stands are his way of coping with his heart break. But nothing he's done can fill that empty void he so badly wants filled. Insults against him actually really do offend him and cut him deep, but he would never let that show and he does go off and sulk about it when he's alone.

| Protective: [Having or showing a strong wish to keep someone or something safe from harm.]
Stay away from those he cares about. When Angelo says "back off", that's exactly what you'd better do. When he's angered, he doesn't mess around. No one messes with his friends, and no one messes with his family. He doesn't care who, or what it could be. If you pose a threat, he'll make sure you're eliminated.

| Physical: [Of or relating to the body.]
This doesn't necessarily mean sexually. D'Angelo has a near constant need to always touch someone, whether that be standing shoulder to shoulder with someone or simply nuzzling a greeting or a gentle nose poke. He expresses his emotions through actions rather than with words, although he is a smooth talker, he prefers showing what he means. He just likes to know that someone is there. He and his brother rest side by side, despite already being quite grown up now. Elian knows this is due to some insecurity that his brother has so he doesn't bother him about it and simply accepts the responsibility of comforting him, and D'Angelo is eternally thankful for that.


---
Extra Info.
Theme Songs:
*mature warning in a few of the songs listed below.
"My Demons"
by: Starset (this one fits him through and through)
"Hot Like Me"
by: Varsity Fanclub
"One Night Stand"
by: Cash Cash
"Touching on my"
by: 3OH!3

Unlike his twin brother, D'Angelo hates sweets, and consuming too much of it gives him minor headaches.

He loves to swim.

The one thing in the world that he desires above everything else is a family. He'd have all the foals in the world if he could. Being a father is his dream.

Loves anything that sparkles or shines, anything eye catching. He's not quite sure why, they just interest him.

Although there are several mares in the herd that D'Angelo does hold respect for, the relationships he forms with stallions are much more meaningful to him than the ones he forms with mares. But close friends and family don't fall into that rule.

He is actually very emotionally unstable. It's only a matter of time before he snaps and slips into insanity...
---
History.
Birth.
D'Angelo was born into a privileged family, and most would say that he should be thankful just for that fact. His father, the fearsome Kohen, is one of the strongest Bachelor Elites and his dearest mother, the beautiful and fair Nayala is a fair and respected lady among her fellow mares. It was on the eve of spring that he was born, just minutes after his older twin brother Elian. Birthing colts was already special, but twins, now that was something near short of a miracle. Nayala loves her boys and Kohen couldn't be more proud; of his mate and of his sons.

The day of the marking came several days after their birth and Kohen made sure that he bestowed upon them the bold 'X' mark on their foreheads. These were his sons and he was determined to see them grow up strong, feared and respected. Elian, being the eldest, was the first to receive his mark and he did so without a single cry of pain. But as Angelo watched his brother's scarring, he couldn't help but feel a twinge of fear. When his turn came, Angelo surprised himself by doing just as well as his brother, but the scar he received was a bit too wide on the right side for the scar stretched over his eye. The days and weeks it would take for the scars to heal was a terrible time for young Angelo. His mother woke with a start when she felt something hot sleeping against her. Touching her muzzle to her little Angelo's forehead she was horrified to realize what a fever he had, and in the light of the moon the cause of his illness was revealed.

Kohen! The big draft immediately arrived at her side. Angelo's scar had become horribly infected and the infection was making him terribly ill. Desperate for help, Kohen and Nayala sought out the best healers and paid whatever was necessary to heal their little boy. Elian stayed by his brother's side during his healing process and it was a good thing that he did. Although Angelo's infected scar did heal, it left his right eye with terrible sight and to this day it is slowly slipping into complete blindness. But Nayala and Kohen were relieved that he grew up strong alongside his twin brother and the six years that followed were full of happy memories.

Early foal-hood to teenage years.
It was at seven years of age when Angelo began his infantry training alongside his twin brother. He and Elian did everything together, and despite their personalities being the complete opposite of one anothers, they were the only ones who could understand each other. Kohen was a strict teacher, but he was never cruel or unfair. But as the two brothers grew into the teenage years, something changed. Elian grew stronger, and suddenly a brotherly competition was born, each of the two trying to out-do the other.

At fourteen years of age a deadly sparring match would end the brother's competitive streak with each other. During a break between training, away from the watchful eye of their ruthless father, Angelo and Elian decided to see once and for all who was the strongest. Which one of them was more deserving of their father's favor. The two brothers fought viciously, but they were equally matched, until Elian made one fatal slip that lead to him breaking his back leg. Angelo was horrified at what had happened and he received a horrible punishment from their father for the incident.

Angelo and Elian were separated for about three months while his broken leg healed. It took three healers working as a team to make sure it would heal properly. But Elian would always walk with a limp for the rest of his life. Surprisingly, Elian had no hatred or anger in his heart for his twin brother, he actually felt proud of him. When the two of them were reunited, it was a happy reunion. But unfortunately their father could never seem to smile down upon Angelo ever again, and that frustration towards his youngest son would snap and lead up to the horrifying event that had lead to D'Angelo traumatic scarring.
The day it all fell into place.
At age sixteen was the day that really shook D'Angelo and caused him to be who he is today. Several years ago he had met an Exile colt by the name of Luca, who had been playing on the beach with his mother and little sister. The two instantly got along with one another and vowed that the two would always be the best of friends. This was the first and only secret that Angelo ever kept from his father, but not to his brother. Elian knew of these secret little meetings between his brother and this Exile colt, and, concerned for his safety, warned his brother that it would be best to bring their little game to a stop. Seeing him being in the wrong, D'Angelo refused.

Things change over time and soon enough, what had begun as harmless friendship turned into something more. D'Angelo couldn't understand why he was beginning to see his best friend in this new light. Why did his heart beat faster whenever he saw him? Those beautiful green eyes captivated him each time he looked into them, and his laughter filled his chest with happiness. It wasn't long until he realized that he might have actually fallen in love with Luca.
Elian wasn't blind to this. A few months before his brother had figured it out, he already had. One night D'Angelo hadn't returned home with him and Elian wasn't strong enough to stop their father from hunting him down to see where he had been all of this time. The sight of his son with another colt was the last straw for Kohen. He believed that he was loosing control over his youngest son and he released all of his pent up frustration and anger on the sixteen year old; Luca. But D'Angelo wouldn't let his father near his best friend without a fight. But a sixteen year old colt was no match for a strong 19hh stallion, especially an elite such as Kohen. One strike to the ribs was enough to nearly cripple D'Angelo and it left him winded and unable to stand for quite sometime. He would have received a harsher punishment if Elian hadn't stepped over him to protect him from their father's wrath, knowing very well that Kohen would never harm him.
Before D'Angelo slipped into unconsciousness, he could feel his brother deliberately crying out for their father to stop. Although he couldn't quite seem to see what was happening he could hear Luca's screams of pain. ...Angelo! With tears in his eyes all he could muster was a faint:...I'm so sorry Luca, before he drifted off and his vision blackened.
17 to Present Day.
The big day; the 17th Year Ceremony. What had happened a year ago was forced to be forgotten, and now, both Angelo and Elian were looking forward to this day, they had been their whole lives. As expected, both brothers were proud to claim the rank of an infantry stallion, aspiring to be an Elite one day, just like their father. Nayala, their mother, had made sure to chose and present her sons with some young mares that she and her fellow lady-broods had deemed worthy of her sons. Elian chose without much thought, not really caring too much about it, knowing it was expected. Angelo unfortunately was not as cold-hearted as his twin brother and the mare he choose would be his second heart-break. Echo was her name, and she was a beautiful creature. She had a face that wasn't easy to forget, and she was sought after by many stallions, but Angelo stole her innocence for himself.

The moon was high in the night sky when they took a stroll together, away in privacy. The night was full of passion and lust for one another, Angelo had his heart stolen completely, and the moment that Echo realized this, she quickly took advantage of it. She had Kohen's son wrapped around her pretty hoof and she wasn't going to let him go so easily.

D'Angelo and Echo spent months together, acting like a pair of love-sick fools. They were never without one another. But Elian had begun to uncover the roan mare's plot in manipulating his brother, and in order to make it fair to him he made an effort to warn Angelo earlier, but of course, once again, he wouldn't listen. As the months progressed Echo discovered that she had not conceived from their time spent together during the ceremony, even from the times when the two of them had spent many, many days and nights together. She had begun to grow fearful that she might be barren. But in order to be sure, she managed to slip away from D'Angelo for several days and spent those nights with another stallion. But she was foolish to have chosen a dark Bachelor.

About a year later, a few months past D'Angelo's 18th birthday, Echo gave birth to a foal she strongly believed might have been D'Angelo's. But in fact she gave birth to twins. A colt and a filly, from two different fathers. Her heartbreak turned into anger and frustration at the discovery that the filly was D'Angelo's, and that the colt was sired by the other stallion. Her plot was falling apart. Determined, and a little desperate to keep her place in the herd she found a Loner passing by and pleaded for them to take her into their care. She needed to prepare for her return to D'Angelo.

D'Angelo had been more than excited at idea of being a father, but when he trotted up to meet Echo, the silver bay foal at her side caused something in him to snap. Echo tried to explain herself, leaving the filly, in fear of disappointing him, out of the argument. But nothing could change his mind now. Angelo struck her, and he struck her hard enough to force her to her knees. In his blind rage he tried to get to her newborn son, kicking and snapping and fighting to get to him, but Echo stood faithfully between them. Luckily, before her strength was completely drained, Elian came to back his brother off. But he didn't leave her without words of disgust. D'Angelo sullenly followed after his twin brother with a heavy, broken heart.

It was a short time after this that Angelo grew bitter towards mares, and he and his brother once again began to see eye to eye. Despite always seeming to be under their father's ever vigilante attention, Angelo does all in his power to let his father know that he no longer has control over him. And that he would avenge Luca one day.
(will continue to update / add on to)
---
Art & Character © raveniice
The base of his design, not including my edits to it, are credited to semper-n-aeternum
This is not free for other uses.