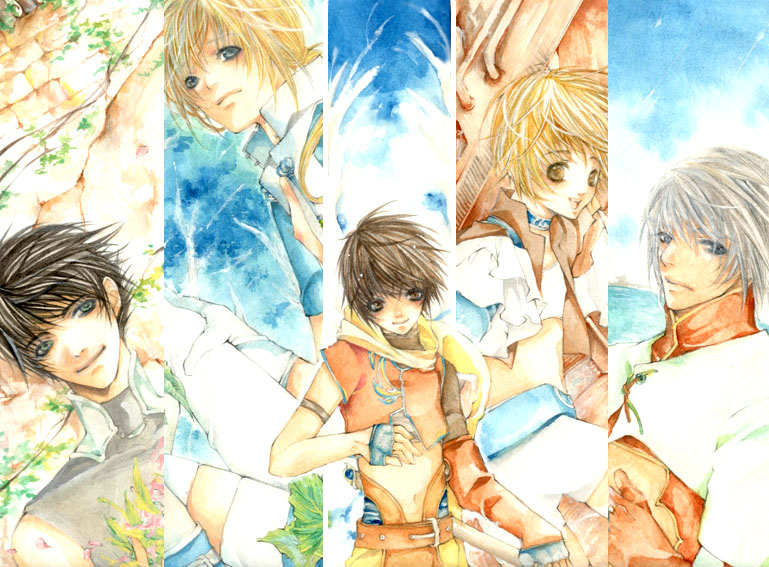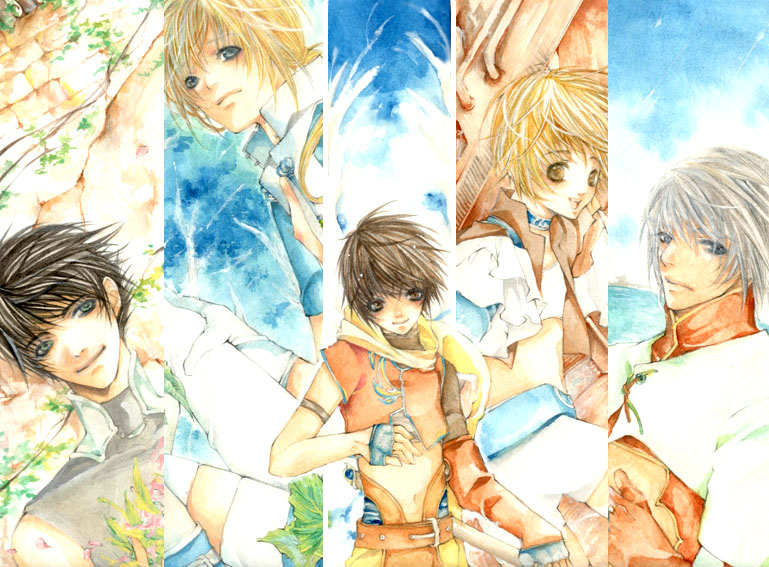 Watch
i'm so sorry for spammy editing;___;
i accidentally saved the image low in quality and i had to do something about it... that's why this looks a little... awkward...-___-;;;

Characters(from the left)
-Douglas Melford
a broke knightin city of Rue de Fleur. he desperately needs money. he's very nice and hard-working person, but got no luck.
-Keltner Ray
an evil magic swrodsman. his purpose of journey nor birthplace is unknown. he's really self-centered and doesn't care about the other people. but it's because he has a very important task to accomplish.
-Eunis Philliba
a boy who's on journey to find a husband! j/k. not husband, but something more rpg-ish and cool.
-Rejae
a thief who ripped off Eunis and got caught afterwards. he can be really cute and sweet, but he's usually a little cheeky. he's saving money to save his little brother from Atro City, where child labors are forced to work and can never get out of.
-Kurusu
a doctor in a town called Seasides. gentle, smart, but a little weird. he saved Eunis when he got lost in a forest nearby the town.

'etude' is an imaginary bl rpg in my little worldXD sexually graphic anime game for adults! j/k. or not.
the main character, Eunis Philliba, is the boy in the middle. he's on journey to find something(i haven't decided yetXD maybe a mr. right or gloom or husband?)
hopefully i can make my own game someday. not necessarily yaoi like this one. just a normal fantasy rpg will be fine. haha.