What tools do you use?
On the subject of tablets:
I use three different tablets depending on where I am. At work I use a Wacom Cintiq 27 QHD, in the studio I'm on a Wacom Cintiq Pro 24, and if I'm traveling I'm using my Wacom Intuos Medium Pro. People ask me which of them I prefer but I find that all of the Cintiq models are essentially the same with slight differences in additional features (touch, express keys, etc). I personally do not recommend sizes greater than the 24" model because I find that beyond this size there's a diminishing return.


In regard to the Cintiq vs the Intuos: I used Intuos tablets exclusively until 2014 and I think they are excellent tablets with good prices. The Cintiq tablets are more expensive but I find that my workflow is faster on them especially for things like lineart and drafting. If you're just starting out and are beginning to shop for a tablet, go with the Intuos. You're getting all the benefit from using a tablet without the expense of the Cintiq's price points. While I think that the Cintiq is an excellent tablet with great features, the price is so significantly higher that it may take a lot of justification to jump up to it. It's nice to have if you're really serious about your work and if you can justify the price but the Intuos is just fine in my opinion.

In regard to the iPad Pro, I would recommend this if you find that you're more likely to want to draw away from a desk or on the go and you're ok with app based drawing programs. I think the iPad Pro is an amazing device and the Apple Pencil is the closest device to an actual pencil that I've used so far. I do highly recommend the app ProCreate which is very affordable and it's easy to work with. The biggest reason this isn't my primary drawing tool is because there is no fully featured version of Photoshop in an app setting.


On the subject of programs:
Most of digital paintings are made with Adobe Photoshop CC. Occasionally I'll paint in ProCreate (on my iPad).

Every so often, I'll start my drafts on paper but it's far more common for me to build my drawings up completely in a digital environment.
How long does it take you to make a drawing?

How long I spend on a drawing really depends on the complexity. For my larger more complicated drawings, it takes anywhere between 6-20 hours. Smaller and more sketchy drawings take around 1-4 hours. I also tend to rotate several works at once so I'm keeping fresh eyes on each of them. I find that if I'm focusing too long on a single piece, I begin to fatigue on it. When I cycle work, it keeps my interest up and I see my mistakes better if I come back to a drawing after I give it some time.
When did you start drawing? How did you learn to draw?
I've been doodling since I was a kid but I didn't get serious about drawing until I was in college. I majored in Studio Art as a traditional painter but quickly jumped into digital painting platforms shortly after graduation. I try to carry over my traditional painting background into how I compose my digital paintings. This is why you'll see a lot of exposed brush strokes in my work.

Are you a professional artist? Where do you work?
I'm a conceptual illustrator for a research laboratory. The nature of our work is sensitive so I can't speak publicly about it. The drawings you see in my gallery are the illustrations that I do at home and for fun.

What influences your art?
I admire the work of William-Adolphe Bouguereau, Todd Lockwood, and Robert Bateman.

On deviantArt: sandara, TamberElla, StarSheepSweaters, alohalilo, The-SixthLeafClover, Silverfox5213, griffsnuff, Ry-Spirit, and BenHickling but this is a super short list of the people I admire. Check out my favorites for pieces that inspire me: tsaoshin.deviantart.com/favour…
What is your digital painting process?
Whenever I make a new drawing, I always start with drafts. I may go through as many as 20 drafts before I get something I like.
I'll clean up the draft and graduate it to a loose sketch that I work directly on top of. I tend to throw rough colors into the sketch to establish a color palette and where my lighting will be.

When I'm satisfied with the lighting and palette, I begin refining the sketch by blending the colors and adding detail. The way I blend colors is to use the "alt" shortcut in Photoshop which makes the eyedropper tool active while you're holding down the alt button. This way you can select colors that are present in the drawing instead of making a new color with the swatches. I blend by using the eyedropper to select color areas in the overlapping area between two different colors to get a "blend" of the two together. I use this mixed color to blend the two areas into each other.
I save my chiseling and detailing brushes for the last part of the process and use them in areas where I want to draw the viewer's focus. Over detailing a drawing can sometimes cause them to look flat.

The majority of my brushes in Photoshop have shape dynamics and opacity linked to pen pressure. If you want to know more about Photoshop brush customization, ceruleanvii has made a really great tutorial available here: fav.me/d303tv9

Here's where you can download my basic brush set: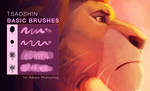 Here's where you can download my full brush set: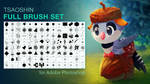 I generally work on less than 4-5 layers. One for the background, one of the subjects, and a few others for floating details like glows, lighting, etc.

Do you have any tutorials or resources?
I've done a few tutorials and step-by-step posts here on deviantART. Check out my resources gallery to see them.

I very frequently create a timelapse of my process. These are available on my youtube account.
I conducted a Digital Painting Crash Course Workshop which is available here:



Download the PSD asset the Workshop here: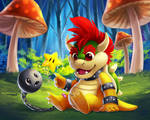 The most comprehensive tutorial I have currently is the one I created for Autodesk Sketchbook: Tutorial - Digital Painting a Cute Lion

I have a few tutorials in Digital Artist on How to Design Cute Fantasy Monsters, How to Draw Dragon Wings, and Drawing a Dragon in Flight. Issues: 33, 34, and 35.
If you would like to know more about me, check out my interview on YouTheDesigner.

Do you livestream? What is Backseat Drawing?
Yes! I'm a twitch partner and I stream my artwork here!

I also run an art show called Backseat Drawing on YouTube which is a fun and casual show with a focus on digital painting, pop culture, and current events with a dash of humor. We aim to foster artistic growth by being informative, encouraging, and community focused. You can check it out on YouTube!

You can also join my community and hang out with me on Discord!

Do you do commissions?
I'm sorry but at this time I can no longer accept commissions, however, I am available for industry and commercial clients.

Do you do requests or trades?
No sorry, I have a huge time constraint and can't take requests or do trades. Subscribers to my Twitch stream are able to request a drawing every month that goes into a raffle. I pull one winner a month and I draw their request traditionally live on my stream. The winner also gets their drawing shipped to them!
Where else can I find you?
Instagram: TsaoShin
Twitter: TsaoShin
YouTube: tsaoshin
Twitch: tsaoshin
tumblr: tsaoshin
Pretty much anywhere, you can find me as "TsaoShin"
Can I share your drawing on my tumblr, facebook, etc?
You sure can just make sure you credit me. I usually put the drawings up on my own pages so it'd be awesome if you reblog or share from my accounts when you can!
I also really appreciate people who drop me a credit line whenever they see my drawings somewhere without a link back to my gallery. That means a lot to me!
On a whole, I don't mind if my drawings make there way across the Internet so long as they aren't being claimed by someone else or being used to make money without my permission.

Can I use your drawing as a reference, wallpaper, tattoo?

Go ahead. You don't need to let me know if it's for a personal project but I appreciate the notice nonetheless. If you get a tattoo I'd love to see a finished photo!

What are your pronouns?
My preferred pronouns are he, him, his.
Are you LGBTQ+?
I'm pan and demiromantic.
What do you look like? Will you ever do a face reveal?

HENLO!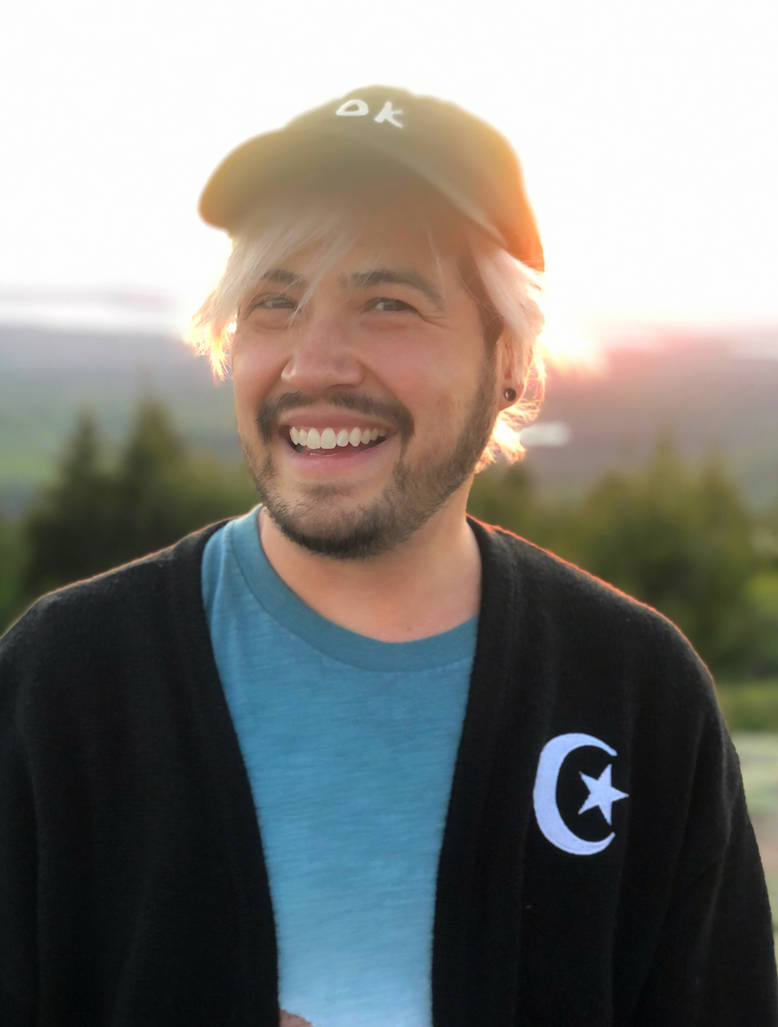 Why do I see you mentioning bees so often?
I am a beekeeper so you'll probably see me talking about honey bees or even see me drawing them sometimes. I currently have 2 colonies and I've built a pretty extensive pollinator garden not just for my own bees but also solitary pollinators, butterflies, and song birds. If you have any interest in backyard beekeeping, let me know!




Where can I meet you?
Best place to see me is at a convention! I'm frequently at the mid-atlantic US cons. Check out my
Twitter
to see announcements of which ones I will attend!
Do you have any Original Characters (OCs). Can I draw them?
I do!
Wereric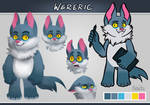 Wereric is the mascot for my
twitch streams
and he's a representation of my artistic struggles. You'll often see him in comics or just being a big blue doofus on my social media accounts.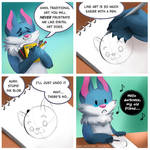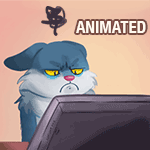 Grendel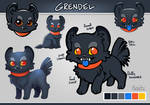 Rivers
Grendel and Rivers are mascots for my artwork. They are both characters in a fantasy world I've been creating where they journey together and frequently get into trouble.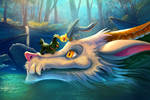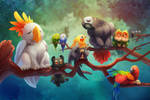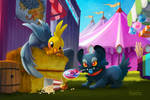 You are more than welcome to draw them! If you do, let me know because I would love to share your work on my page

Who is Grendel? What kind of cat is he?

Grendel is my original character and my mascot who is based on my real life cat.
He is a Highland Lynx and has 26 toes, a naturally short tail, and round curled ears. He acts like a dog and looks like a mini black bear. His appearance and behavior influences a lot of my artwork. See videos on
youtube
.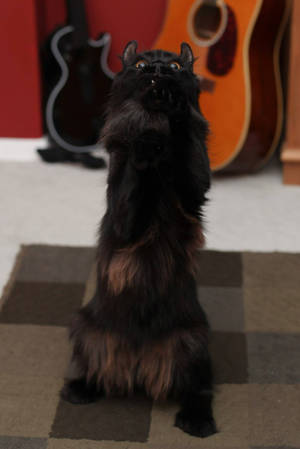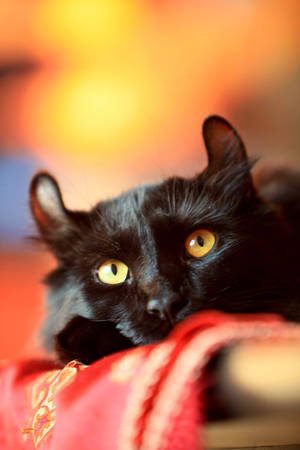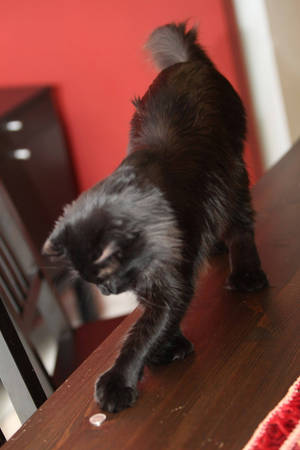 Are you going to do every Disney movie in your Grumpy Cat Disney series?
With the passing of Tardar Sauce (aka Grumpy Cat), I will not be making anymore of the Grumpy Cat Disney series. Thank you so much for all of the support and love you've given me on this series, but a special thank you to Tardar Sauce who inspired joy in so many people around the world.
Are you going to draw every Pokémon in the Pokédex?
YES! Check out the
progress
so far!
Where can I buy your stuff?
I have several online shops where you can purchase my work.

For prints, rugs, mugs, shower curtains, phone cases, pillows, bags, and more please visit redbubble

For playmats visit Inked Gaming
I am also at many mid-atlantic anime conventions. Please see my convention schedule on my profile page!
Do you answer all of your comments and notes?
I try to get to every one of them especially if it is a question. Please don't hesitate to send me a note even if it's just to say hello. The most rewarding part of creating artwork is getting to share it with people and the interaction that it fosters. Thank you for your support and for all of your favs and comments!
---
last updated: March, 2022

Hey, might want to add a thing to this FAQ about collaborations since you do those, too. And yes, I would love to do one of those with you so knowing the guidelines for that is helpful.

Even if the answer is 'I only do collabs with certain people'. I would like to know. And other would possibly as well.