Description
This is my entire set of brushes! This is every brush I use in my digital paintings.
They are grouped together by type and similarity. If you need help installing these, please go to this link:
akvis.com/en/photoshop-tips/lo…
These brushes were created in CS5 but I also use them in Photoshop CC.
A big thank you to the artists who created many of these brushes and generously allowed for their distribution and editing! This set was compiled from brushes by Jonas De Ro, Dan Luvisi, Levi Peterfy, Jaime Jones and many others.
I will be creating a series of workshop videos soon that will demonstrate how I use these brushes. Watch me to stay updated!
If you're having trouble with these brushes in higher versions of Photoshop or if the download link isn't working try this set:
ABR
No Preview
Still having trouble downloading them or it says the link is unavailable? Try here:
drive.google.com/file/d/14WEq6…
Here's the resource file that is used in the workshop: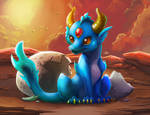 Interested in a smaller set of brushes? Here are the ones I use most: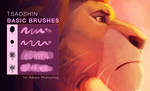 Created with Adobe Photoshop.
Some of my other digital painting resources!