Twitch livestreams
|
Youtube channel
|
Instagram
|
Twitter
Video of the tutorial:
youtu.be/cT_bkML2rnY

This is a digital painting tutorial on how to draw a quick and easy grass using custom brushes in Adobe Photoshop.

I'm using Photoshop CC in this tutorial but the brushes and most of the tools I use can be used in many other versions and even other drawing programs. The tablet I'm using in this video is a Wacom Cintiq 24 HD.

Hang out with me on my Discord Server! All are welcome! discord.gg/tsaoshin
Created with Adobe Photoshop CC

Brushes that were used in this piece:
Check out my other Digital Painting Workshops: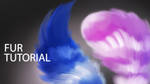 Image details
Image size
1280x720px 2.67 MB