As part of the DeviantArt Collective, I'm currently running a challenge called Hey Nice Background! Read more about it here!

Let's Paint a Background ChallengeEver look at someone's drawing and think "Hey! Nice background" and then wondered how to tackle doing the same?

WONDER NO MORE!

,I'm launching the #heynicebackground challenge where I'll be running workshops and providing brushes, PSDs, and other assets to help creators make their own backgrounds for their artwork!I often get questions on how I make the backgrounds in my paintings and I love helping other artists make environments so I'm excited to bring you this challenge.

Schedule of Events

I'll be running all of these workshops on my Twitch streams. This is the perfect opportunity to ask questions since the streams are live! However, I know attending streams can be difficult for folks so check back on this journal because I'll update it with the recorded videos so you can watch the streams even if we're offline! (videos will be available shortly after each stream concludes)Streams start 7PM ET - 10PM ET at

http://www.twitch.tv/tsaoshin

Tuesday May 18, 2021: Woods and ForestsWednesday May 19, 2021: Snowy Scenes and MountainsThursday May 20, 2021: Beaches and Clouds

How Do I Participate?

Watch

@TsaoShin and check out the livestream workshops (or the offline videos as they become available on this journal)Create artwork that shows off the background in a "Hey! Nice background" sort of way (And yes! You can definitely put in a figure/character in your work)Submit your piece on DeviantArt with the tag #heynicebackgroundSubmit your work no later than 7PM ET May 25, 2021 Multiple submissions are allowed

Prizes

I'll be running a Twitch stream on Tuesday May 25, 20201 starting 7PM ET where I'll showcase everyone's awesome background artwork that used the tag #heynicebackground3 random winners will also be chosen to win:1st Place: 1 Month Core Pro2nd Place: 1 Month Core+3rd Place: 1 Month Core I'm looking forward to all the incredible backgrounds you make! Happy painting!

Resources

Here's some assets to help you get started on making your own backgrounds!

Twitch Workshops

Woods/Forest Workshop,

https://www.twitch.tv/videos/1027417371

Snowy Scenes and Mountains Workshop,

https://www.twitch.tv/videos/1028510097

Beaches and Clouds Workshop,

https://www.twitch.tv/videos/1029599687

Brushes

,

Background Assets

,

Video Tutorials

,

https://youtu.be/gF8zf60GsIc

,,

https://youtu.be/x_Bg6kPKSL0
I'm teaching folks how to paint 3 different backgrounds this week (May 18-20, 2021)!
Yesterday, we covered how to do beaches and clouds! If you missed the stream, it's still available to watch for a while here:
www.twitch.tv/videos/102959968…
This is the PSD file that I created during the stream! The layers are all retained but the size was a bit reduced (upload limits and all XD). It's free to use including any elements from the file or the entire image itself. I'd love to see what you create with it!
Remember, if you're entering my challenge this week you'll need to make a new drawing where the backgrounds SHINES! Make sure that when you submit it to DeviantArt, you use the tag
#heynicebackground
so I can find your work!
More in this series!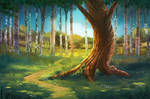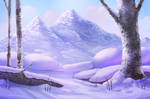 -----

Hang out with me on my Discord Server! All are welcome! discord.gg/tsaoshin
Created with Adobe Photoshop CC