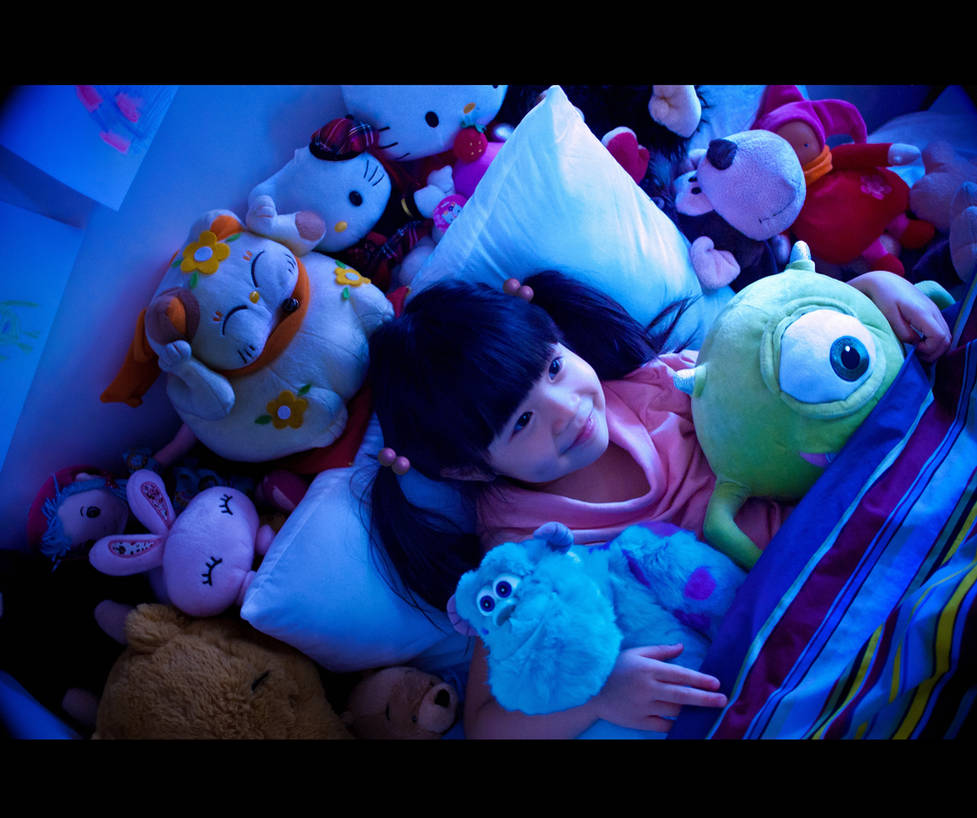 Watch
[Monsters, Inc.]
" Kids these days. They just don't get scared like they used to. " - Henry J. Waternoose
θ Cho as Boo
Photography&Editing :

7.45

150th deviation with a special lovable guest, Law's sister

Good night and sweet dreams dears ! We are looking after you !

Join us !

on Face Book :
www.facebook.com/pages/TOWN-Co…
EDIT : 2011/11/26
: Our first deviation which reaches finally 1000 favs !

Thank you so much dears !
Such a GREAT birthday gift to Law !


Love you everybody, we will respond you as soon as possible




EDIT : 2011/01/10
:
OMG. Was our first thought.
And THANK YOU SO MUCH, is our feeling now.
Thank you

, to have suggest us this succesfully, we haven't any word to describe our gratitude !

Thank you,

,

, to have suggest us also, we are so proud that you had believe in us this much !
Thank you

, for your kind sweet words !
Thank you

to have featured us, it is such a great honour for us all !

Thank you everyone, dears, whom trust in our work and support us with your warm enthusiasm !
You all made our day when we have to face adversity in our personnal life...
But really, love is tenfold, as I love you from the bottom of my heart, my sweet little sisters, during those hard times, the problems our parents are encountering, I want you two to keep this genuine smile !
I swear I will protect you until the end, hoping you will see how many people are able to love, and be at your side.
There will always are fair people whom preserve you from the bad monsters.
Again thank you so much all to have bring us hope ! ☆彡
(Will respond to you ALL, soon as possible !)
Daily Deviation
Given 2012-01-10
Not only were you able to get little Boo to look just right--which isn't easy with kids!--with exactly the right style and expression...even the lighting in the room matches almost exactly with what I remember from the movie in the scenes where the monsters were in her room.

The odd camera angle, while normally I would find it awkward, really seems to work here because you have all of the elements of the shot framed so well, with the girl's face perfectly centered as the focal point.

And finally, it seems like you really had the trust of your model there--which can be a touchy thing with children sometimes. And I appreciate that you allowed her to really be a child here rather than placing her in a situation older than her age group.

Excellent work!
The Artist thought this was FAIR
238 out of 242 deviants thought this was fair.
Wow...you did a great job with this! You seem to have gotten every detail right. I love the little things all around Boo, like the scribbly pictures on the wall and the stuffed animals around her. The girl's expression makes her look like Boo even more than the clothes on her do. And the lighting is perfect. It looks exactly like it did in the movie. The angle of the picture is a good part, too. Even the black bars add to it a bit. They make it look a bit more like a movie to me. Overall, it's very well done. I've never seen anything like this before, so I'm glad to see that someone brought it to life so nicely. As a kid, I loved this movie, and finding this picture brightened up my day.

I really can't see a thing that could be changed to improve the photo; this was pulled off very well.

Amazing work, and I hope to see more soon!
The Artist thought this was FAIR
94 out of 97 deviants thought this was fair.