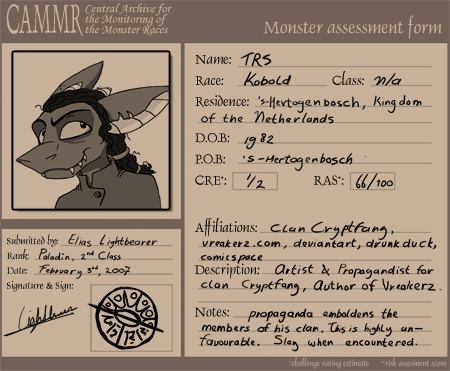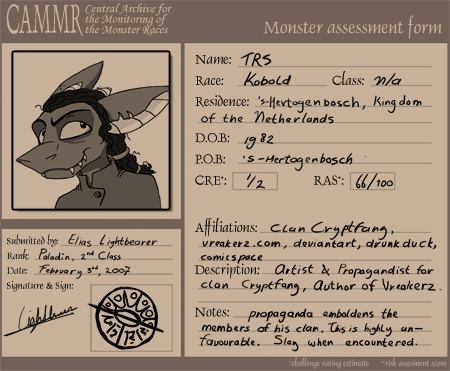 Watch

You should make an empty template of this...
It would be the perfect DevID for any D&D-gamers here on deviantArt

Reply

Hmm, this Lightbearer fellow doesn't sound like a nice guy, I presume Clan Cryptfang is keeping an eye at him?
Reply

Heh, yep, him and that whole bloody order of his. Pain in the butt, those lawful good guys. Though there's not really much we can do about them directly.

We're generally more concerned with adventurers wanting to loot our homes. I mean, we've set up some pretty nasty traps, but some of them still manage to get through.
Reply

Aye, adventurers can be quite a pest. And they usually have a nasty habit of disarming traps you have spent a long time making...
Reply

Xykon does come up with some nice traps, despite him being a lich, but I think it would be a bit expensive to have this kind of trap in every tunnel entrance and you'd have too make room for some seats so the clan can watch the show...
Reply

Oo *he took out a sword and stood beside TRS* No slay the artist!
Reply

yay, allies! : ) I keep telling my fellow kobolds we should make exceptions with this whole "if you're not kobold, you suck" deal.
Reply

hey, I'm covered in dollar signs to those slayers, I know how ya feel! *he pointed to his horns and teeth* Alchemy ingrediants, popular ones too.
Reply

I like the idea of this. :B
However the fact that you are supposed to be slain on sight is somewhat disturbing..

Sepia-tone = <3
Reply

Hey, I'm not the one filling in the form here, that's lightbearer's business.

Reply

True... But still. Eheheh.

I need to fix my computer so that it'll run long enough for me to read the Vreakerz story all over again.
Reply

paladin? uha .. and only one year older then me oO
Reply

Heh, I think you mean I'm a year older than you are?
and rest assure, I'm certainly no paladin. Can't really stand
the likes of lads like Lightbearer... really.
Reply