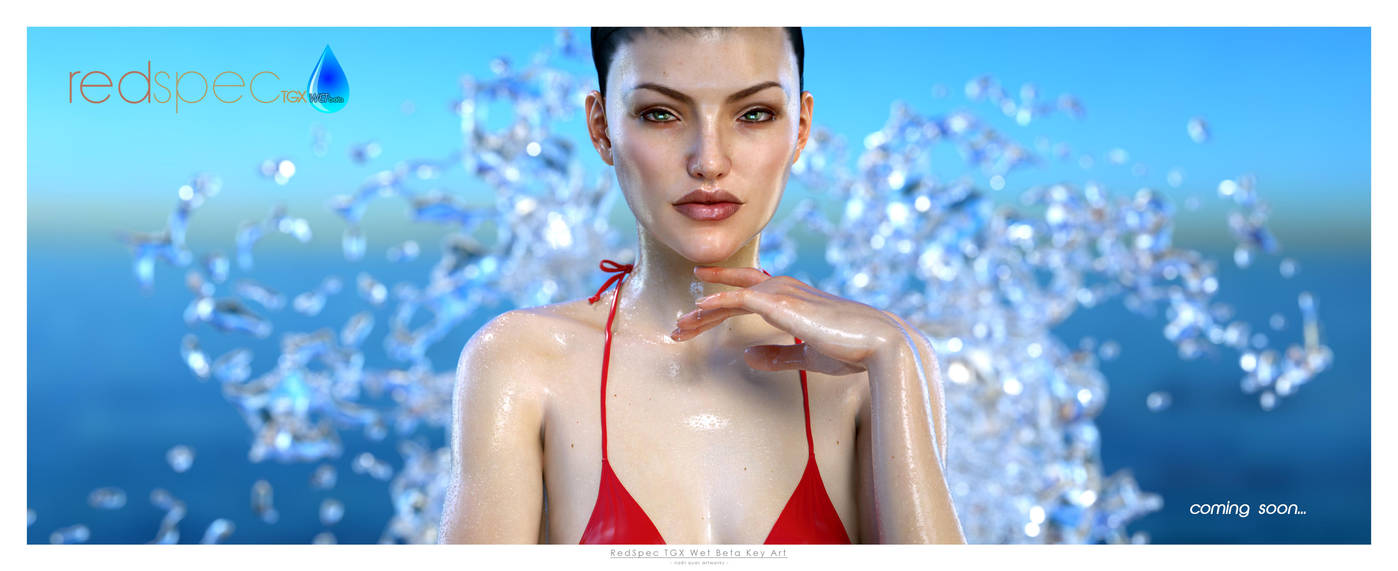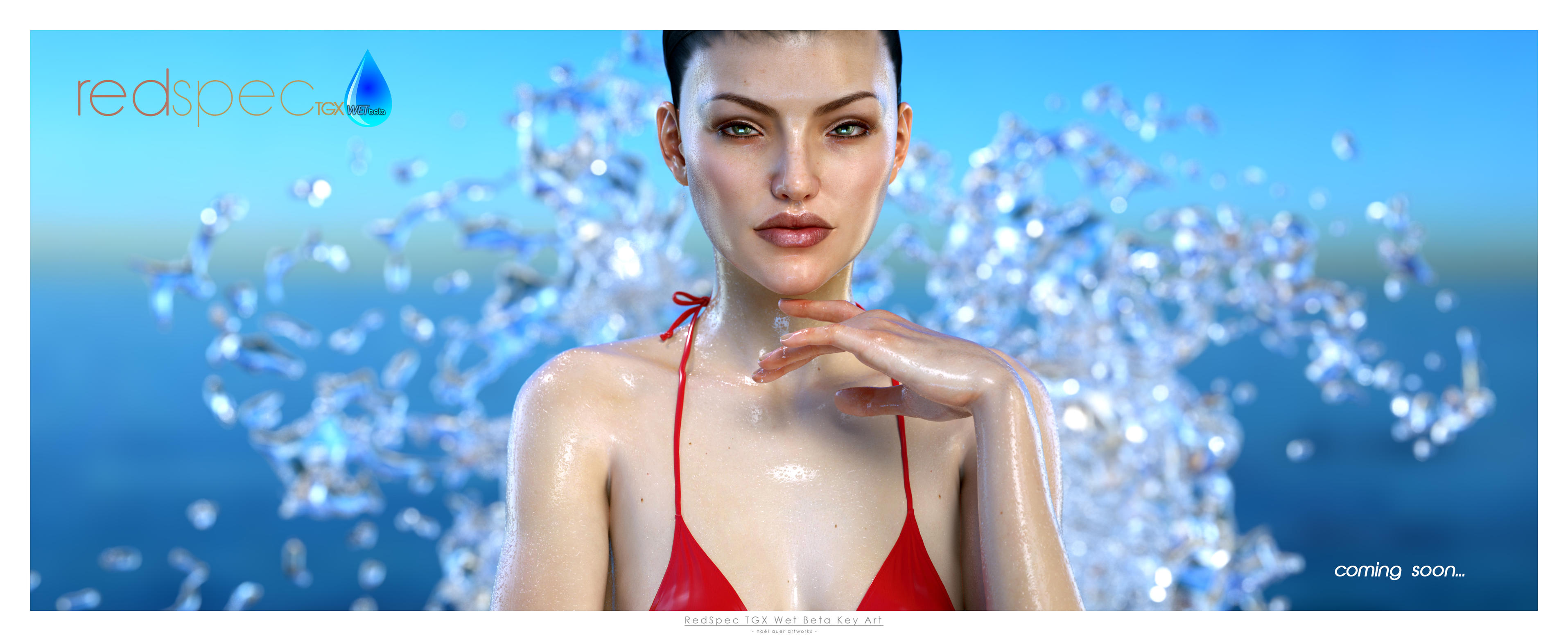 Watch
I guess although you could all see what our brand new shader set RedSpec TGX Wet Beta can do in the last teaser image, here it is in full glory.
TGX Wet Beta will be a full fledged SSS shader like you know it from our TGX product range (already available for purchase at
www.redspec-sss.com)
combined with a wet shading ability like you've never seen it before.
It utilizes the power of Poser and OctaneRender to deliver physically correct, unbiased water droplets and drip lines on top of ANY existing V4 or V6 character mat that you own.
We'll announce further details in the coming days.
Stay tuned

Thanks for stopping by
Take care
Noel

Your website link is broken. Do you have an updated one?
Reply

Noel, I sent you a support email, because in my eagerness to start using this, I went into your website and accidentally bought the TGX (regular) which I already have!

I never touched the download link, so if you could fix/correct my order to the TGX Wet instead, that'd be awesome.
I also (again, out of eagerness) purchased without seeing if this would work for us Octane+Daz folks
Your help would be great appreciated. Thanks.
I am SO excited and eager to keep seeing your new developments!
Reply

Hey Osiris,
just replied to you via e-Mail.

Regards

Noel
Reply

will you create one for Octane DAZ users as well?
Reply

We're working on converting our previously releases shaders to OctaneRender for DAZ Studio - so yes

We'll announce it accordingly

Stay tuned!
Reply

Hey Noel, do you guys have an ETA on your Daz version? (I see that this post is a bit old). I am getting antsy and even considered fetching Poser, but I am sure my Significant other would kill me as I would also need to purchase the Poser plugin for Octane - I much rather spend my money on your shaders than on redundant purchases of Poser or Octane plugins. Is the release in the foreseeable month mark?

Reply

I'd like to tell you, that we'll release it on Day X in month X of this year, but to be quite honest with you, I'd prefer rather not to.
The past has shown, that rushing things (although one couldn't say that in regard to the TGX Wet beta shaders for DS, of which I'm aware of) only generates problems in the afterrun, so what I can let you know, is that we're currently working on 4 things simultaneously.
1.) Our dedicated hair shader, RedSpec TGX Hair (Poser / DS)
3.) RedSpec TGX tailored for Millennium 4 Males (Poser / DS)
2.) RedSpec TGX Wet beta for DAZ Studio
4.) Porting our stuff to iRay
5.) Updates to already released products
As you can see, the Wet beta shaders are in there as well, and it shouldn't too long. We'll try and get everything mentioned above out into everybody's hands by the end of the year though.
Hope this helps (a bit)
Thanks for your understanding and support

Cheers
Noel
Reply

Looking forward to using this!
Reply

I see why they let you test it out, good gosh.......
Reply

actually I'm one of the creators of Redspec TGX

Been doing this with my business partner Redanta for over half a year now 😄
Reply

Wow, the most realistic wet skin I have ever seen! I don't have Poser or Octane but will it be available for the Daz Studio plug-in in the future? Or is it more of a Poser thing?
Reply

Believe me, if the DAZ Studio plug-in would be in a comparable state as the Poser plug-in RedSpec would already be available for it.
But since it is not, and since we don't want to make compromises in quality we decided not to release it for DAZ Studio for OctaneRender so far.

It pains us every day not being able to serve the DAZ folks - as that is something we wholeheartedly would like to do any second. But as long as it is like it right now that won't be happening anytime soon.
If t_3 (the developer of the DAZ studio plug-in) gets his act together and finally updates the DAZ Studio plug-in we'll be right there with RedSpec TGX - even with TGX Wet Beta.
It all depends on him right now.
Reply

That's okay! I'm happy just to sit back and enjoy your style and cinematic quality renders fly by.

I haven't got the right computer for Octane anyway. My laptop laughed at me for trying to use a product with a SubD of 3 this morning.

But your work is a huge inspiration! Can't wait to see more!
Reply

Thank you so much for your words, appreciate it a lot 😊
I really love your character work as well- Ziva Looks particularly interesting.
I guess SubD can bd extremely taxing on ones Hardware... experienced that myself...
Reply

When Noel-when ????

Reply

Looks fantastic, so much detail!
Reply