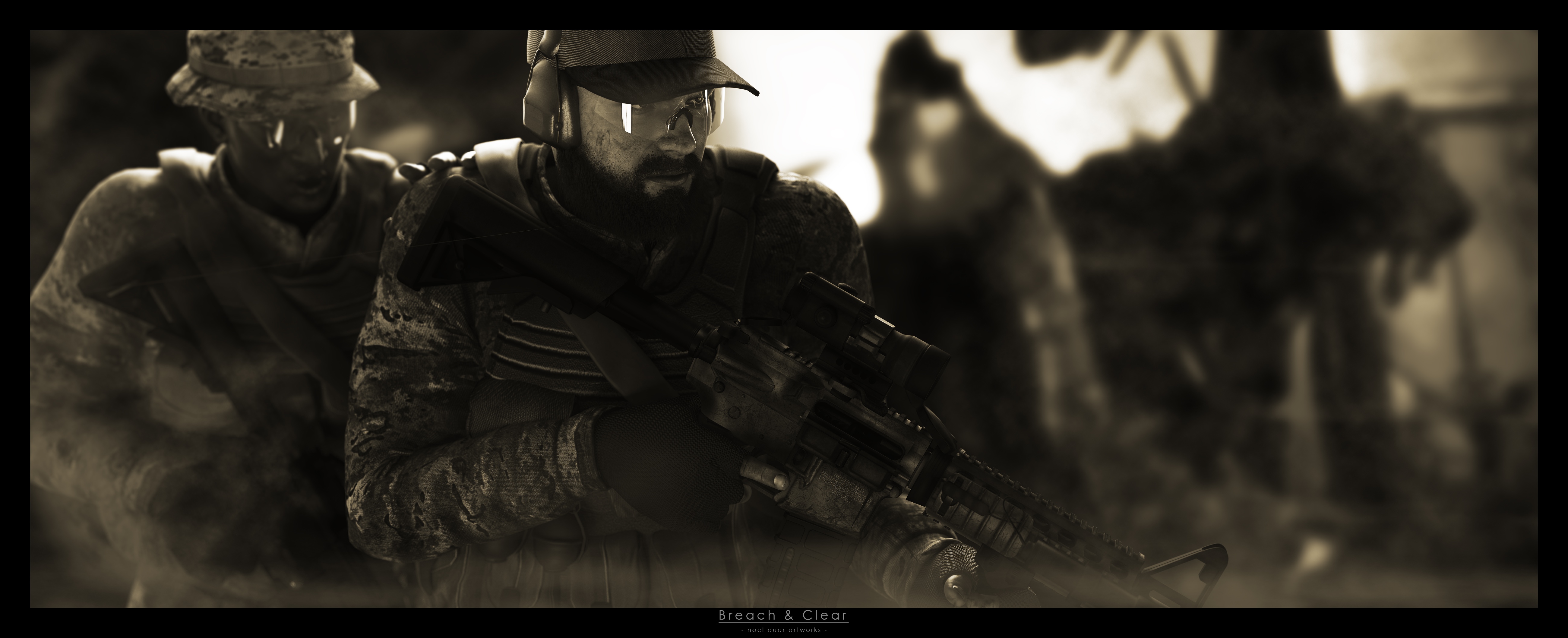 Watch
Really having fun exploring the military genre for a bit here.
These guys are carrying heavily modified M4A1 Mk18, the camo is hand painted multicam.
S/P: ~ 5.000
Render time: ~ 1hr. (GTX Titan Black + GTX 780)
Light souce: HDRi
Shaders: RedSpec TGX tailored for Genesis 2 Males (available now at
redspec-sss.com
)
Thanks for stopping by
Take care
Noel

Great concept and (as usual) excellent render. I really do like the atmosphere on this one - makes you feel the tension... Cool job!!
Reply

Clothes around the shoulders always look too rounded in genesis... no natural crease for esp shirts... so realism dies abit. Thats how i feel about it. I know that I have the same problem. Perhaps a bit of hand-painting to change that? A thought I guess. But like the whole ensemble.
Reply

Yup, I agree with you on that. It always depends on the individual clothing prop/figure artist, how real everything looks in the end.
The shoulders will always be a problem, since a lot of bending is usually happening in that area, and adding folds in that area would distort geometry considerably.
So I totally understand why nobody is doing it.

Only way out (besides potswork) would be dynamic clothes that drape realistically based on the characters pose.
And then again, there are not many good dynamics out there...
Reply

Cool render, it looks like a real foto.
Reply

I did 10yrs Army, love this! Keep them coming man.
Reply

Very cool render, You got the posses and the looks down very well.
Reply

Really appreciate it!
I consider gun posing in Poser / DS some of the more difficult stuff

Reply

This is a great render, really feel like you're there.

Where do you get your military gear from? I've been looking for some good hand guns for about a week now, but haven't had any luck, or is it all v4/m4 stuff converted to G2?
Reply

Thank you very much

Are you referring to the guns or the outfit?
I'm using a lot of kitbashing, so the list might be a tad long, as I just mash together, what I need from my library.
But for this specific one I used the "Soldier" outfit from DAZ3D:
www.daz3d.com/soldier-for-gene…
And augmented it with some XURGE3D stuff that I still had left from the V4/M4 days (namely this Peacemaker
www.xurge3d.com/inc/sdetail/26…
and this Warmonger outfit:
www.xurge3d.com/inc/sdetail/26…
)
My favorite go-to-place when it comes to firearms is
forender.com/
, I believe it has the most realistic assortment of guns when it comes to Poser / DAZ Studio usage.
Reply

Reply

Thanks a lot

Reply

No problem.

Do you think it's more difficult to render out men than women? Easier? Or the same.
Reply

Actually not at all, I think posing Genesis 2 based figures inside Poser is always quite a chore to do.
It's very rewarding however, when you get it right since the figures do have a lot of detail.
With gun poses it is always pretty difficult, not mattering if man or woman.
So to answer you question in short: The same

Reply

Ah ok. I've thought about trying to. But I wasn't really sure if I was doing it "just because" or if I actually liked it. & I think it's leaning more "just because".

But, if I ever did get into it, I'd probably want to make a character that's based upon myself. Which would be pretty fun.

All of the characters I've seen though are extremely muscular. I just hope you can make them thinner too!
Reply