-- Edit.09.21. Just a tiny update that contains a few tweaks, if you downloaded yesterday please download again (or not, the changes are very minor).
Today we have another head morph thanks to
Ryselle-3D
's sponsorship. The cheery Mi-Na Seong from the Soul Calibur series. I was excited about this one cause she is my SC waifu. Others always choose Ivy or Taki or Sophitia but I always liked Mi-Na best.
Ryselle-3D
's amazing promo: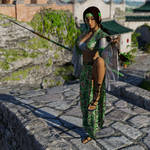 I had planned to do her body too as a bonus, but the SC bodies are severely lacking in mesh detail and to get the proper proportions should be easy enough with just a few dials. As for the textures, converting them would be an absolute pain, not to mention they are between 1/16th to 1/8th the amount of pixel data than your average G8F skin. I recommend Skin Builder 8:
www.daz3d.com/skin-builder-8-f…
It can match any skin-tone, any eye color and has tons of options regarding makeup and eyebrows and such plus you can export the generated skin so you can put on the final touches (like birthmarks etc.) in your image program of choice.
If you want to sponsor another character or commission a custom character morph for yourself you can see my commission information here:

Commission InformationI've been putting this off for too long but here is breakdown of all the services available.
All prices are in points. You can buy points using Paypal or Credit Card, just click on the "Shop --> Points" button.
- Portrait Commission - 2000 points
A head portrait or bust portrait of your female fantasy OC with a simple background.
I reserve the right to display the piece in my galleries, but you are free to do the same.
- Pinup Commission - 4000 Points
A pinup of your female fantasy OC. Clothed and NSFW variants are included, unless you want only one. Can be full body or thighs-up.
I reserve the right to display the piece in my galleries, but you are free to do the same.
- Head Morph only or Body Morph only Commission - 3000 points
For Daz Studio Genesis 8 Female only. A completely custom design or based on an existing character or person. It is your job to provide adeq
Soul Calibur and Seong Mina are the sole property of Bandai Namco.
Please don't redistribute in whole or in part.
Free and commercial renders permitted.
If you'd like to support my creative endeavors please consider joining my Patreon:
www.patreon.com/TritiumCG
You can also follow me on Twitter:
twitter.com/TritiumCG