Hey friends!
So I'm aware this happened forever ago, but since the Rune MAP is nearing completion, I finally got around to picking a winner! First place goes to
daisyrazors
with this piece!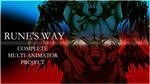 In second place, and what we'll be using as the background during the credits, is
LadyHeren
with this piece!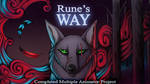 Thanks to everyone who submitted, and to the prize winners, you did insanely gorgeous work and it's a privilege to get to use your artwork <3 Prizes weren't discussed, but if you'd like me to make you commissions in exchange for your work, let me know!
If you're in the mood to enter more contest-like things, I'm running one right now in relation to My Pride! We're trying to get the word out there about it,and to help with that we're having an OC creation contest in which we'll pick 1 OC of each category to add in as a cameo in the series! Here's a link to all the templates (feel free to ditch my lineart if you'd rather do your own)
sta.sh/2irfghjbhro?edit=1
. Everything submitted before the end of March will be considered for the cameo and featured during our weekly livestreams!
Thanks friends!
Best,
Maddi