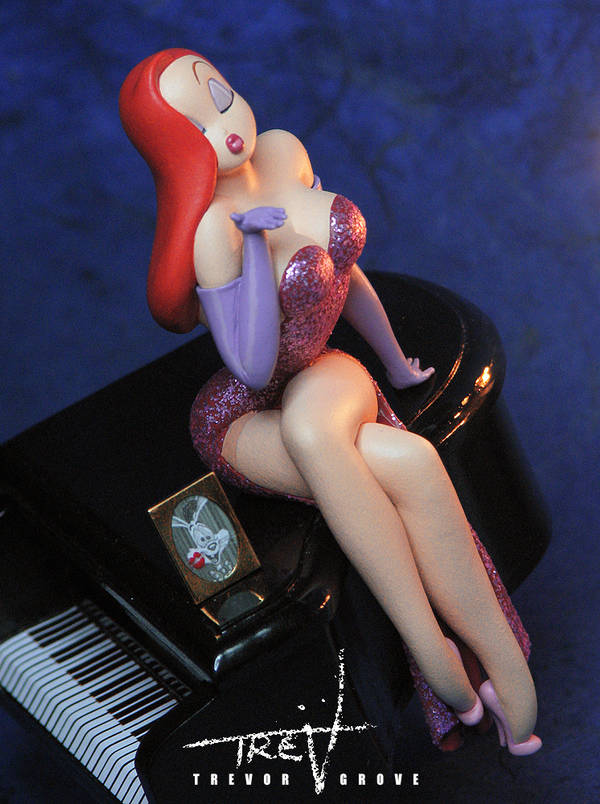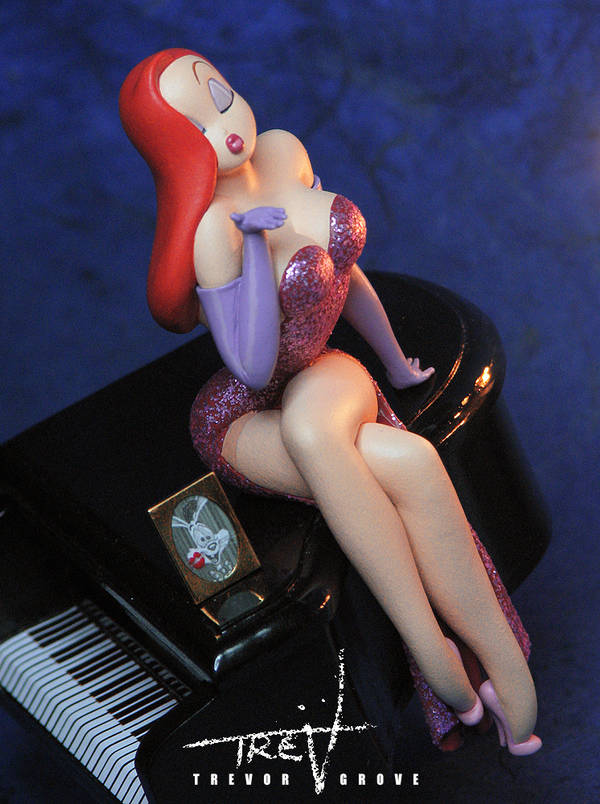 Watch
The second lil' Jessica in a series of three I'm working on in my limited free time. Celebrating 30 years of "Who Framed Roger Rabbit".
These are great fun and help me stay sane sculpting so many little faces all the time for work.

This is a one-of-a-kind piece for the portfolio, like my "Tummy Trouble" nurse Jessica:
www.deviantart.com/trevorgrove…
The piano and little frame for the Roger picture were dollhouse pieces I got off ebay. Jessica was sculpted in wax and cast in resin. The final piece was painted in acrylic and glitter was used to give her dress the right sparkle. More photos here:
www.deviantart.com/trevorgrove…
Next I'll alter the little sculpt into a "Trail Mix-Up" park ranger version.
Trev

30 years , crap I feel old!
Cracking sculpture, your projects are an inspiration.
Reply

Haha! It was surprising for me to realize it's 30 years old, too. So much of the merchandise I remember from when I was young... We had shirts, and toys and even a Roger sleeping bag! Ha....Great times....The film is still fantastic.
Thank you very much!
Reply

I think I may have to give it a watch with my kids see what they think, can't remember the last ime I watched it but it must be at least 10-15 years ago...blimey where does the time go?
Your welcome, not sure how I haven't seen your work before?!
Reply

I hope you and your kids enjoy it! I'm so tired of digital animation, it's refreshing still to see all the painstakingly made 2D hand drawn animation in the film, and all the layers of shadow and highlight to make them feel like they could live in a real world. Bob Hoskins is so great in it, too.
Reply

Cheers ill fins out at the weekend! Definitely, a lot of work went into the making of and it's done so well for the time. I remember completely mesmerised by it in my youth. Bob is a bit of a legend I have to say.
Reply

Yeah, I love having those moments where you just marvel at how something was made. I don't really get it too often, now, because it's all pretty much computer....Still a ton of work, I just find it has little to no intrigue for me, the way these kinds of classic movies do. I love when they go back to old style methods, because you really feel it in the final product.
Reply

Reply

Reply

My sisters would love it as well!
Reply

Wow she came out beautifully!
Reply

I love the Roger the Rabbit movie. Jessica is one of my favorite characters in it!Nicely done art by the way!👍
Reply

She is awesome, and I'm glad you like it! Thanks.
Reply

Reply