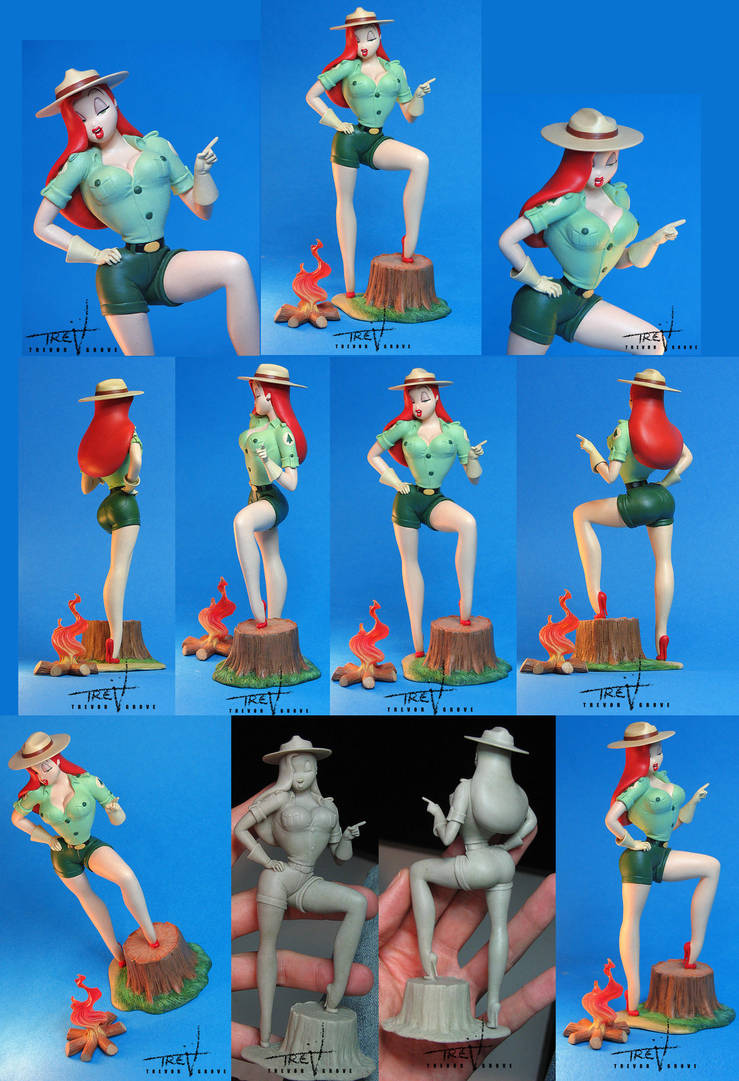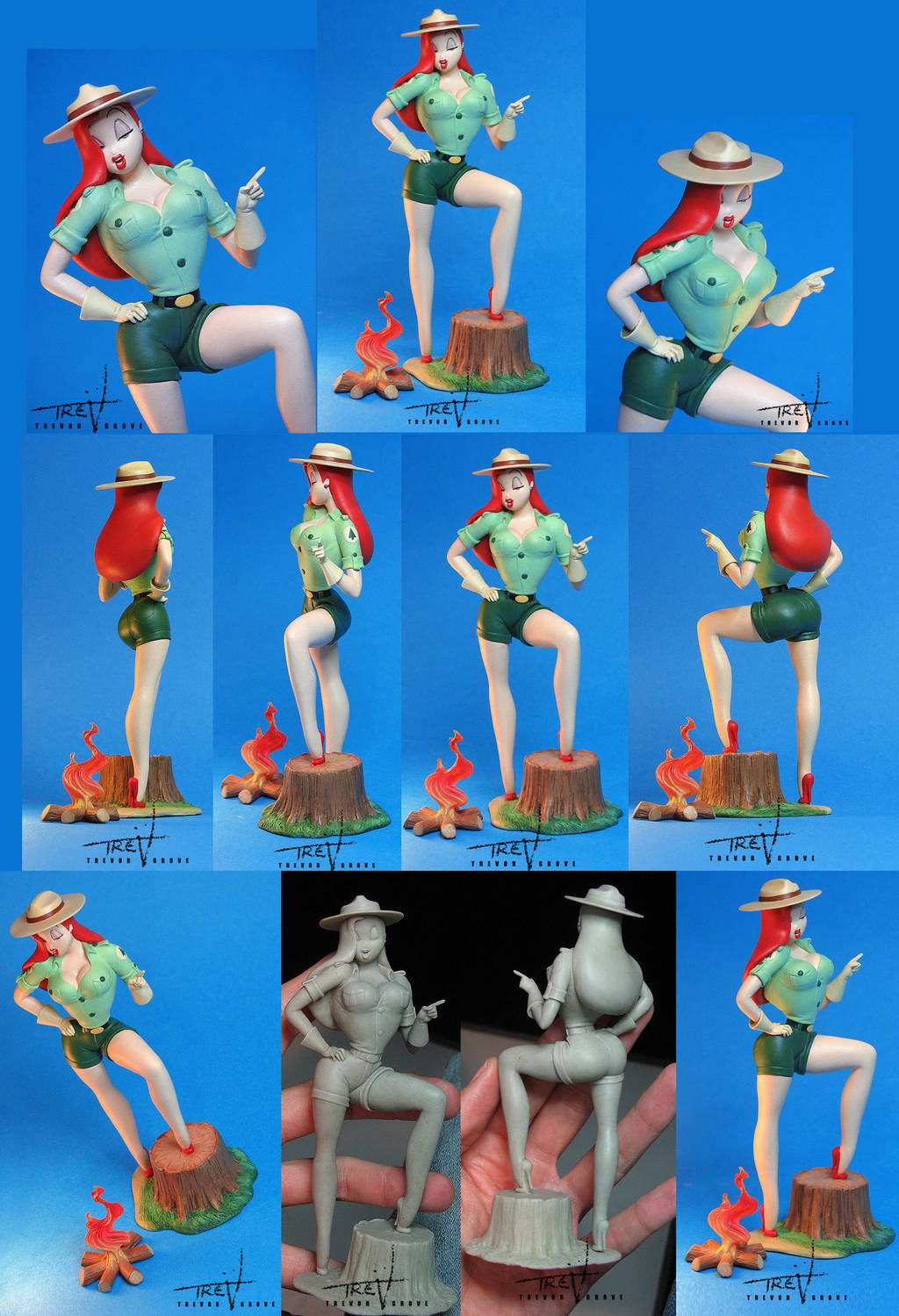 Watch
My third and final little version of Jessica Rabbit. These were such fun to work on, I just kept rolling into the next version of the sculpt as I finished the last. I love the animated Roger Rabbit shorts, and always wished there had been more.

Remember, only you can prevent forest fires....and ALWAYS bring your high heels when you go out hiking.

Sculpted in wax, cast into resin and painted in acrylic.

Trev


I love it!!!!!!

Reply

I don't personally like the way that there's the indented line between her hair, shirt, and shoes and her skin, but it does make it look like an official piece. Excellently done!!!
Reply

FANTASTIC!!! I LOVE IT!!!

Reply

There she is!! Did you actually put a little light source near the fire for the photos? Your Jessicas are just amazing, you mix the realism of the clothing folds and the treetrunk really well with her super exaggerated cartoony look. No idea how you sculpted and casted these teeny tiny heels, there has to be a wire inside right?
Reply


Thank you so much, I really had fun with these, and I'm glad you like them! I tend to bounce light off the sides of sculptures to show some of the dimension of it better. I just used some little warm LED lights to make it seem a bit like the fire is glowing on her. I should make some up with little LED lights within the fire. I know they use those on toys, so it seems lie I could do it with this...hiding battery compartments is the toughest thing.
The heels actually aren't so bad, surprisingly. I expected them to be problematic. With wax, they can be brittle and break while working on it all, but once the mold was made, they cast up with no problems. The toughest thing with Jessica is getting her to stand, because her ridiculous body is so top heavy and the tiny feet never support her. I can't imagine how much harder it would be if these were sculpted large. I'd need to have pit metal pegs running through each leg.
Reply

"Top heavy" is a great way of putting it :'D Im really surprised the little wax Jessica stands on the wax tree trunk without breaking her legs somehow. I supposed if you picked the wax figure up by the base and shaked it a little she would break tho right?
You can buy fake candles real cheap and they usually have a little LED with flickering "realistic" light and a battery pack + switch inside that you could use for a project like that

Tho like you said, last time i tried it i thought it was pretty difficult to hide the battery and cables inside the small figure without it having a huge base. It would be cool to see you do something like that tho because you're so good with resin and the light could create some really neat effects!
Reply

Yes, you're right, she was fragile on the base. I had a little metal peg in her foot down into the tree trunk, and it helped. I cast her with that peg, so it keys into the trunk on the final and I epoxied the feet down to the base....That's strong stuff, she she's holding well! The one that was hard was the Nurse version.
Yes, those fake candles are something I was thinking about! Thanks for the recommendation. I think once I make something large enough to conceal the packs, I'll be applying those kinds of things to some sculptures. I know it can be done fairly small, as toy companies pull it off, so I just need to do some research. I like the large LED packs they make with circuit boards that have timer functions so you can leave it on and have it come on every night....Pretty fun... I still may try to do a version of my Maynard bust with lighting effects, because it almost worked.

Reply

That's true, the nurse is pretty much just balancing on air :') But you made it work!
I'd really love to see what you could do with LEDs, circuit boards can be really small too, i have one that pretty much just tells two LEDs to blink for a while when in motion and it's not larger than one of those round batteries so i can see how you'd be able to fit that inside a figure. Sounds like you'd have to have a disco Jessica next

Reply

Haha! Disco Jessica! Light her up! That's great that there are tiny circuit boards! I think once I have the right project, I'll be able to play with lighting. It's exciting because it feels like you've found a new paint color you could never use before. Light as another medium is really appealing.

Yes, that nurse Jessica drove me nuts, but eventually imbedding metal pegs and using epoxy did the trick. Whew! I think if I made another copy it would go much smoother...The first is always the toughest.

Reply

It's cool you're getting excited about working with LEDs

i guess because you're a professional sculptor you always need to squeeze personal projects like that in between your normal work?
Reply

Yes, for sure. Making personal projects helps keep me creative and engaged. I love my "job" too, it's very enjoyable making portraits when you're working for a good bunch of people...But as that's typically all I'm hired to do, I like to stretch and do something different and fun, too. There's never enough hours in a day to get to all the creative projects we want to be doing, that's for sure!
Reply