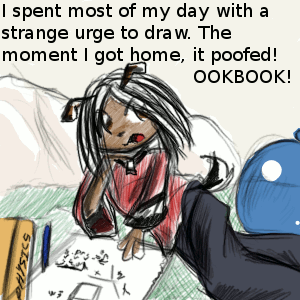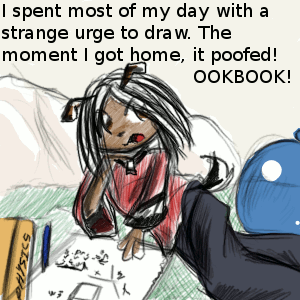 Watch
But in the end, I did make something of that urge. Just nothing like my original high-hopes.
Personally, I like
[link]
more than this version, but it's all good. I just need to finish this up and get to bed.

....reminds me about that really awesome idea i had once but i forgot it all i know was that it was really awesome
Reply

Yeah, I've been through that same sort of thing before.
Reply

Haa, I know the feeling yo.
Reply

Yeah.

It's all like
I WANT TO DRAW
ONLY 4 HOURS UNTIL I DRAW
ONLY 2 HOURS UNTIL I DRAW
ONLY ONE HOUR UNTIL I DRAW
I AM GOING TO DRAW THE MOMENT I GET HOME ONLY A FEW MINUTES UNTIL I DRAW
I don't want to draw anymore. Maybe I'll go eat candy instead. NOMNOMNOMNOMNOMNOMNOMNOM
Reply

I get that a lot sometimes. I'll go to my computer, all ready and willing to work on my games, and the moment I load the software up to do the work, the desire to do any work at all dies.

I'm still trying to figure out why this happens sometimes... :/
Reply

Yeah. :/ Even not knowing the cause, it'd be nice to know a way to avoid losing that will right at application time.
Reply

One trick which can sometimes help I've found is to identify the source of your inspiration and indulge in it.

For example, if you have an idea for a drawing related to swordplay, inspired by playing Ninja Gaiden, you can just go play more Ninja Gaiden to get your inspiration back.

Isn't a perfect solution, but it works sometimes.
Reply

Reply