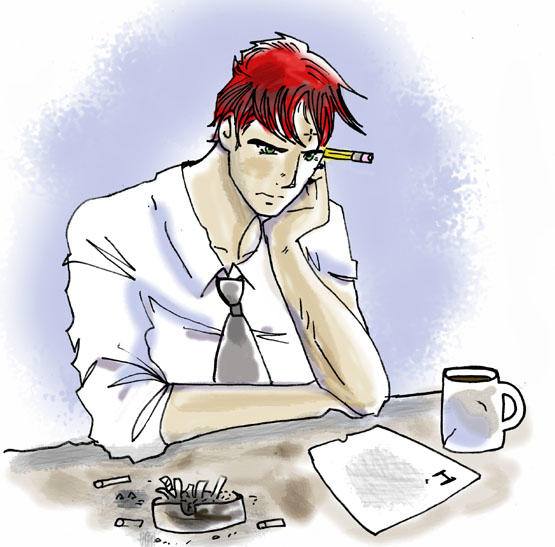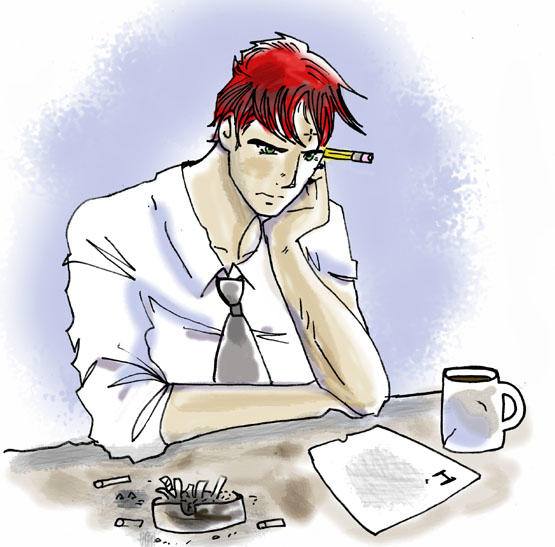 Watch
This is part of a fun meme I discovered via

I'm going to try it with a twist…trying to focus solely on people's original characters. I'm going to use some of my own, some from folk's web comics, some from DA illustrations, maybe some from fan- fics and original characters based on existing fandoms. Should be "pen and paper", but pencil is close enough, right? Same idea!

My first one is Number 81, "Pen and Paper", featuring

's grouchy writer hawty James Saki from a fave web comic, "Love Annotated". He appears to be suffering from severe writer's block.
I am a closet fangirl. What can I say?
Character (C)

from
[link]
[link]

James! <3
He looks so frustrated XD
Reply

love the pose and his serious expression! VERY NICE! Heh, haven't heard of this comic before maybe I should go read it

Reply

Add a goatee (and take away hair on the top) and that's me, frustrated by a cartoon roadblock.

Jag
Reply

I love your men. :E *staaares*
Reply

LOL best comment ever
hahaha
thanks, Loom!
Reply

Severe writer's block indeed. I'm surprised that paper isn't a pile of ash as well. Lol, but anyway, I love him in your style. You got his personality down perfectly. He's so manly...and yeahhh. I don't even know. Your art gives me writer's block, it's that awesome. So, I shall now express my love with emoticons.






Reply

Thanks! Im glad you like it! : )

Im working on a chibi of him too. Its kind of a group pic of SJ dude chibis.
Reply

Is this Copics or WaterColors because the colors are so pretty
Reply