I love "Foster's Home for Imaginary Friends". I really do. But some of the episodes really "bust my buffers". "Foster's Goes to Europe" was one thing (though I can understand it was to
intentionally
"waste a perfectly good plot", but even so). But "Imposter's Home for um... Make 'em Up Pals" and "I Only Have Surprise for You" were
much
more egregious; perhaps even more so than "Everyone Knows It's Bendy".
I mean, I know I'm just reiterating what's been stated before, but seriously! The twist endings were
clearly
only there just to be
different
from other shows. True, in IOHSFY's case, it did lead to a funny end credits gag ("Foster's Home for a bunch of crazy guys", anyone?), but the overall product is basically having characters being mean to each other, even when it's
out-of-character
for them, just 'cause "HURDEDURR! DE PLOT DEMANZ IT!" True, in Surprise's case, you
could
make the argument that Mac had went berserk on everyone. But let's get things straight; he actually
saw
that everyone was setting up a party, and even though it
supposedly
was a birthday party for a little imaginary friend named Arty, the fact that Bloo set everything up - and I mean
everything
- in order to get Mac humiliated again served to show how pointless the whole episode was.
Why, I remember seeing a comment on YouTube that said that Frankie only helped Bloo to retaliate against Mac for not helping her with her "Goofball" problem in "Imposter's" which leads me to say, again, that the only reason Mac didn't help her, even though he has a (childlike)
crush
on her, is because "DE PLOT DEMANZ IT!" So... no. I disagree. I still think they were just doing what the writers dictated. Oh, and speaking of which, I remember when "Imposter's" was initially released, Lauren Faust (no disrespect to her, of course) was utterly shocked at how badly received it was, and even misinterpreted the whole complaint, seemingly thinking that we didn't want
any
conflict in the show whatsoever (which is
not
true at all), and thus
defended
this episode. Gee. Does that sound familiar,
PuffyTopianMan
?!
Going back to "Surprise": you know, I've said it before, and I'll say it again; I find that they've completely flanderized Bloo's personality to the point where he was able to... actually
predict
Mac's every... single... move, much like Megan from "Drake & Josh", only... it's more contrived than how Megan is able to predict Drake and Josh's moves, because whereas Megan had security cameras installed in her room (goodness knows why, but I'm not going to question it), Bloo only knew and planned Mac's moves... just because. Oh, and in this case, because the entire Foster home
helped
him (well, except Eduardo, who only did what the invitations told him). Not to mention, Bloo using Megan's "one step ahead" line (then again, it may have been a retort to when Mac said it to
him
earlier in the episode). To top it all off, they made it like Bloo was
always
this bad when clearly, this was
not
the case in the
beginning
of the show's run. So we seem to have an
actual
waste of a perfectly good plot on our hands; namely that Mac could have been subconsciously making Bloo less likable in order to distance himself from him (a theory that I admit to taking from TV Tropes' "Wild Mass Guessing" page for the show). In other words, an
in-universe
reason for Bloo's flanderization. It's not an implausible theory, but it more-or-less gets
destroyed
by this episode alone.
With everything in mind, I feel that IOHSFY, particularly in its ending, ran on the same logic as the SpongeBob episode, "Stuck in the Wringer". What do I mean by that? Well, when Patrick
stupidly
disabled SpongeBob, causing the Sponge to be unable to work - or even
eat
- properly, as well as putting his own joy before SpongeBob's pain, SpongeBob finally had had enough and
rightfully
blew up at him, but the townspeople said he deserved what he got for making Patrick cry; in other words, deserving to be disabled just for calling someone out for
getting
him disabled in the
first place
. Likewise, when Mac tried to stop a party by sabotaging it in order to prevent from getting humiliated again (since Bloo kept throwing him prank surprise parties in the past), we were supposed to believe that he
deserved
to be humiliated again for
essentially
trying to stop it. Does anyone see what I mean by this? It's pretty much
backwards
logic here! With this in mind, it's no wonder I drew this picture below: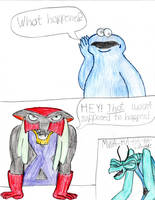 But to get the positives out of the way, I do have at least
one
for this
particular
episode; Wilt's quote "
Every
day should be Earth Day".
Also,
richardchibbard
had made a collage revolving around a
better
birthday for Mac (in fact, that's pretty much the
title
for it). Have a look: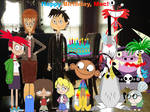 I even commented that I wanted to redraw it, which I still intend to do, BTW. Maybe I'll reuse some of my
older
(pre-DeviantART) work (which has been lost to time) to help me out.