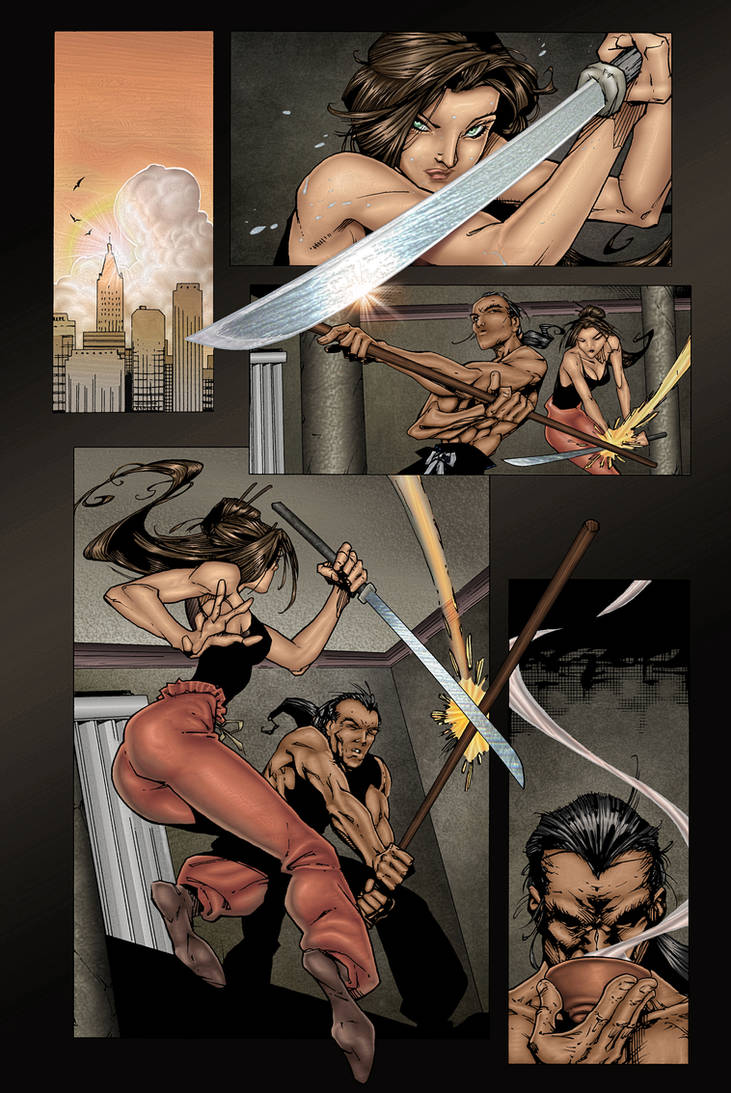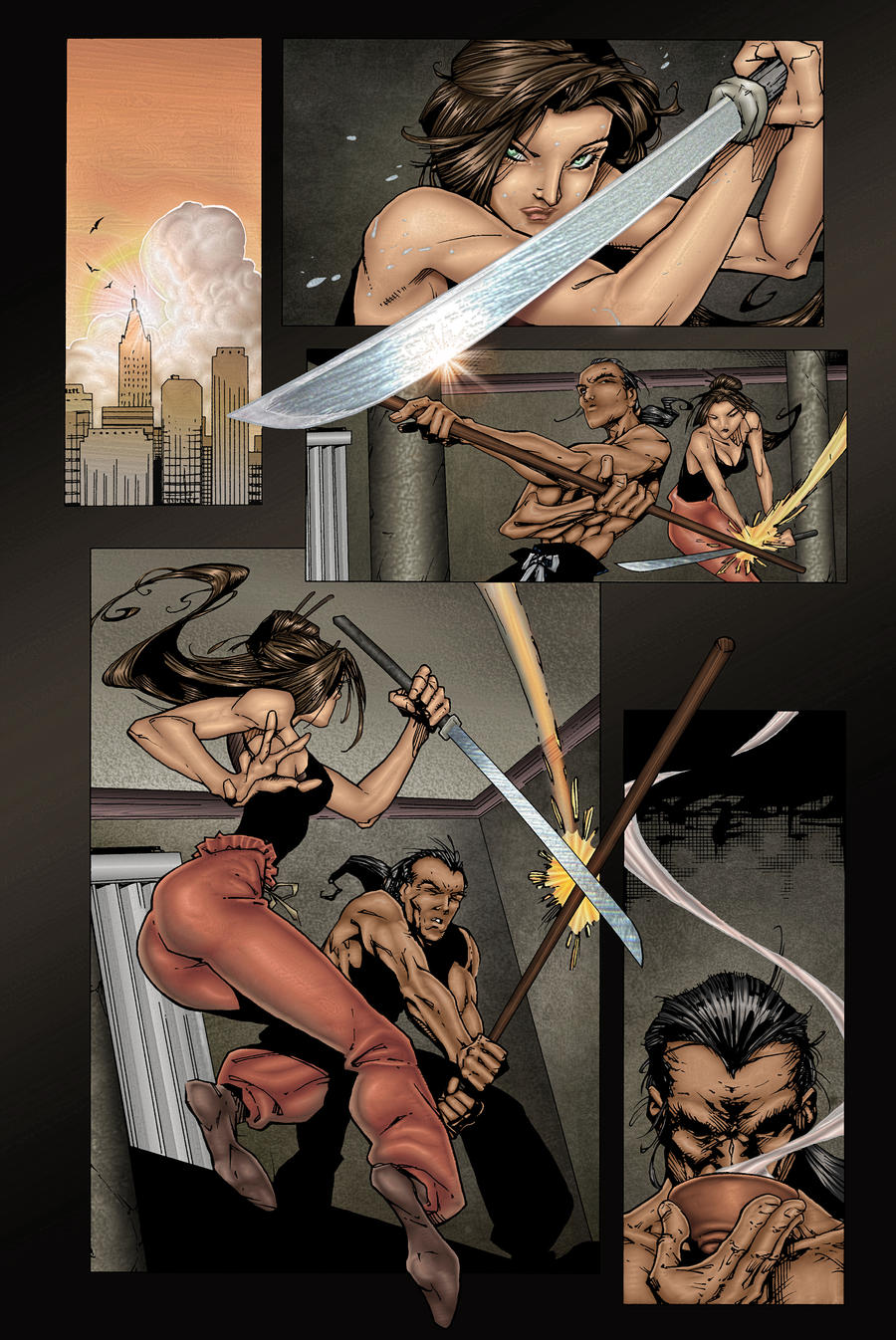 Watch

and

and

and

Pencils by the awesomely talented *
RandyGreen
Great Inks:
[link]
by: *
Kriss777
Fantastic flats:
[link]
by *
jotazombie
Colors by me, =
StacyRaven
Thanks to *
jotazombie
for flatting them for me.

Feel free to check out other great flats at

.

Alternate colors:
[link]
by the lovely and talented ~
LadyOrange
.

I love this page - this is coloring I really appreciate! I often work with my colorists to reduce their saturation and, more importantly, have the backgrounds be part of the work, but not *dominate* the work. The characters need to take the center stage in comic art (imo). This page is an outstanding example of how it should be done, imo.
Reply

Thank you, Andrew!

That's very nice of you to say!
Yeah, I usually have trouble with over saturation, but managed to tone it down for this piece as duller colors seemed to fit the mood well.
Thank you for the kind words!

Reply

Most colorists tell me I'm abnormal because I don't want the over saturation, so I guess it is normal to for really bright/bold/in your face colors. But colors like this page I think are much better at telling a story. I have always felt that over saturation is the colorist seeing "their" art, not telling the story the best way. But, take that with a grain of salt... apparently I'm "abnormal" haha.
Reply

hahah Make sense to me.

We all have our own preferences. One of my clients demands bright and "in your face" colors, while another wants a soft pastel pallet, and yet another wants dark and gritty. heheh As a colorist I just have to be really flexible and work with the personal tastes of the client.

Reply

Reply

Awesome!

I'm honored! Thank you, Greenie!

Reply

Reply

Thank you!

I'm flattered!
Awesome gallery by the way! Your Bluejaye character is AWESOME!

King Comics huh? If you guys need another colorist feel free to keep me in mind.


Reply

Reply

Sounds good. Feel free to contact me here or via email at stacy_raven@yahoo.com if you'd like to discuss availability and rates.

I'm pretty flexible, but I also have bills to pay so I don't do "free work" anymore. lol (You'd be surprised how many people try to get me to work for free for the "exposure". lol) But I'm pretty sure we could work something out within your budget.

I'd love to work with you guys. Your characters look very cool and so far the art looks really top notch! It would be an honor to work with you all.

Reply

Totally understandable, Stacy. I pay, but I don't pay anywhere near what you're talent is worth.

I just can't afford to. Got a family to feed, y'know. LOL Thank you for all your kind comments. I'm SO glad you like our work! I'll send you an email later on and see if it's workable or not.

Reply
Reply

Sweetie, I couldn't agree more with the previous comment, you are such an amazing talent, and I for one am not ashamed to say how much I envy that talent! One question though, do you use corel painter or photoshop for your work, or do you use some other program? I really am interested in painting and coloring but have no real place to start off at!
Fantastic work again my sweet sis!!

Reply

Thank you, my friend!

You're such a sweetheart.

I use photoshop. I usually don't use any other program unless I need to ink an image then I often use Illustrator for that. I'm not very good at traditional inking, so I try to stick to digital. lol But yeah, for colors I only use Photoshop.

I didn't know you're interested in digital painting! That's wonderful! If you need a place to start there are some amazing tutorials here on DA (sometimes you have to dig a little through the crappy ones though lol)
[link]
as well as a ton of great coloring tutorials and digital painting tutorials on YouTube.


,

, and

are some of my favorite places to get great line art to color.

If you do some digital coloring please send me the link (I watch over 400 people so sometimes your art gets lost in my over-filled inbox lol - so a link would be awesome!). I totally want to see your coloring/digital painting.

Reply

Hey miss Stacy,
I am so happy for you. We have know each other a while and I have been able to follow your progress. I is so encouraging to see someone go after and get a chance to develop something that they enjoy. Its inspiring to others. You have gotten so good at this. You are one of the people I wait on and look forward to your next submission. Just keep up doing what you do, it's a beautiful talent to have. I guess I am a little jealous, just don't tell anyone.
Max
Reply

Awwwww, Thank you, Max!

That's so sweet of you to say!

I really appreciate that. What amazing encouragement!

You have nothing to be jealous about though, your photo-manipulations are beautiful and I suck at manips. lol We all have things that we're strong at and stuff we're not so strong at.

Thanks again for the awesome feedback and wonderful words of encouragement! That really touched me!

Reply