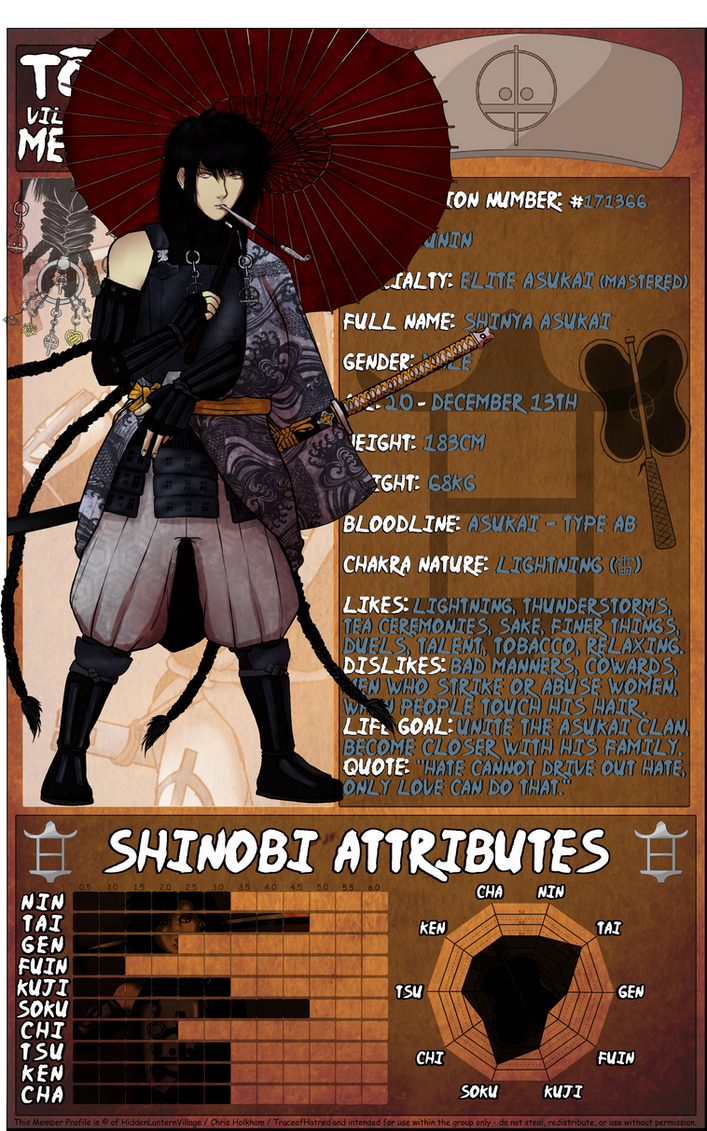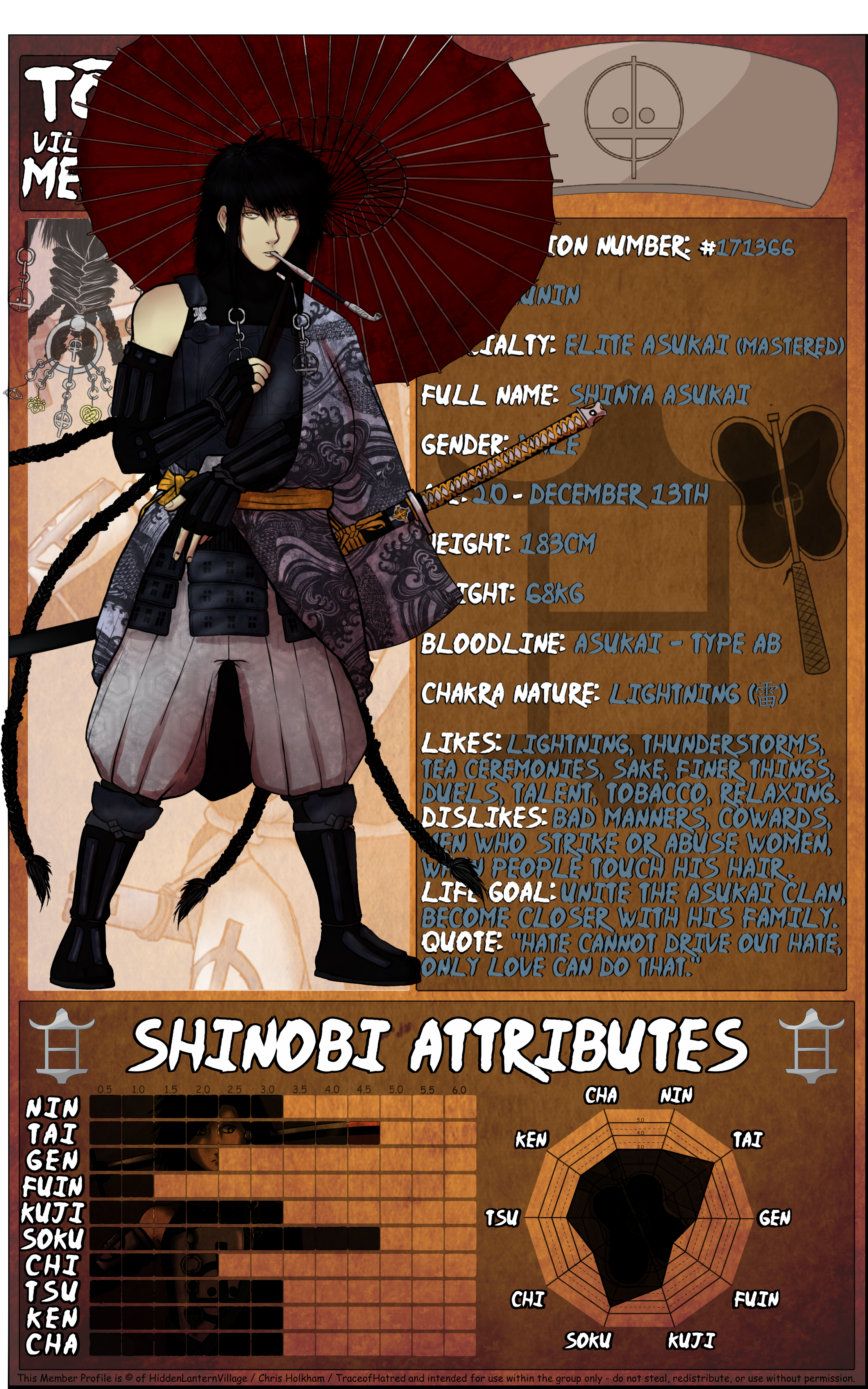 Watch
His charms are now on the back of his hair, I'll be drawing a rear view reference soon! please, bare with me. ;v;
I might redo the shading and light, but I feel pretty proud cause I learned a few new tricks with facial anatomy.

Full Reference with hair from back view.
---
Fighting Style and Techniques:

Shinya was the first to Master the ways of the Asukai Elite, and has a knack for dual wielding Dual wielding.
While he is skilled at dual wielding, he more often uses one at a time. His sword in melee, and senbon at distances.
This switching has become a focal point of his fighting style. He also makes use of Raiton Nature Transformations.
While he takes missions seriously, his ego often gets in the way of duels and private matches against villagers.
He'll often fight using one hand in duels to demonstrate his superiority and skill against those he deems inferior.
---
Shinya's personality can be described as charming and
promiscuous in most cases
,
but he can come of as overconfident, stubborn and even rude or inconsiderate in situations.
He doesn't believe in Honor and much prefers moral grey to the typical "good and Evil" view,
likely due to his apathetic and frankly neutral view on most subjects others attach morals to.

Shinya is incredibly forward, especially with women, and will not hold his tongue for anyone.
He's also extremely flirty and sexually experienced, though this mostly gets him into trouble.
But despite these traits and fear of commitment, Shinya treats those he respects with respect.
Though he may not seem as though he does, rest assured that he does in fact care.
---
Mannerisms and Habits:
Shinya often rubs his left shoulder because of an old injury he earned during a duel,
while relaxed, he will often keep this arm slinged in his Kimono as it is pictured above.
He also frequently plays with the rings in his hair, or runs his fingers through his hair.
Shinya may seem educated in speech, but selectively uses honorifics depending on respect.
If unimpressed, he can come off very dry, and even emotionless or sarcastic towards others.

Likes and Hobbies:
Ladies, Unconventional Talents, Drinking Games, Going for walks, casual sex,
Tobacco,
Experimenting with Narcotics,
Tea Ceremony, Relaxing, Calligraphy, the Finer things,
Brushing, Growing and Styling his Hair with jewelry, Visiting his family, stormy weather.
Dislikes and Peeves:
Politics, Prudes,
Being judged,
Parents of girls he dates,
his family situation, children,
Police Officers
, Commitment, Men who abuse women, oversensitive / dramatic people,
When people touch his hair without permission, or when it gets caught on things.
Goals and Ambitions:
Solve his clan's problems, date every good looking girl in the village, make a change.
---
BONDS and FRIENDSHIPS:

Hisako Asukai (
💗
)
Hisako is one of Shinya's closer friends. During the academy, they used to practice their Kenjutsu.
But when they aren't not sparring, they can be seen brushing each other's hair or going for walks.

Harumi Asukai (
❤️
)
Harumi is one of Shinya's closest friends. They've frequently bonded over their misfortunes,
and relate often in their sense of humor and common hobbies. They treat each other as siblings.
Harusaki Uranami (
❤️
)
Harusaki is an extremely timid girl. The two met by chance and ended up swimming together,
though most of the time he ends up embarrassing her, they've grown close for such a short time.
Moyura Hibiki (
❤️
)
Moyura is a close friend whom Shinya is currently flirting with. Shinya gifted her one his charms,
and she gifted him one of her own. The two share a lot of chemistry, but their bond is still growing.
Akane Asukai (❤️)
Akane is one of Shinya's more recent bonds. What started as a chance meeting about swordsmanship,
quickly turned dark with secrets spilled over alcoholic drinks. Their relationship is tense, but interesting.


Hiyori Asukai (💛)
While Hiyori and Shinya are only recent friends, they've been mutual friends of Harumi for years.
Though the two have little in common, they can get along. Shinya enjoys playfully teasing her.

Kaoru Asukai (🌟)
Kaoru is an acquaintance of Shinya's whom he knew during the academy. They had a rough start,
but they ended up bonding over a series of challenges. Though Kaoru lost, Shinya respects his effort.
Takumi Hibiki (
🌟
)
Takumi and Shinya are recent friends who share a fondness of the finer things.
Though the two blatantly disagree on some topics, they've both manage to make each other laugh.
Azami Shirogane (💔)
Azami and Shinya had a brief but extremely intimate affair during 1261.
But the two had a very unpleasant falling out, and seem to argue every time they see each other.

Karigane Asukai (💀) Shinya defeated Karigane during the Chūnin Exams. If things went differently,
they may have become friends. But they dislike each other due to the circumstances of their meeting.

Hajime & Daisuke Nishimura (
💀
)
Hajime and Daisuke are Shinya's former teammates. Despite his confusion a the actions of the pair,
they eventually grew fond of each other. The two liked Shinya because he could tell the twins apart.
Tragically, they were both killed in the line of duty. Their deaths have strengthened Shinya's resolve.
Kaoru & Toshiya Asukai (
💙)
His mother, Kaoru, is a Main House Asukai. She was blinded when attacked by a Branch House Asukai,
His father, Toshiya, is a Branch House Asukai. He's a retired general, but is washed up and troubled.
Because of house relations, they are formally divorced. But this doesn't stop them meeting in secret.
---
Honestly if you read all that, I'll give you a high five and a Bond with Shinya Asukai!