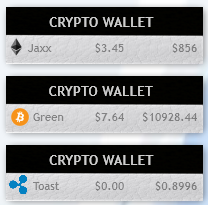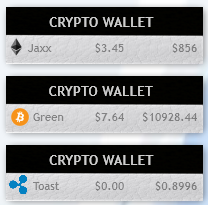 Watch
this skin allows you to monitor the money in your crypto wallet. bitcoin,ethereum, and ripple are supported.I'm working on trying to get more coins supported
V1.02 Change Log:
added ripple support
added coin logos
V1.01 Change Log:
fix major bug where amount in wallet was wrong
added ethereum support
If this is what you where look for donations are greatly appreciated
BTC = 3EcVMkoXTfgsPvkTdhs6otv7bj6tYU6ebf
ETH =
0x6831cb5a1abcdcaf32960ed75808bd146450a911

Oh, it seemed interesting. I am currently using
www.crosslytics.com/ to calculate cryptocurrency there. Honestly, I prefer some new cryptocurrency because it's something fresh and it's easy to invest there.
Reply