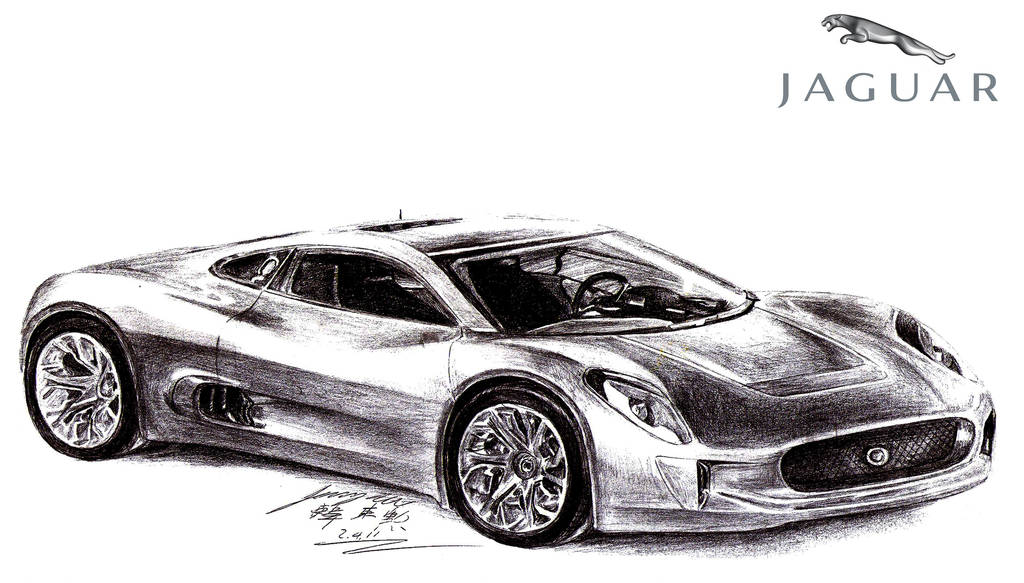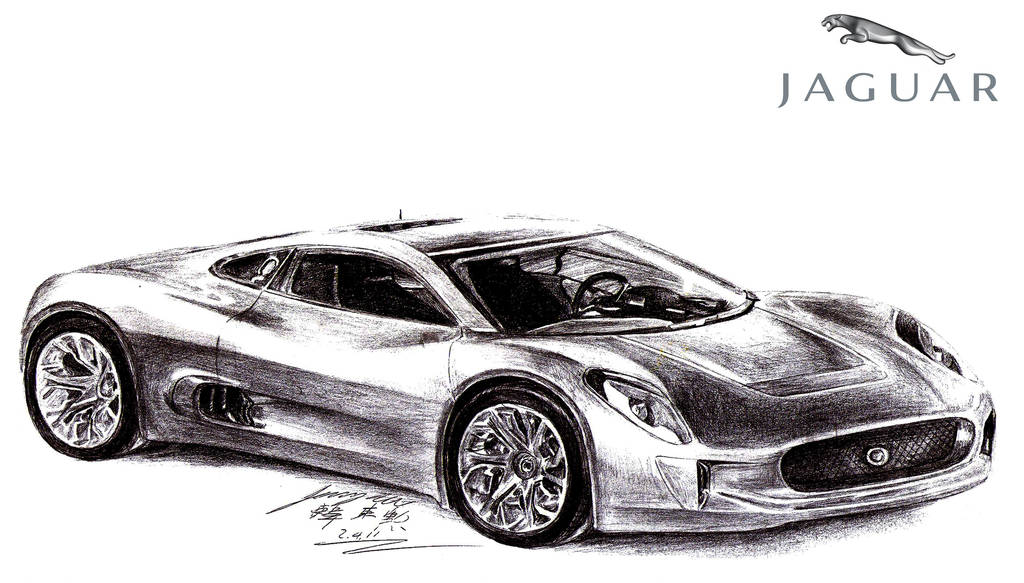 Watch
I did this back in 2011, so the drawing is extremely crappy and awful compared to my new ones but hey, it's still a drawing.
The possible successor to the wholly exotic XJ220 supercar, the C-X75 concept prototype.
Jaguar C-X75 is a hybrid-electric, two-seat, concept car from Jaguar which debuted at the 2010 Paris Motor Show. The C-X75 concept produces 778 horsepower through four electric motors, each of which drives one of the four wheels. The batteries driving these motors are recharged using two diesel-fed micro gas turbines instead of a conventional four-stroke engine.[2] It is described as an ideas model that will influence future design and technology.[3]
The C-X75 was named in honour of Jaguar's 75th anniversary, the C stands for concept and the X for experimental.[2][4]
In May 2011 Jaguar announced plans to build from 2013 until 2015 a limited production of the Jaguar C-X75, with a downsized, boosted petrol engine instead of the micro gas turbines in the concept model. The plug-in hybrid supercar price was estimated between GB£700,000 - GB£900,000 (US$1.15 - US$1.48 million) depending on local market and taxes. A maximum of 250 cars were planned to be built in partnership with Formula One team Williams F1. The production version was expected to have an all-electric range of 50 km (31 mi).[5][6] In December 2012 the carmaker announced the cancellation of production due to the ongoing global economic crisis.[7]




In terms of performance, Jaguar envisioned a goal of their future super car reaching 330 km/h (205 mph) and accelerating from 0 to 100 km/h (0 to 62 mph) in 3.4 seconds and 80 to 145 km/h (50 to 90 mph) in 2.3 seconds. It is powered by four 145 kW (194 hp) electric motors – one for each wheel - which produce 780 hp (582 kW) and a total torque output of 1,600 N·m (1,180 lbf·ft). Inherent in the drivetrain is the ability to independently vector torque to each wheel across the full speed range.[4][8] Each motor weighs 50 kilograms (110 lb).[3]
The micro gas turbines from Bladon Jets generate enough electricity to extend the range of the car to 900 km (559 mi) while producing 28 grams of CO
2 per kilometre on the EU test cycle. While running solely on battery power, the C-X75 has an all-electric range of 110 km (68 mi).[4][8] Among other advantages, the micro turbines used in the C-X75 can be run on a range of fuels including diesel, biofuels, compressed natural gas and liquid petroleum gas.[8] The 15kWh lithium ion battery pack weighs 185 kilograms (408 lb).[3] Jaguar estimates an average carbon emission of 28 g/km on European test cycle, however, the carbon emission is around 150g/km if the turbines are running.[9]
Jaguar also focused on the aerodynamics in order to improve performance. For example, the carbon-fibre rear diffuser that guides airflow from under the car creating down-force, and includes an active aerofoil and is lowered automatically as speed increases. Moreover, the C-X75 features an extruded and bonded, aerospace-inspired, aluminium chassis, saving on weight and improving sustainability and performance.[8]

CX75.







I adore them and also I believe it is the Xc75
Reply

The best car Jaguar never did.


Reply

Reply

Reply

Americans should have really produced the GT90, Me Four Twelve, and the Cien...


Chrysler GM and Ford fighting the Euro hyper exotics from Germany (Porsche) Italy (Ferrari) and England (Mclaren)
Reply

Agreed. It would be a blast to see American going for the battle with THREE warriors, instead of just 1, like Germany, Italy and England

Reply

Sacrifice some fashion models to see at least 100-200 C-X75s on the road? Well, maybe,,

(That Jag

could be even more outrageous than the LaFerrari, Mclaren P1, and the 918 Hybrid COMBINED TOGETHER)



But I will "NEVER, EVER" sacrifice,, or give up, the hottest and most beautiful fictional woman of all time, Princess Anna of Arendelle





no matter how hardcore a super-hyper exotic car could be,
(Despite the fact that I still love cars more than girls/opposite gender and me DEFINITELY being one of the TOP 10 most hardcore automobile maniac on Deviantart)
Reply

LOL, nooo!! I didn't explain properly...

I meant car models, not girls!

I meant that I wouldn't mind Jaguar stopping production of the XK (which they will, actually), XF...hell, even the XJ...just to see some C-X75's on the road

Reply

Ahh,, now I see. But after watching the 2013 Disney film, "Frozen" I started to love girls more than hyper-exotic supercars. Anyways, the CX75 should have really been something that could be a match for the P1.
Reply

Reply

Reply

Yeah looks nice!

Good job I think

Reply