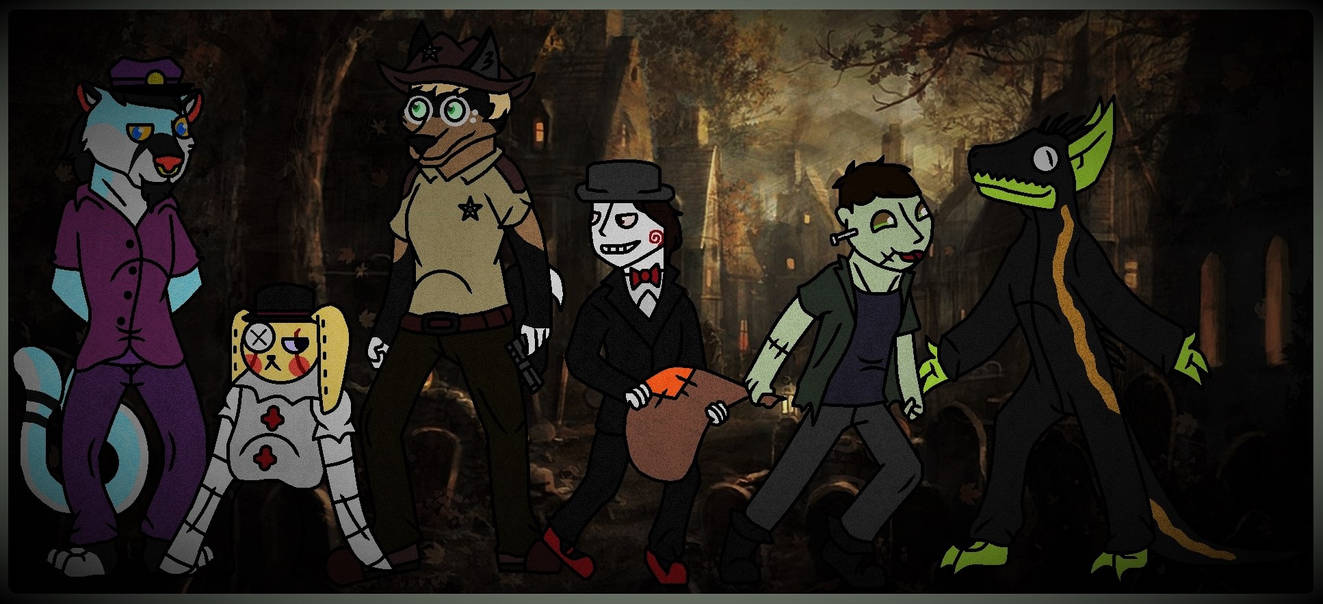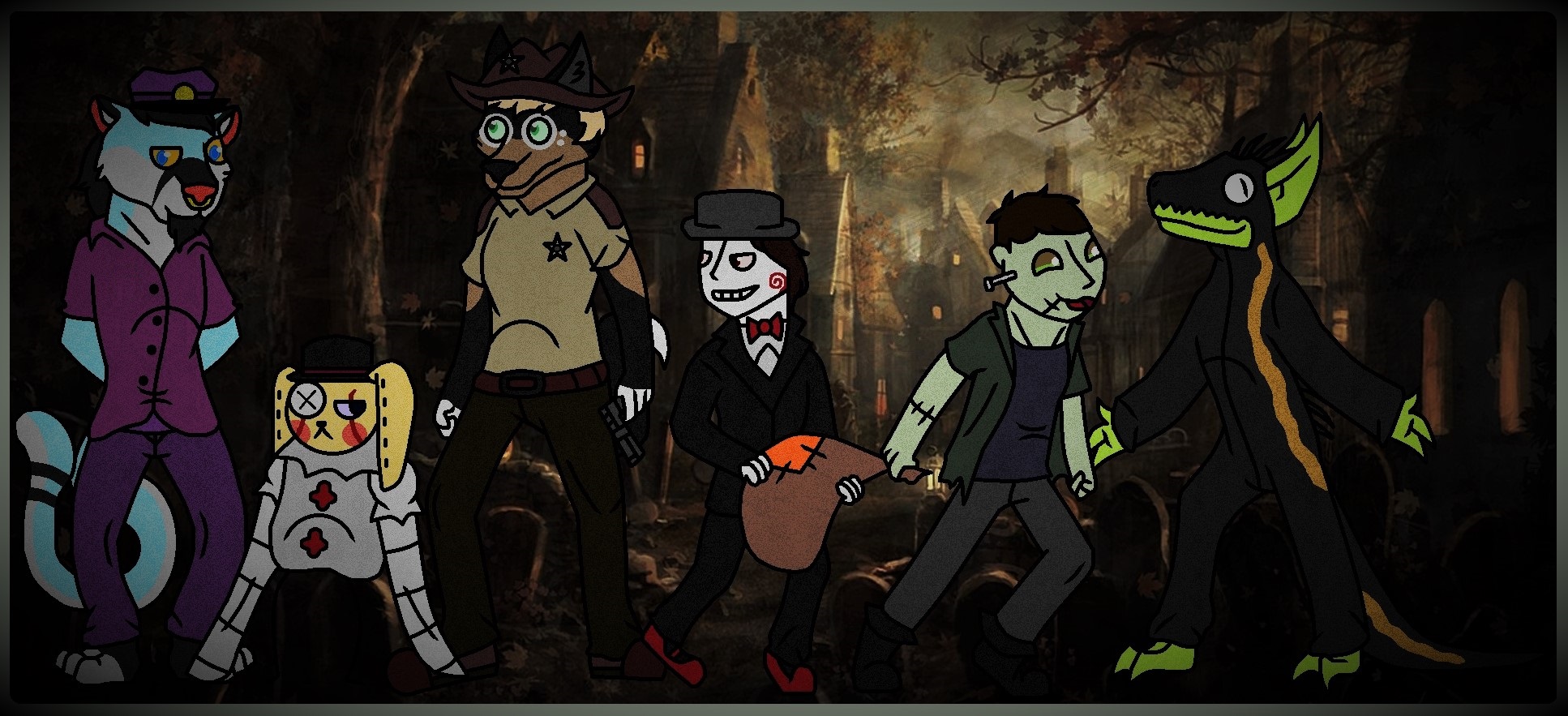 Watch
Wowie it's been a while since my last Halloween drawing, but this time I wanted to do a group picture!

I'm gonna do a clearification of who'sdressed up as who in case you want to know more about other's characters, I wanted to use everyone's sonas...
It wasn't always possible but I thought asking was kinda obvious, also I hope everyone's happy with the character/costume I picked for them!

I would've liked to include more friends of mine but it was actually pretty exhausting, so if you read this then please know that I am sorry for not including you!

Purpleguykin
- Vincent, Purple Guy (Five Nights at Freddy's)
Zeven-Dust
- Robyn, Rick Grimes (The Walking Dead)
A-La-Moe
- Moe, Frankenstein's Monster (Frankenstein)
Et moi, Toon as Indoraptor (Jurassic World Fallen Kingdom)
A little note for everyone,

-I think Vincent's oufit was kinda obvious considering the username, however there are so many different versions of the purple guy that I wasn't quite sure which one to pick and just used a simple outfit
-Tbh I'm not quite sure if you like the new IT movie or if you've even seen it, but for some reason I thought Pennywise would be perfect for Momo
-I think most people are fans of Negan and Daryl but since I thought asking about your fav character would be a bit too obvious I just went with the main character in the outfit of season one
-... I think Fr3ak is obvious
-Couldn't think of something horror themed you like and since I wanted to stick with more "iconic" movie monsters I thought of a classic one for you!

(-I know the Indoraptor is not really seen as a horror creature but if all the hidden information (it wasn't in the movie but still canon) thi dinosaur was still a hell of a beast!)
Hope you all like it!

Characters(c) Their rightful owners

Ayyyy, I'm Frankenstein's Monster!! That's so cool, dude!! Thank you so much for including me in this! Halloween is my favorite holiday, I was so bummed I couldn't do or draw anything for it because of college. This is a wonderful surprise!! I can't thank you enough!! And your right, I love classic movie monsters!
Also, I love that you drew yourself as the Indoraptor, that was seriously my favorite dino design of Fallen Kingdom! Great work!!
Reply

You're very welcome, glad you like it!

And glad I've got the costume right too ;w;
Heh thanks I love indo -w-

Reply

Aaaahh I don't even have the words for this ;0; I got home late last night and I was running on my last brain cell lol, so I wasn't able to articulate anything to say thank you so much!!
This is so wonderful, and making it Purple guy is so sweet of you omg, it means a lot to me!!!

You're such a sweet person and tbh I'm so happy to call you my friends QoQ I need to reach out to you more often!! Goretober this month has me absolutely beat haha.

As always, you're the best and this was such a kind gift gahh!!



Reply

I'm so glad you like this little gift!

Ah thank you I don't know what to say I appreciate it, I'm also glad we're friends adsgh ;w;

Reply

Woah das is ja mal echt mega cool!
Aaah~ mit einem Halloween Bildchen habe ich echt nicht gerechnet!! Oh my~ aber I c freu mich gerade wie son kleines kind~ fühle mich gerade echt geehrtmit auf deinem bild sein zu dürfen! <3 ;A ;
Aber ich liebe die wahl der kostüme, die du für alle ausgewählt hast~ und umgesetzt hast du sie auch echt klasse! Man erkennt sie alle direkt auf den ersten Blick X3
Oh und ich liebe die Auswahl, die du für Robyn getroffen hast~ Der gute Rick ist ein Klassiker und mit ihm kann man nie etwas falsch machen! Und tatsächlich ist die Polizeiuniform auch eines der coolsten Outfits die der gute Rick trägt~ besonders sein cooler gut ist so cool ;w ; <3
Aaaaah~ aber vielen lieben dank Toon!
Ich freu mich gerade echt richtig über das Bild ;w ; <3
(sobald ich morgen mein neues tablet bekomme... Mache ich mein Bild auch finally mal fertig ;A

Reply

omfg das is so cool ;o;!! Danke!

Reply

If you want a blank version of your character only just ask about it!
Reply