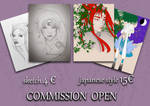 hi everyone,
today i want show you the mighty ability of one awesome artist,friend of mine!
please follow her pages,watch her deviants,and take a look her links,for ask custom drawings and illustrations!!!
she's so talented artist,and i want show at all of you her incredible works!!!!
contact her,also click the link here!
enjoy
Christian
commission open