Journal Entry:
Sun Jan 2, 2011, 9:38 AM

EDIT: 7/9/11 (price edits)

Journal list for loose sketches, pencil sketches, traditional or digital art. The files are not hi-res, only wallpaper size at most since it's not a full commission pic.

Same rules as always, I reserve the right to refuse the commission.
I will not draw:
• porn
• fetishes
• graphic yaoi/yuri

NOTE: You can choose between traditional or digital mediums. If the art is done traditionally and you want me to mail it to you, shipping is an additional $5

Styles and Prices:

$10 Chibis (digital and traditional)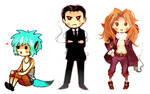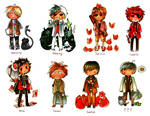 $20 Sketches (digital and traditional)




----

I prefer chibis or fullbodies with simple colouring. Post your VISUAL refs and stuff here or note me, no descriptions since I'm not doing character design. This journal will be permanent so I can keep track of things FOREVAR.



Watch