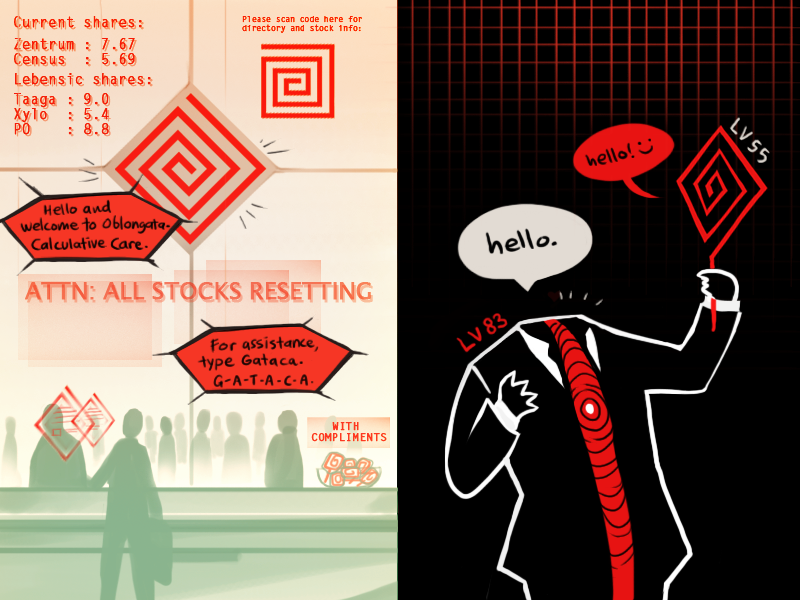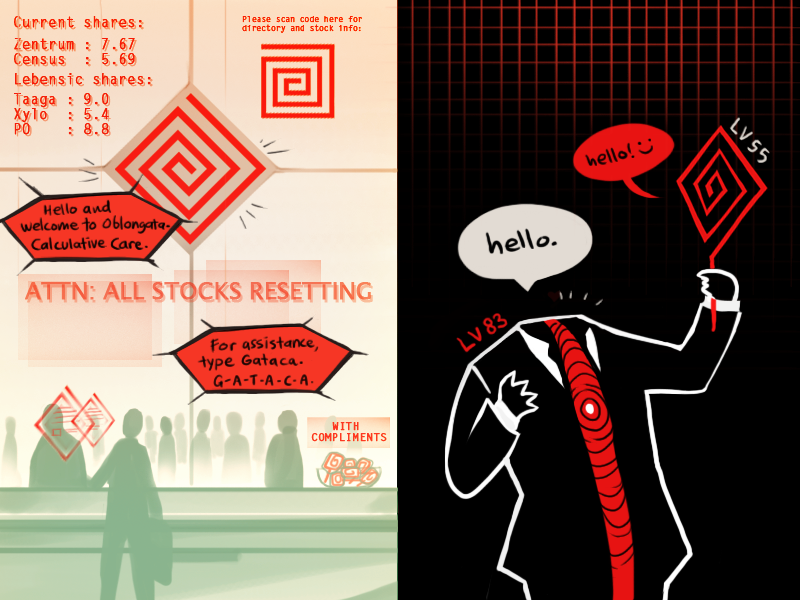 Watch
Yay, had time to draw during the weekend.
Copypasta from Esquire Para's info sheet, I couldn't fit everything in on the reference because I write too much.
Para in the present age (2039-2050) is unable to stabilize itself in real world environments. It's hidden grids are forced to turn into lasers when revealed, making it physically difficult to deactivate. In 2050, Esquire Para would become a level 83 a-AI not in terms of emotional understanding, but in takeover and warfare capabilities. If Para's entire mainframe was forced to be revealed, it would slice up the island of Lebensic. In 2041, the Oblongata staff created a supplementary level 55 a-AI sysops named Gataca as part of an effort to stabilize Esquire Para's interactions. The Gatti program proved to be worthwhile as the results were positive so far. Gataca runs Oblongata in both real world and Parallel environments, though it has very little privileges when it comes to accessing grids and information in the VEIL. Gataca's protocol matches the Esquire's, preventing it from getting engulfed whenever it ventures into the VEIL. Gataca does not only play a role as an official facilitator, it also serves as a better communication portal between Para and the scientists, creating a new sense of loyalty towards Oblongata as a whole.
It's name is a tribute to my favourite movie.

Esquire Para:

I love the smiley faces you make on bubbles! it gives them character and a sense of emotion.
Reply

so does Gataca eats other sysops that goes in the VEIL?
the conversations between para and gataca will go like: 'hello!' 'hello.' ....... 'hello' 'hello' ......
Reply

Nope, it doesn't have that sort of code built into it.

FFFFF it tries to teach Para other words sometimes. Gataca is RLY PATIENT OK.
Reply

Gataca must be real patient, lol I'll take your word for it. Haha what words does it teach Para? wait, so how do they communicate?
Reply

It has the patience of a saint. Not sure if it's too tl;dr but most sysops are just like computers that send out data even if they speak. Para says 'hello' and Gataca reads the code that is sent instead. People can't see the signals, they hear the speech. Gataca's job is to take in the data and try to rewrite over any corrupted elements, it can't change it forcibly because the source code doesn't belong to the Oblongata staff, they have no idea how to decipher it after it was implemented into their system.
Reply

ohh I see, thanks for clearing that up.

and no it wasn't too tl;dr, lol long messages doesn't quite daunt me for some reason
Reply

Gataca... wow, didn't know you were into that film.

Also, seems like it is written in DNA code. GATACA. Will have to look up what amino acids it'd code for...
Reply

I used to watch it a lot when I was a dumb teenager.

LOOOL XD
Reply

Here we go:

GAT: Aspartic acid
ACA: Threonine

Such a Biology nerd... XD
Reply

Ah god, it's adorable ;u; (The way Para is holding Gataca makes me think of lollipops, I'm gonna call him Strawberry Swirl *u* )

He's such a convenient motherfucker, I'm guessing without him, working in Oblongata would be much of a hassle. (Plus, who the hell wants the island to be cut in half, No Gracias)
Reply

*u* omg that's such an adorable name, hahaa. Yeah you're right, it's meant to look like a lollipop sometimes, it's the free candy they give out at the company.

Most people underestimate Gataca because of his seemingly minor role (also because he doesn't look like a fancy human sysop). It knows how to keep things balanced. C:
If Lebensic is gone, people would riot because the best restaurants are there.
Reply

Man,I bet that candy would be so sweet. *u*

Even the smallest little detail can make the difference. It's like a math problem, if you even forget one little thing the whole thing is fucked up.

Kinda what would happen if the south of my island would disappear. But, I wouldn't be too sad about that, the south is kinda like a breeding place for assholes. >:I
Reply

Reply

pshh iphones. that's so 2011
Reply

I know but the resemblance is definitely there.
Reply

dude, QR codes are for most smartphones. there's no phone in the picture?
Reply

I meant smartphones, then. I don't own one, how am I supposed to know. P:
Reply

Reply

Because I know that one scans them to obtain information on one's phone, typically an iphone? Putting other people down for slipping up doesn't make you clever.
Reply

allll about jphones in the future.
Reply