Deviation
Submit your art
Upload your creations for people to see, favourite and share.
Status update
Post an update
Tell the community what's on your mind.
Journal
Post a journal
Share your thoughts, experiences and the tales behind the art.
Literature
Submit your writing
Upload stories, poems, character descriptions & more.
Poll
Ask the community
Find out what other deviants think - about anything at all.
DA Muro
Paint a picture
Experiment with DeviantArt's own digital drawing tools.
"Beta Boon, here again! This is a Beta Trial period. That means, based on your feedback, anything is subject to change! We appreciate your patience and understanding as we work out the system! Please let us know what you think of this current system and these events by commenting HERE!
Thanks so much for your help!"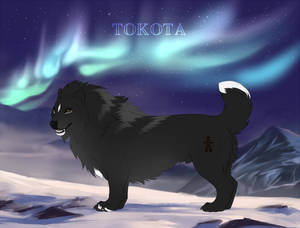 ---
Tribe Vs Tribe Competitions are currently OPEN
Team vs Team competitions, or TvT, are contests between either two
tribe owned
Tokotas or two teams of
tribe owned
Tokotas, depending on the event. You may choose to draw your tribe's Tokota and their chosen opponent in a single image, or you may draw only your Tokota and be paired via RNG to another single entry. The scoring is simple: 50% applicable bonuses, 50% RNG. May luck be on your side!
Rules and Requirements
Basic rules for all classes
Both competing players must have active leasing permissions for all Tribe Tokotas being entered. For more information on leasing Tribe Tokotas, go here.
The player approving the use of their tribe's Tokotas must also have valid leasing permissions.
Each "individual round" has a maximum of two participants. A round is a scored group that compete against each other.
Each "team round" has a maximum of four participants (2 for each tribe).
Each tribe may participate in 30 TvT entries per month, total.
It is up to each individual tribe to decide how these entries are split among their members.
Each individual round is worth up to 100 points: 50 from bonuses, and 50 from RNG. The Tokota with the most points wins.
Each team round is worth up to 200 points: a possible 100 from each team member (50 bonuses/50 RNG) added together.
If your Tokota(s) has/have more than 50 bonus points, only the first 50 listed will apply.
To participate, you must add a section to your current Tribe Leasing tracker where admins can respond with official event results.
Collaboration is allowed, but does not allow any extra Tokotas to be entered in the round.
Double entries count as an entry for each tribe.
'Randomly paired' entries may only contain one Tokota/Team.
In RNG paired rounds, the oldest entry in the folder will be paired with the randomly selected opponent.
'Choose your own opponent' entries must have the non-submitting tribe post permission for their Tokota to participate.
Player owned Tokotas are not allowed to participate.
5 TvT wins counts as a win for Alpha.
Basic requirements for all competitions
Tokotas must be full body (75%) in art unless otherwise mentioned in the prompt, and mentioned throughout the piece in literature.
Handlers, where required, must be at least 50% depicted in art and be substantially mentioned in literature.
Moderately complex backgrounds are required in art as well as coloring. Shading is optional. Grayscale/monochromatic art is acceptable if the Tokota still has identifiable markings of a value relative to its import.
Literature entries must follow the same basic requirements as for drawing, and have a minimum of 1200 words, with a clear beginning and end.
Where equipment is listed, it must be shown at least 50% (e.g. sleds, tack).
How to Enter
Submit your entry to the class's linked folder with the below form filled out in the description.

Tokota's Import Link:
Leasing Permission Link:
Tribe Leasing Tracker:
Tokota's Health Status:
Traits/Companions/Items:Proof of Items:
(link your bank)
Entry #:
(?/30)
---

Individual Competition A
Toko Wrasslin'

Your objective: Prove your tribe's Tokota is the strongest in all the land! Either pin your opponent or push them out of the circle to achieve victory.
Entry Requirements
Backgrounds must reflect the prompt: An indoor or outdoor circle with no ropes around it.
No handler required.
Applicable Bonuses:
Miniature Horse
Friendly Foe, Natural Competitor, Thrill Seeker
Competition Headstall, Sushi Roll, Fish Cake Casserole, Jerky (all varieties), Whistle

Individual Competition B
Extreme Fetch

How far can your tribe's Tokota track the ball? Hopefully a very long way, as this one is shot out of an air cannon! First Tokota to return with the ball wins.
Entry Requirements
Backgrounds must reflect the prompt: a large, outdoor area and a ball.
No handler is required.
Applicable Bonuses:
Australian Shepherd
Friendly Foe, Natural Competitor, Thrill Seeker
Competition Headstall, Sushi Roll, Fish Cake Casserole, Leg Wraps, Whistle

Team Competition
6-Legged Race

An oldie, but a goodie. How well coordinated are your tribe's Tokotas? You'll find out as their legs are tied together and they attempt to make it to the finish line.
Entry Requirements
The background must reflect the prompt: Any kind of track to run on.
Special rule: only 1 of the teammates must be 75% visible. The other may be less to accommodate for showing both as full bodies being...complicated.
No handler is required.
Tack required: anything to tie the legs together.
Applicable Bonuses:
Snow Leopard
Friendly Foe, Natural Competitor, Thrill Seeker
Competition headstall, Competition halter, Competition saddle, Warm Blanket, Sheepskin Saddle pad, Sushi Roll, Fish Cake Casserole, Meat/Premium/Exceptional Jerky, Sharpened Nail Caps
---
Prize Pool
Prizes for these events are deposited directly into the Tribe Bank. They contain 10 TP and 1000 TT. It is up to each individual tribe to decide how the prize money is spent.
---
FAQ
Does the Fox companion work here?
No, fox companions only work in PvP.