TCA Rehoming Project
Welcome to the Tokotna Cultural Association's Rehoming Project! Our facility is located in the depths of Illuq Forest; here we keep tokotas who have been given up, abandoned, or just forgotten about from previous owners, homes, and packs. These tokotas can come in all shapes and sizes, from the shortest toki to the tallest dire! Their quirks and fun personalities just make them shine past their past! Please come take a look at the tokotas we have available; if you see one you're interested in, read below on how to take them home with you!

---
As you walk into the small, stone, lit facility you are startled by Amos, a salt-and-pepper bearded man who grunts at you before shambling behind the desk. He will make sure you make it through the application process for the tokota you are interested in, and hopefully get you to the proper place to meet the tokota.
Zara jumps out of her seat when you appear. You can hear Amos' groan from the main desk. She has her black hair in a messy bun, and she grabs your hand and pulls you through to the area in which your desired tokota is located. She gives you a sheet of paper with more information on the tokota, which includes habits, favorite treats, and personality. She will also answer any of the questions that you may have about the tokota you're interested in and help make the meet and greet process as well received as possible. The rest is up to you!

---
Adoption Policy and Rules
In order to apply to adopt a tokota from the TCA Rehoming Project, there are a small set of requirements needed for potential applications. Your applications will only be seriously considered if you follow these requirements closely!

All entries must be submitted via the correct comment thread below;


Requirements

Entries for a tokota must be either full body with a background depicting the tokota and your own handler interacting in some way, or a 1200 word story describing in detail a meeting between your handler and the tokota.
Entries must have at least 3-4 elements in the background to be rolled.

Entries must have at least 50% of the handler depicted or written throughout the story in order to be valid.

The tokota featured must be at least 80% showing in an image or written throughout the story in order to be valid.

Anyone can enter! You don't have to be a newbie to tokotas.

You can only enter once for each tokota.

We'd prefer it if you kept the original name of the tokota however you are allowed to change it

You may enter once for each tokota available, but you are only able to win one per round of adoptable tokotas

All entries must be your own work, not commissioned or drawn/written by someone else
Special Requirements
NONE

Judging Process

Once the closing date for the tokota has been met, all entries for the tokota will be randomized, allocated a number and placed into a draw; rng will decide the winning entry

Once the winner has been drawn, ownership will be transferred and the new owner may do what they like with the tokota!
Prompts for Entries
So you may be struggling with ideas for drawing or writing up your entry. These prompts are available to get you inspired for your entry; you don't have to use these, these are more just a guide or a starting block for those having a little trouble
You've just been let out into the exercise pen which is a large, grassy area covered in small flowers with a white picket fence surrounding it; the big, snow capped mountains of Tokotna in the background, with the tokota you're interested in applying for; what do you do, how do you interact with the tokota?

You've been given the task of giving the tokota you're applying for a bath; does it end well or does it end up with you having the bath?

You've been let out onto a large agility course, with many obstacles including jumps, weaving poles, and a tunnel chute. Will you be able to get the tokota you're applying for to complete the course?

You've been given the task of desensitizing the tokota you are applying for to many different items (examples: trash bag, cars, metal items; etc.). Is there a particular item he/she is afraid of? Can you get them to overcome their fear?

You and the tokota have been taken out on a mock exploration expedition in the nearby forest to see how well you work as a team; what could possibly go wrong?

The tokota you're applying for has a companion; draw or write about how you interact with the tokota and its companion

You've been sent out to a fenced in paddock to help one of the tokotas learn to socialise, how will you interact with one of these tokotas?
Questions/Comments/Concerns
---
Rehabilitation Levels

Each tokota that comes through the Rehabilitation Project will need to complete a series of Rehabilitation Levels in their new adoptive home in order to successfully reach complete rehabilitation. These levels are simple and require set amounts of HP in order to be met. The adopted tokota must reach a minimum of 35HP to be confirmed by an admin in order to be classified as completely rehabilitated.
You may complete one level at a time, or all four at once, the choice is yours. HP can be made up of anything excluding the activities that the tokota has not reached the rehabilitation level for yet.


To submit your rehabilitation level confirmation requests, please go to the
Hierarchy Updates
journal from the
Cycling Journals Hub
0: New Beginnings || +10HP to Next Level
May not be used for the activities below
1: Gaining Trust || +5HP to Next Level
Group Events
2: Developing || +5HP to Next Level
Exploration
3: Confident || +5HP to Next Level
Hunting & Fishing
4: Rehabilitated || +10HP to Next Level
Completely rehabilitated, you may now do anything with your Tokota!
Available Tokotas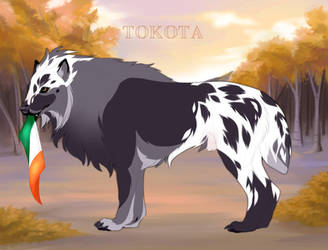 Elki is always happy to show off his pride for his late handler's birth place and is generally friendly with anyone. He's been sticking around a while at TCA, recovering from the loss of his old friend. They're certain that now is the time to find him a new home.

>> Enter Here For Elki <<


This girl as a really green paw, figuratively and literally. Demothi can always be found in the gardens and has a real keen nose for plucking things that don't belong amung the plants there. The TCA are hoping to find her a home with someone who gardens often and needs help in upkeeping.

>> Enter Here For Demothi <<


Despite his name meaning abandoned, Hok is actually greatly loved by all that meet him. He's a little standoffish but always willing to help when he sees a job being done. The TCA took him in as a pup, mere hours from starvation, only because a hunting team had found him by pure accident.

>> Enter Here For Hok'ee <<


Despite his paints, Vik has been a very unlucky boy. If things can go wrong, they do. A simple bath? He accidently steps on a water snake. A weird patch of brown dirt? Sink hole. The TCA are hoping that someone will be willing to adopt Vik and help him with his unlucky streak.

End date: March 31st at 7pm PST
---
FAQ
How often are new tokotas added?
We try and put out three tokotas out every two weeks, however, this is not a hard deadline and it may take a little longer some rounds than others.
Will I be given the Hierarchy updates?
No, you will be provided a fully editable PSD with all the items and alterations in separate layers so that you may do the updates yourself or find someone else to do it without having to recreate the design.
Can I ask the admin who designed it to do any updates for me?
Yes, but admins are not required to provide any alterations to the PSD, and they may charge you for the service if they desire. You are not required to go through the designer to make any changes or updates.
Can I make alterations to the design or items of my tokota?
Of course, the tokota belongs to you and you may do with it what you like.
What happens if I make a mistake in my entry?
If you are notified by an admin 24 hours or more before the due date, you will have until the date to make the changes. If you are notified by an admin after the due date, you will be given 24 hours to make the correction, if you do not submit the correction by that time, you will be disqualified from that raffle.
How are winners decided? Can I up my odds?
Winners are decided by 100% RNG. All entries are assigned a number, and we use random.org to decide the winner. There are no ways to increase your odds.
Can I enter for more than one Tokota?
Yes! but you may only win one. Order for rolling is random, so if you really only want one, only enter for one as you will not be allowed to choose.

Can I use other's entries for the tokota I adopted as rehabilitation HP?
No, just like wilds, you are no longer allowed to use the entries others post to count for the 35 HP needed to get your tokota rehabilitated! Please keep this in mind while submitting them.