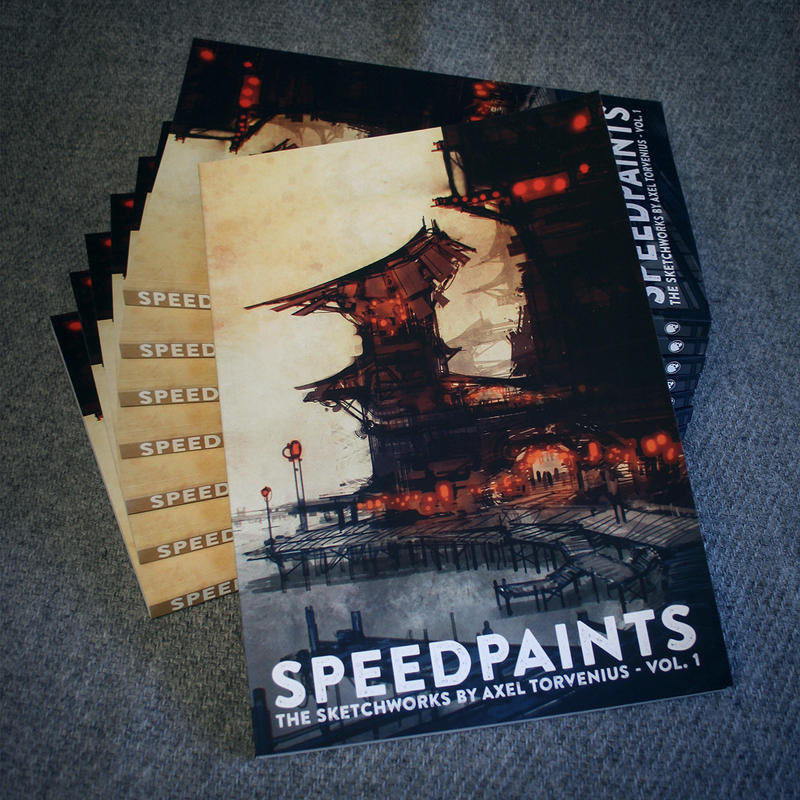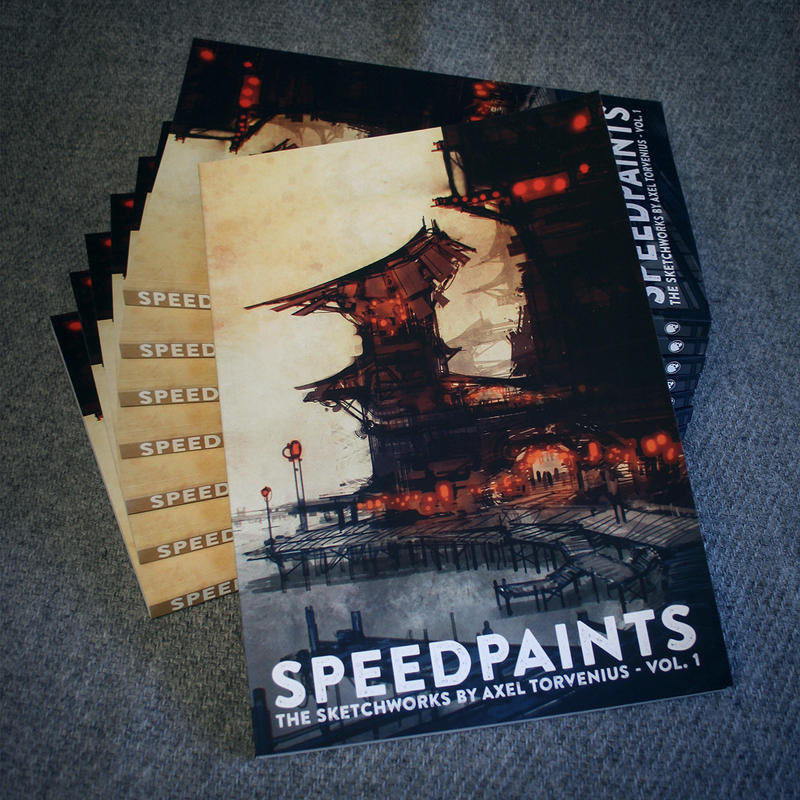 I am very happy to be able to offer my own first book, published by myself, as my own book publisher Torvenius Publications. This is the first release of TP and is strictly limited to a first edition, 333 hand signed copies.
This book contains older digital sketches and speedpaints done by me, ranging from 2008 to 2012. A4 in size.
From the back of the book:
"This is a collection of earlier works by Concept Artist and Art Director
Axel Torvenius, made during the period of 2008 to 2012. It is the first
book in a series of books focusing on the speedpaints and digital
sketches made by Torvenius. The speedpaint technique is a type of
digital sketching where the artist tries to nail down as much in an image
as possible, in a very short time. The majority of the images in this
collection are made on a timer set to 20 min. Some even faster than that
and some up to 30 min. All of these images are created from a blank
canvas and with no predetermined, fleshed out idea, sketch or agenda.
The content herein, is the the result of spontaneous and raw creative
sketching.
Embark on a visual journey that takes you through fantasy landscapes,
greedy bounty hunters, monsters, sci-fi weaponry and broken cities.
Regardless if the image portrays a run-down city, an inviting ghost or
a female techno-wizard, they all share the dark undertone and
playfulness of Torvenius aesthetic style."
154 pages with the majority in full cover. Soft cover with a matte finish on the cover.
Ships worldwide!

Reply

I've been waiting for this!








Reply

Oh my GOODNESS, I have been hoping for one of these since I discovered you!!! Insta order!!!
Those were the exact years I was at art school, and miserable, this will be something to give me a better feeling.
Thank you so much for making these!
Reply

very kind words! big thanks!

more will come also! this is just the beginning
Reply

I am so so excited. Your ability to capture atmosphere makes me so envious!
Its the feeling I want to give to the monsters that I build. Such beautiful work!
Congratulations on the publication, and I can't wait to collect more!
Reply

kind words!!! big thanks, i am very glad to hear you like it

Reply

Reply

Oh yes. I never actually ordered an art book before, so this will be the one.

Reply

Reply

I just received it! Thank you for granting me my extra request.

The quality is really good (except for an oddly low res image on page 128). Also, I noticed the Bam Model 87 is depicted twice (page 37 and 98), but I understand, it's a nice design.

Reply

thanks!
Yes there was a small hickup that became clear after the production run was done :/ it will be sorted for any futute editions.
Reply