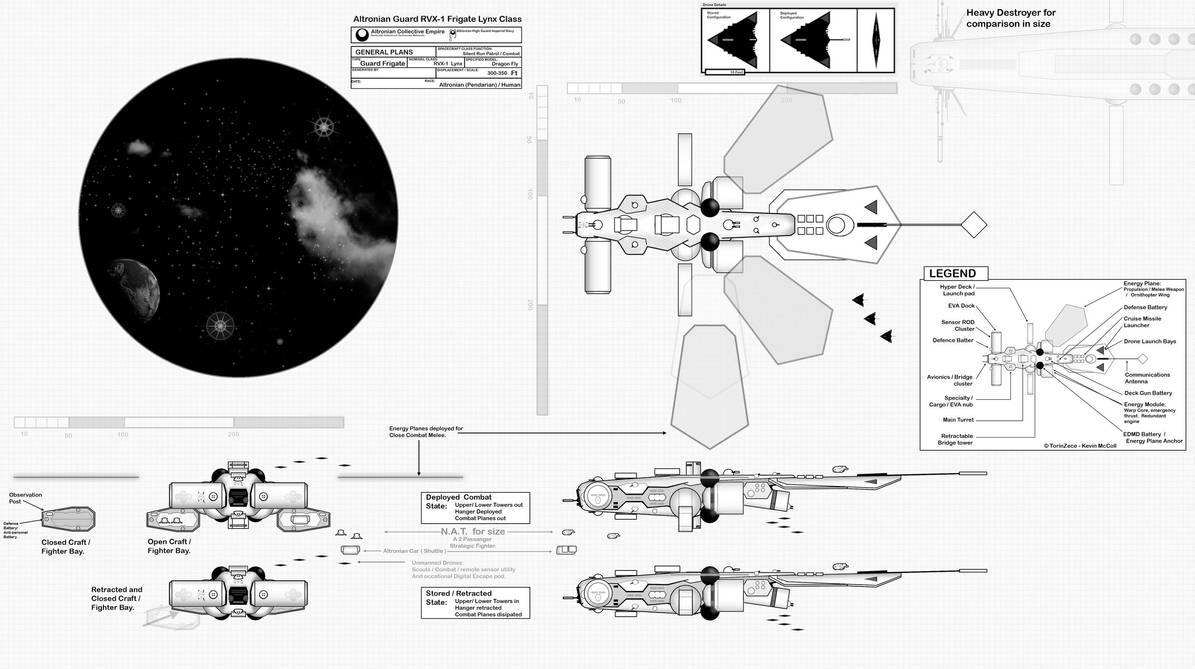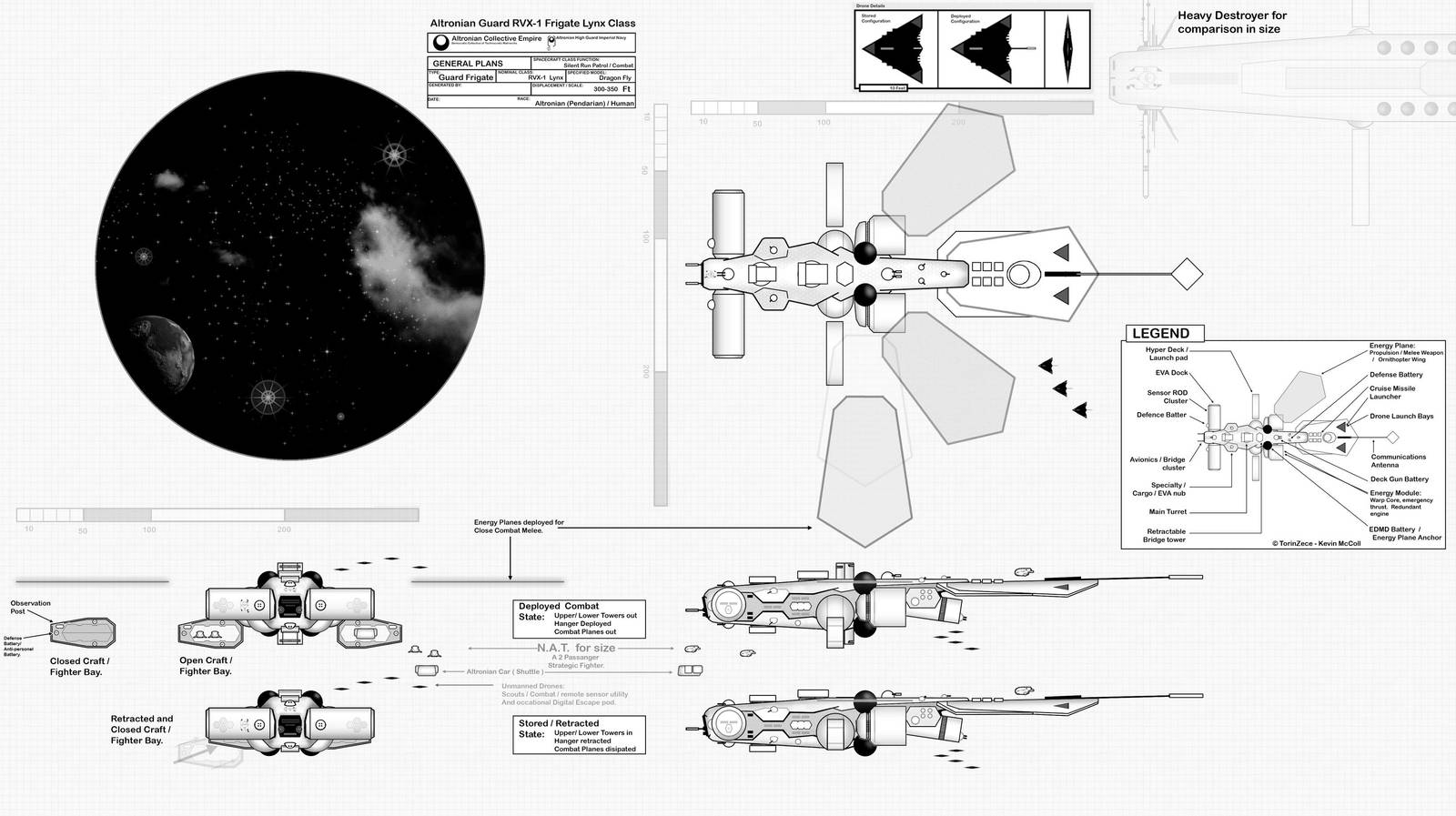 Watch
Altronian Frigate ::
Guard Service RVX-1 Lynx/DragonFly class
:::: Updated : 2011 09 05

This is a high sensor solo frigate, no main spinal weaponry.
But still contains EDMD systems.

Its Hammerhead design is its most distinctive feature, this is to increase sensor range and accuracy. The Retractable Bridge Tower further extends sensor accuracy, projecting both up and down.

The Insect like winds both give it a organic sense of design, but those winds are multi-functional: Additional thrust, weapon, and other classified uses.

Dual Drone Launchers aft.
Cruise Missile Launcher/Probe Launchers 12x
3 Turrets, small class (one Dorsal)
Dual Hyper Launch Bays and landing. (Other dimensional)
Long range service, intelligence craft.

Varriants may contain a spinal mount weapons or large BAY weapons.

Length varries based upon extension of aft antenna.
Ship is known for close quarters combat using its wings as cutting blades/sword/knife ripping open opponent ships.

Armor and shields are powerful.

Crew compliment is from 3-40 typical.
More details coming. Design will be updated.

Size compare to Destroyer class.

added to Sketches and concepts in Sci-fi Archives
Reply

Corrected some minor errors.
(Added another ship, the Altronian Car. Basically a Flying empty cube with COM chairs and serves as a van of sorts really. Some are actually mobile homes.)

Explained a bit more.
Still working on the 3/4 view.

Since this is small enough I will start doing this ships interiors shortly.
Working with a ship's interiors that is much like a Echer Hypercube, with a bit of disconnected TARDIS geometry, is going to be interesting.

I expect the interior should peak some interest, and this is just a small-ish ship. Never mind the Battlecon.
Reply

feels like an orbital satellite to me. then i read it was a sensor ship, and it makes sense.
Reply

Actually it is a combat ship.
Satilites are usually not over 300 foot long. (Not exactly sure how it would be seen as a satelite... got me curious.)

And satelites usually do not carry a compliment of fighters, drones, and have defensive batteries and barbette turrets.

It is better at sensors then most combat ships, as a good deal of its structure is designed for 'accurate' pinpointing targets/surveys/ and general monitoring.

It is one of the smallest of the capital ships the Altronian's field. But is more then a match to most other races battleships or even fleets of such.
Either way hope you enjoy it.
Reply

oh i knew that it wasnt. its just looking at the top down view reminds me of solar paneling along with the front parts (sensor cluster and bridge) remind me of module out of the center... yeah just reminds me of a satellite, visually speaking.
Reply

Love engineering drawings...
Reply