Designers, this is your opportunity to have your work seen and win by artists, art enthusiasts, logos lovers from around the world. If you're not a designer, you can still participate in the Top Shabab first Design Battle by supporting the designs you like best! It's a win, There's something for everyone.

We, Top Shabab Executive board members looking for new official LOGO for our Organization, we're non-profit Organization full organized by youth, we have a great vision needs great and awesome official logo to use.

We appreciate arts, and we believe by arts we can send a positive messages for other people who ever they are, we create this competition for many reasons, of course we need an official logo but we want you to participate and to be part of our vision and mission, we believe in our aims and goals and we hope you do the same.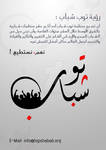 Overview
Top Shabab started as FaceBook group, and as time passed the number of members interested in joining that group increased, which helped us notice some potential talents in young people. Then, we came to a great discovery, if these talents and abilities were invested and directed to the right way, they can change the world and make it a better place to live in. And today, with around 4,000 members on our FaceBook group, our new forum, our new website, the YouTube Channel, Twitter, flicker and DA group Top Shabab is becoming a member of ROTA Youth Service Clubs around Qatar and willing to be in the right path to achieve our vision and mission to be one of the ten largest youth organizations in the Middle East over the next ten years.
Our Vision
To be one of the ten largest youth organizations in the Middle East over the next ten years.
What is Top Shabab Focusing on?
Building the personality of young people, giving them a chance to express them selves, change their attitude toward the main issues that affect thier lives, such as education. Top Shabab is focusing as well on children and orphans, considering that they are the youths of the future.
Areas of Interes
The areas of our concern are: youth development, poverty, children education, child solders and child labor.
How and when we are going to achieve our goals?
As a begining, Top Shabab RYSC is going to organize debates, discussions, workshops , trips and conferences. In addition, we are going to carry out projects, researches, studies and campaigns that serve our goal. In afew years period, we expect to see Top Shabab TV channel, Top Shabab magazine, Top Shabab Website and Top Shabab Youth Clubs all around Middle East, beside our FaceBook groups, the forum, the YouTube chennel and TS clubs among the Middle East.
Main Aims
To raise youth awareness about global & social issues, such as children education, children labor, poverty, and child solders.
To give the youth the opportunities to express their opinions towards these global issues and take an action to decrease its impact on the less fortunate people.
To help youth discover their potential abilities and give them the chance to act as real leaders and to make a difference.
To break the boundaries between youth in the Middle East and other regions and give them an opportunity to discuss the issues that concerns them as humans through organizing conferences, discussions and debates.
To advance the well being and needs of those less fortunate in Qatar or in ROTA Focal countries, through direct service learning projects and fundraising activities.
for more information about top Shabab you can log to our pages :
We've got some incredible prizes to offer our winners. Behold the following awesome prizes



- 1000 QR in cash.

- A 1-year subscription to deviantART.

- 8,000 Points to buy awesome gear from deviantWEAR, to order up Prints, or just to give a simple gift with love.

- The winner will have official interview in our official Website, deviantART group and Our official Facebook fan page.






STAGE ONE: Open Submissions

The submission Folder will be open from May 1st – May 15th for contest entries. Submit through the link below. Please see the Official Rules.

STAGE TWO: 5 semi-finalists will be selected by you !

You will pick the best 5 works between all the entries, we believe that others should help us in our mission, because of that we will arrange the best works and released to YOU in a poll The group members will decide the best 5 works between them.

STAGE THREE: We pick the Winner !

The 5 semi-finalists will be arranged The collection will then be released to the community, to decide who the ultimate winners will be. your feedback and use favorites, pageviews and comments are very important to help select the winner.




UPLOAD YOUR DESIGN AS A DEVIATION

Step 1: Click 'Submit Deviation'
Step 2: Choose a title for your work
Step 3: Submit your work to the Competition Folder


Your design must be original work and conform to the following technical requirements:

* Adobe Photoshop and Illustrator (File format: AI, EPS)
* Compatible with CS4 or below
* Use only 1-4 colors
* Fonts must be converted to outline shapes.
* You can use any type of arts.
* Your design must be on white wallapaer.



The Competition submission period begins on May 1st, 2010 at 12:00: AM GMT and ends on May 15th, 2010 at 11:59:59 PM GMT. Designs must be submitted during the allotted time and in the proper category to be considered as contest entries.


We wish for you the best luck,
If you have any ideas, comments, suggestions or feedback, please drop us a line at info@topshabab.org . . or just comment on this Blog !

Top Shabab Art Committee - Top Shabab Design Battle © 2010